When at the height of their rivalry Arsenal won the Premier League, Sir Alex Ferguson remarked that Manchester United had played the better football. Arsène Wenger's response was: "Everyone believes he has the most beautiful wife at home".
Louis van Gaal does not believe he has the most beautiful wife. The Manchester United manager believes the Premier League has a better team than Chelsea – and that team is Arsenal.
In his first season at Old Trafford, Van Gaal has tried to rekindle the will to win, the ability to drive over the line that was second nature under Ferguson. Chelsea have it, Arsenal and Manchester United do not.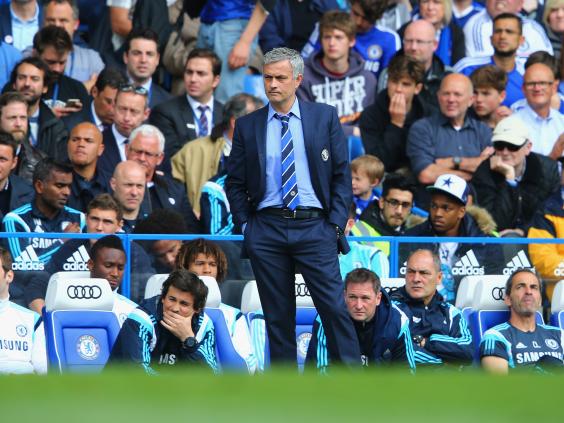 Facing his final match of the season at Old Trafford, Van Gaal did not think he had quite succeeded: "No, because we are not champions," he said. "I think that (a winning mentality) is the quality of the champion.
"Of course, we have improved a lot but we still have to learn the way Chelsea can play and finish off games because that is the difference. I believe that Arsenal have a better team than Chelsea but they cannot finish like Chelsea. That comes from talent and experience from having people like John Terry and Gary Cahill."
What Manchester United lost during David Moyes' brief reign was a big-match mentality. They were beaten home and away in the two fixtures that matter most to the Stretford End – Manchester City and Liverpool.
This season has been different, the double over Liverpool followed by a 4-2 victory in the Manchester derby. Arsenal were beaten at the Emirates, the games against Chelsea were near-run things.
"We were equal to Chelsea at home and much better there in spite of what Jose Mourinho was saying," said Van Gaal. "Against Tottenham we were better both times. The result against Liverpool at home (3-0) was exaggerated but at Anfield we played fantastic football.
"The difference is not the level of performance but how you finish off the game – and Chelsea have done that the best." His first season in England has been intense. No sooner had he taken the Netherlands to third place in the World Cup than he was crossing the United States overseeing Manchester United's pre-season preparations.
This summer's American tour will be considerably shorter. United play their final game of the season at Hull next Sunday. The following day, Van Gaal departs on a much-anticipated holiday.
"We didn't have as many matches as I am used to because we didn't play in the Champions League or the Europa League," he said. "In all my former clubs I always participated in European football.
"As a manager I had to adapt also to the Premier League, to the culture of England, the rhythm of the game and so on. You have to adapt but that is exciting and very difficult because I have to adapt my philosophy also."
Van Gaal is not the only one at United's training complex at Carrington who is tired. He is desperate for Luke Shaw not to go to the European Under -21 Championships. Shaw has played just four times in the last two months for United. Wayne Rooney, who is a decade older and like Shaw will miss the Arsenal match with injury, has made 44 appearances for club and country.
"Wayne Rooney is 29 and is old enough to decide if he needs a break," said his manager. "He has also built up his strengths and that is the big difference with a player like Luke Shaw, who is 19 and who has come from a minor club to the biggest club in the world, having to take on not just a physical but a mental load."
Manchester United: Potential transfer targets summer 2015
Manchester United: Potential transfer targets summer 2015
1/10 Nathaniel Clyne (Southampton, 24)

With Rafael never getting close to favour under Louis van Gaal, right-back has been a problem area all season for United, with Antonio Valencia filling in at the position. Whilst Valencia has done well, Clyne is now England's first choice and easily in the top three in his position in the Premier League. Southampton will not want to sell another one of their stars, but the player seemingly wants to move.

2/10 Radamel Falcao (Monaco, 29)

Who knows what will happen with the Colombian. Certainly he is not worth anywhere close to the mega move United were considering when they agreed to loan him last summer, having only scored four goals all season. But with his track record as one of the world's best, United would be foolish not to consider a cut-price move, just in case he's not broken once and for all.

Getty Images

3/10 Gareth Bale (Real Madrid, 25)

If a deal were to go through it would be an absolutely massive coup for the club, of course, and you know Manchester United will be exploring any possibility of a move. Despite his perceived unhappiness in Spain, Bale's agent said he will be staying at the Bernabeu next season. Would cost a massive fee but would instantly turn the club into title contenders.

4/10 Edinson Cavani (PSG, 28)

Manchester United will surely be tempted if he is available despite having bigger needs elsewhere in their squad. Despite the perception that he has struggled to fit in at PSG, Cavani still has 50 goals in 91 matches for the club and has played the majority of his time there out of position on the wing. Tall and athletic he seems like a perfect fit for the Premier League, although he will cost a huge fee.

GETTY IMAGES

5/10 Hugo Lloris (Tottenham, 28)

The potential transfer of the Spurs and France No 1 is entirely wrapped in the future of David De Gea - if the Spaniard moves to Real Madrid then United will be scrambling for a new goalkeeper and there aren't many better than Lloris. He's four years older than De Gea but still young for a keeper.

GETTY IMAGES

6/10 Ilkay Gundogan (Borussia Dortmund, 24)

With Michael Carrick ageing and Wayne Rooney forced to play in the middle at various points this season, central midfield will be one of Van Gaal's top priorities. The Borussia Dortmund man, 24, is a classy operator, strong on the tackle and a box-to-box threat. He is apparently being chased by Arsenal, Chelsea and Liverpool, among others, so United will have to move quickly.

Getty

7/10 Mats Hummels (Borussia Dortmund, 26)

The World Cup winner should be United's top target this summer, they have no bigger hole to fill than in the centre of their defence. Chris Smalling, Phil Jones and Jonny Evans are all talented defenders, but none of them have the leadership skills necessary and are a level below the very best. Hummels' arrival would immediately improve the whole backline.

Getty Images

8/10 Nicolas Otamendi (Valencia, 27)

Like Hummels, Otamendi is the dominant type of centre-back that United are missing. He's a bit on the short side – 6ft – but is a forceful character and very competent on the ball. Louis van Gaal should be considering a move for both, although that will take out a significant chunk of his transfer budget.

Getty Images

9/10 Kevin Strootman (Roma, 25)

It seems as if Louis van Gaal has been linked with the Roma midfielder for the entirety of his reign, who suffered another knee injury back in January and has only played seven times in all competitions this season, his only games since the original injury last April. If he can get back to full fitness then the Dutchman is a dominant midfielder with an eye for goal. But it's a big 'if'.

Getty Images

10/10 Felipe Anderson (Lazio, 22)

The Brazilian attacking midfielder has been linked with a £30m move to Old Trafford despite stating he wanted to stay in Rome. The 22-year-old scored 10 goals and added seven assists for Lazio last season and is seen as a potential star of the future.

Getty Images
When Van Gaal returns from his holiday home in the Algarve, he knows that Manchester United need upgrading. Fourth in the Premier League will not be the target for 2016 and a glance at the Champions League semi-finals demonstrated what level is required to come anywhere near the European Cup.
Significantly, he does rule out an £80m bid for a Gareth Bale or a Harry Kane but adds that the most important factor is whether they would fit in. Last summer's two galactico signings, Angel di Maria and Radamel Falcao, have not.
He will have the final say as to who the club buys and who it plays. It is, he says with a sigh, the reason things did not work out with Ronald Koeman when he was managing Ajax and Van Gaal was technical director. They both wanted the last word.
"A lot of presidents or chief executives I worked for listened to me," he said. "I was always in the lucky circumstance that I was the manager even when I did not have the title of manager. But the presidents for whom I worked, they listen."
Manchester United v Arsenal is on Sky Sports 1, kick-off 4pm
Reuse content