There were, as so often, elements of the absurd in Louis van Gaal's press conference. Like the moment he raised his arms and his voice to mimic what the Old Trafford supporters sing about him, by way of demonstrating that they, like the players are "satisfied" with his ways, as he put it. "The fans are shouting each week 'Louis van Gaal's army, 'Louis van Gaal's army,'" he chanted. It was a startling moment because it came from nowhere.
But for all that, it was a rather fine performance as these things go. Your heart sinks at the thought of how it would have been putting to David Moyes, Van Gaal's predecessor, the information about training-ground tensions which have surfaced this week. Sir Alex Ferguson would have considered it an open declaration of war.
It was not exactly a stroll in the park with Van Gaal – "trustworthy? trustworthy?" he said, turning to his press secretary for some vocabulary advice before spitting out the word used this week to describe – accurately – journalistic sources about the discontent. But by turning this moment into an opportunity to reiterate his ways of working, he avoided the sour, defensive demeanour which managers tend to sink into on such occasions.
This, more than his words, lent credence to his central claim that he is "not a dictator but a communicator".
Van Gaal's Old Trafford staff will tell you that he can be just as democratic as he professes to be. "He'll always hear your argument but you must have the case to back it up," says one.
But the problem for those players who hope to see greater emphasis on individualism and the pure fun of playing football in his training sessions is that such a shift does not conform with his football creed.
Manchester United vs Liverpool combined XI
Manchester United vs Liverpool combined XI
1/10 GK: David De Gea

He hasn't even played this season, but De Gea goes straight into our side ahead of United team-mate Sergio Romero and Liverpool's Simon Mignolet. With the transfer window closed and his proposed move to Real Madrid over for now, Van Gaal is expected to bring the Spain international back into the fold and there's no question he's the best goalkeeper of the lot.

GETTY IMAGES

2/10 RB: Matteo Darmian

Arguably the toughest dilemma of the lot comes at right-back, with Darmian and Nathaniel Clyne both impressing so far this term. The nod goes to the United defender by a whisker based on how quickly the Italian has managed to resolve what has been a problem position for United for some time.

Getty

3/10 CB: Chris Smalling

For all the speculation over Manchester United signing a centre-back during the summer, Smalling has shown that the need for reinforcements isn't as great as some feared. The England international has been consistent and appears to be growing in confidence all the time. It means there's no place for Dejan Lovren, who in contrast appears to be regressing from the player Liverpool spent £20m to sign.

4/10 CB: Martin Skrtel

Thankfully for Liverpool, Skrtel has looked good this term, and beats Daley Blind to the other centre-back berth. United's Dutch midfielder/defender/full-back is still new to the central position.

GETTY IMAGES

5/10 LB: Luke Shaw

Joe Gomez has made an unexpectedly impressive start to his Anfield career, with the 18-year-old playing in every game since joining from Charlton. But Shaw has begun to show why Manchester United were willing to take such a huge gamble on a teenager, being solid defensively and a threat going forward.

GETTY IMAGES

6/10 M: Bastian Schweinsteiger

The World Cup winner is beginning to show why, despite concerns over his fitness, he's been among the best midfielders in Europe over recent years. With Michael Carrick injured, he'll be wanting to impress during a potential run in the starting line-up. He beats Adam Lallana to a place, with the Liverpool midfielder also only starting two games so far this term.

Getty

7/10 M: Morgan Schneiderlin

The former Southampton player has impressed in the centre of the park with his passing and ability to disrupt the opposition. James Milner, one of only two Liverpool midfielders to start every match this term is yet to set the world alight following his free transfer from Manchester City.

8/10 M: Memphis Depay

The young Netherlands international looks to be showing more ability and growing in confidence with each match and his recent European double offered a glimpse of the big future the summer signing could have at Old Trafford. It means there is no place for Roberto Firmino, one of Liverpool's big summer signings.

9/10 ST: Wayne Rooney

Rooney is still to score in four Premier League games, but his two-in-two for England and hat-trick in Europe indicates the striker is hitting form. However, he only makes it into the side because Coutinho, who has been Liverpool's best player so far this season, is suspended for Saturday's game.

Getty Images

10/10 ST: Christian Benteke

Joining Rooney in attack is Benteke. With just the one goal to his name the former Aston Villa player hasn't exactly been prolific, but he has been causing opposing defences a headache, particularly in the 0-0 draw with Arsenal. With Daniel Sturridge still out, Benteke will hope to begin writing himself into Anfield folklore with a goal at Old Trafford.

GETTY IMAGES
If you want free rein, then Carlo Ancelotti is your man. Van Gaal, still the schoolteacher he once was, believes in drilling the technical aspects of the game until they are second nature.
He loves stable, reliable players, not intuitive ones. If Chris Smalling and Phil Jones are not technically up to the mark in his eyes – and they have not been – then they will make 700 defensive passes a week at Carrington until he is satisfied.
Van Gaal said in his first extensive interview as United manager, in a Washington DC hotel 14 months ago, that football would be "not the same as before" for these players. He told us he wanted multifunctional, two-footed players, capable of defence and attack, with the tactical nous to function in many formations and to deliver the ball incredibly rapidly.
"They have to decide [what to do with the ball] within one second and that is not easy," he says. He would be asking them to re-learn the game: to play less instinctively and more cerebrally.
"The most important thing is they have to know why we do things and when," he said back then. "A lot of players are playing intuitively and I want them to think and know why they do something."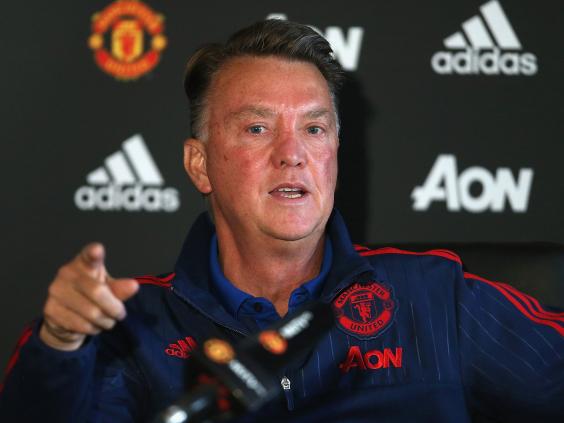 Your eyes watered when you thought of this group being asked to do all that.
At Bayern Munich, Van Gaal loved Arjen Robben and the feeling was mutual because Robben was technically stable and his manager was thus happy for him to be self-expressive too.
But in an echo of the complaints now emanating from Carrington, Bayern's Luca Toni complained that he was being made to feel like a robot. The manager had sold him within about a week. Franck Ribéry  detested Van Gaal for the same reasons.
You imagine that Van Gaal was telling it truthfully when he said that Wayne Rooney and Michael Carrick had said no more to him in their heart-to-heart than "the dressing room was flat". You can imagine them flinching, wanting to tread so carefully.
The man whose door they knocked on had hoped to sign more players of the calibre of Robben – Robert Lewandowski, Thomas Müller, Mats Hummels – but has not found United quite the draw he thought it would be. So he has settled for a more stable defensive core, signing two new defensive midfielders in Bastian Schweinsteiger and Morgan Schneiderlin, hoping the defenders will improve in time and the goals will come from somewhere.
He seemed to be saying that a lack of adequately talented players had been a problem.
"It's not only the flat atmosphere," he said on Friday. "I have analysed that as part of the transfer window."
If only they were all like Rooney. Van Gaal really does rate the captain in the way he says he does: right up there in the Robben class of stable, multi-functional players with a creative dimension, whom he feels he can always trust. "He loves Rooney," says one who knows Van Gaal well.
For all his talk on Friday of giving players input to game plans, be sure that the 64-year-old manager's steepling self-belief will not see him changing his philosophy now.
What Manchester City chief executive Ferran Soriano has said of him may come to pass.
"He is very tough. People don't like him, but he wins," Soriano said last year. "And one day you don't win – and when you don't win, everybody that is angry with you will come back to you and try to kill you.
"In the movies this works, in real life it doesn't… People think a good leader is someone with character. I say a good leader is someone who can listen to the team, understand the kind of leadership a team needs and apply it."
But goalkeeper David de Gea's £200,000-a-week four-year deal and the manager's robust defence of himself felt like a shoring-up of United.
There was also some truth in his parting words.
"It is also a little bit logical now because there are only nine players left from the group and the rest I have bought so they shall not say I am a lousy manager," Van Gaal said, with a smile.
Results, as always, will dictate which way this road leads.