Louis van Gaal believes that he is in charge of the biggest club in the world.
The Manchester United manager, who also admitted that he will retire once he ends his reign at Old Trafford, said he realised the fact during the club's pre-season tour of the US, when he saw more United shirts than any other despite Real Madrid taking place in the same tour.
"We were in the USA and we played against Real Madrid, Liverpool, Roma, Inter Milan and LA Galaxy, five matches in three weeks, 300,000 fans and I think 280,000 of them in a red shirt," he says in a lengthy interview with the Daily Telegraph.
"I know that Manchester United is the biggest club of the world.
The biggest kit deals in sport
The biggest kit deals in sport
1/9 Manchester United - adidas

Manchester United announced a mammoth 10-year £750m deal with German sportswear giant adidas in July. They had been with Nike for the previous 13 years on a deal worth about £25.4m per year.

Getty Images

2/9 Manchester City - Nike

City switched from local firm Umbro to Nike in in a six-year deal announced in May 2012.

GETTY IMAGES

3/9 Arsenal - Puma

This is the first season of Arsenal's deal with Puma, which was announced in January 2014 as the biggest contract in both parties' history.

GETTY IMAGES

4/9 Liverpool - New Balance

In January 2012, Liverpool announced a six-year agreement with American firm Warrior. The deal was reportedly worth £25million a year to the Reds, but New Balance took over the contract in early 2015 with the value of the deal believed to now be worth around £300m.

Getty Images

5/9 Chelsea - adidas

Chelsea and adidas signed a 10-year deal in June 2014 worth almost £300m.

GETTY IMAGES

6/9 England - Nike

The Football Association ended a 60-year association with Umbro by switching to Nike. A five-year deal to run from 2013 to 2018 was announced in September 2012. The figure was not made public but the FA described it as "a substantial investment".

Getty Images

7/9 Real Madrid - adidas

Real's agreement with adidas, which runs until 2020, was widely reported to be the most lucrative in world football before United announced their deal with the same firm.

GETTY IMAGES

8/9 Barcelona - Nike

Barcelona announced in 2007 that their deal with Nike, initially signed in 2006, was being extended until the end of the 2017-18 season. The original contract was worth a minimum of 30million euros a year.

Getty Images

9/9 NFL - Nike

Nike replaced Reebok as the official supplier of kit to the National Football League in 2012 in a five-year deal that is the most lucrative in US sport.

Getty Images
"[Are they bigger than Real Madrid?] Yes. In terms of global appeal, not history.
"I made a trip with my wife through the world when I had a sabbatical year and I was in China and Hong Kong and such football madness in those countries! They recognise me everywhere. Unbelievable. And they know Manchester United much more than the manager."
Van Gaal, now 63, said that despite his stubborn and cold reputation he is "the most flexible manager you can imagine".
"When the players are coming with good arguments, I change my opinion.
"Yes [I would change tactics]. They need to have very good arguments. It is not so easy to convince me - that's true. But when you convince me I change my opinion."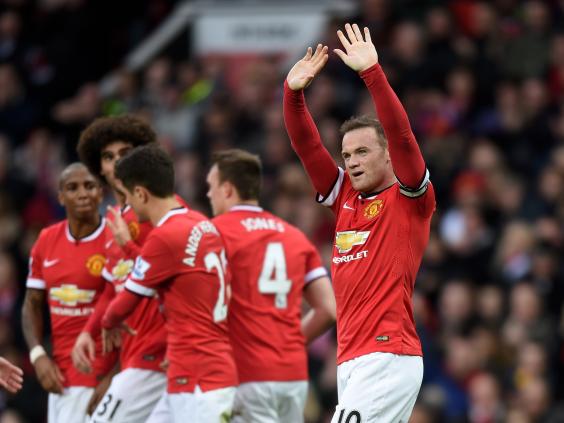 With United drawing heavy criticism this season for their style of play, and some of the formations - especially three or five at the back - Van Gaal says the formation he played against Spurs is his "preferred" way of playing.
"I ask also the players which system they want to play. And then I ask individual players: 'What's your favourite position?' First they don't want to answer but now they are more open, and they answer.
"No [they don't all ask for 4-4-2]. The fans are shouting it. I have played it but that was to do with accidental circumstances.
"The system we play now is the system that I prefer, that I have played everywhere. Yesterday [Spurs on Sunday] is my preferred system. When it is needed, then I play with five at the back. Yesterday was 4-3-3 when we had the ball. For example, Juan [Mata] more inside and [Ashley] Young outside. When we defend it was more 4-1-4-1 yesterday. Next game is different."
With 24 years of management and seven league titles in five countries under his belt, the Dutchman said this would be his last stop.
"I am also old. This is my last job. For sure. I have to pay attention to my kids, my grandchildren but also to my wife. They deserve it. Now I cannot pay that attention. I was not at the birthday of my grandson for example. I don't like it."
Reuse content