Louis van Gaal claims Leicester City can win the Premier League title this season, but the Manchester United manager has warned that Claudio Ranieri's players must prove their ability to cope with the pressure of expectation.
Despite beginning the campaign as relegation candidates and at odds of 5,000-1 about their prospects of winning the league, Leicester go into Sunday's match with Arsenal at the Emirates as title favourites, having opened up a five-point lead at the top of the table.
The Midlands club have already secured league victories against Chelsea, Liverpool, Manchester City and Tottenham this season, but Van Gaal, who has won domestic titles in the Netherlands, Spain and Germany, believes that the biggest test of Leicester's credentials is now on the horizon.
"They are the favourites because they are five points away from the rest, but the moment that they have to win it is different," Van Gaal says. "They are more or less in that place now because they want to continue with this lead.
"Is it possible? Why not? Maybe their players can cope, but that you do not know and that is a question that both Leicester and Tottenham must answer.
"It doesn't say anything about the personalities in these teams. I don't know them so I cannot judge. But there shall come a moment when they have to win. At the moment, everything is OK and nice. But the manager has spoken about being champion, so now it shall play in their heads. But a lot of players can cope with that."
Having emerged from the King Power Stadium with a 1-1 draw in November, Van Gaal insisted at the time that Leicester could surprise everyone and win the title. He also admits he is relishing that prospect, if only to witness the former Leicester and England forward Gary Lineker fulfilling an ill-conceived pledge to present Match of the Day in his underwear.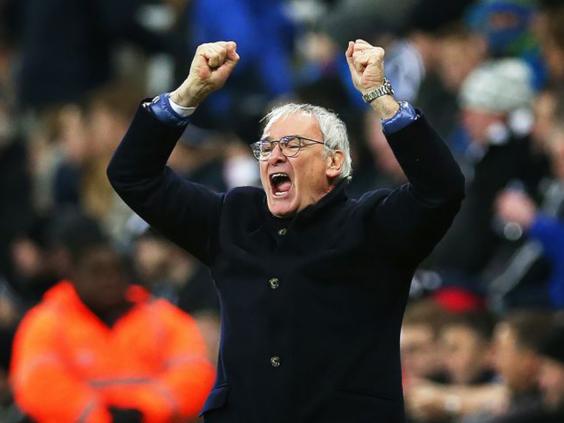 "Maybe you remember that I have already said that Leicester can be the champion?" Van Gaal says. "The Godfather, Gary Lineker, was laughing about that, but he has to undress himself if they win it, is that right?
"Well, I am waiting for that."
Reuse content