Louis van Gaal has been accused of showing disrespect to his assistant Ryan Giggs and mistreating struggling Manchester United duo Radamel Falcao and Angel Di Maria.
Wim van Hanegem, one of the most respected figures in Dutch football and a member of the side that reached the 1974 World Cup final, laid into his fellow countryman at a time when pressure is mounting at Old Trafford.
Van Gaal's hopes of claiming a trophy in his maiden season at Manchester United were dashed earlier this week when they were knocked out of the FA Cup by Arsenal. The defeat came as little surprise considering the concerning form of the team in recent weeks.
In his exclusive column for The Independent, Paul Scholes questioned if Van Gaal's system is right for the players he has at his disposal. Among those that have struggled this term are the two marquee signings of the summer - Falcao and Di Maria. Van Hanegem has suggested Van Gaal is mistreating the pair.
"Falcao has proven over the past few years that he is one of the best strikers in the world. But at United he is being treated as if he was signed from an old fourth division club," Van Hanegem is quoted as saying in the Mirror.
"Sometimes he's allowed to play a few minutes, sometimes he is allowed to start, other times he sits 90 minutes on the bench, or even worse, in the stands.
"I can see there are more players not happy at United. Di Maria was one of the most important links in the chain at Real Madrid. In the World Cup he was the best player in the Argentina side. But at United he hasn't been able to pass a ball over more than 25 yards most times."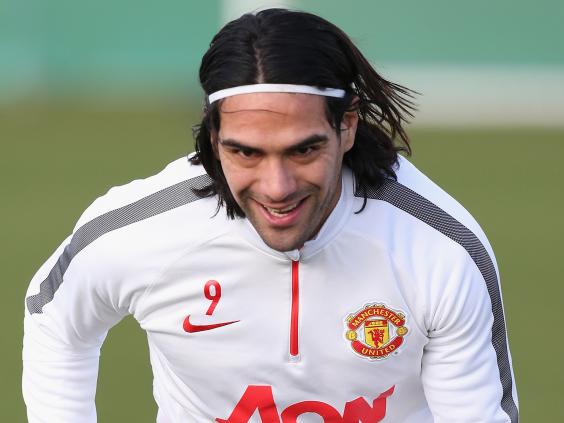 Van Hanegem also suggested Van Gaal is being disrespectful to assistant Giggs. During the recent win over Newcastle, the former United player remained stoney-faced after Ashley Young's late winner whilst Van Gaal was unable to contain his delight. The contrasting reactions led to suggestions the pair are not seeing eye-to-eye, something Van Gaal denies is the case.
"What I hate to see is how Van Gaal is treating Ryan Giggs. Louis has more attention for the other geezer next to him. But Louis forgets that we are talking here about Ryan Giggs.
"Louis has played for Telstar, FC Antwerp and Sparta Rotterdam. Giggs was a giant as a player. He deserves more respect than this."
An alternative XI Van Gaal could play this weekend...
Manchester United alternate XI
Manchester United alternate XI
1/11 GK: David De Gea

No question over the place of the brilliant Spaniard; one of the best goalkeepers in the world.

2/11 RB: Rafael

For whatever reason, the Brazilian seems to have completely lost the trust of Van Gaal and only started six matches in the Premier League, and not since 26 October, with winger Antonio Valencia starting in defence instead. But Rafael, although sometimes very rash, is a good defender, always gives his 100 per cent and is an asset going forward. He would be an upgrade over Valencia.

GETTY IMAGES

3/11 CB: Chris Smalling

A long way from the finished article, Smalling has all the tools to be a top class centre-back but appears to lack the calmness or reading of the game to truly make the next step. Has been United's most reliable centre-back this season when fit, but the club certainly need to upgrade in the summer.

4/11 CB: Phil Jones

Like Smalling, Jones has all the tools but he too can make rash decisions and would be better with a more experienced head alongside him. Only just coming back from injury so if Shaw is fit Rojo should play in the middle.

GETTY IMAGES

5/11 LB: Marcos Rojo

Whether playing at centre-back, on the left of a back three, at wing back or at left-back, there haven't been too many complaints about Rojo, who on the whole has looked decent. He's decent on the ball and strong (if a little rash) in the tackle, and by and large a good defender. If Luke Shaw - who has enjoyed a mixed season but shown potential - is fit enough he should start, with Rojo replacing Phil Jones in the centre.

6/11 CM: Ander Herrera

That Ander Herrera has only started nine Premier League matches this season is a complete mystery to most. He has three goals and three assists in the league, is strong in the tackle, good on the ball and, unlike Carrick and Blind who like to stay deep, is willing to get up and support his forwards with late runs. Has been starting recently but needs a run of games next to Carrick.

7/11 CM: Michael Carrick

Daley Blind is a firm Van Gaal favourite but despite showing a couple of neat touches here and there, he offers very little as a central midfielder. He plays in a very safe manner, only ever going sideways and backwards and rarely breaking forward or creating chances. The same accusations have been thrown at Carrick over the years but he is better - Manchester United's best performances this season (in December/January) have come with Carrick pulling the strings.

GETTY IMAGES

8/11 RW: Antonio Valencia

Proved yet again that he is not a right-back. Terrible against Arsenal, he was partially to blame for the first goal, when he turned his back on Oxlade-Chamberlain, and completely to blame for the second goal with a poor back pass. But he is a very effective and direct winger and should be restored to his proper position - if Ashley Young is not fit enough to play.

9/11 AM: Juan Mata

The brilliant Spaniard must be wondering what he must do - besides grow a foot taller and add a stone of muscle - to make it in the Premier League. He was brilliant at Chelsea before moving to Old Trafford and when he has played he possesses the kind of creative instincts Van Gaal favourite Marouane Fellaini could only dream of.

Getty Images

10/11 LW: Adnan Januzaj

Never mind his latest diving incident against Arsenal, the talented Belgian has been vastly underused by Van Gaal. Part of that is because Di Maria has to play but now he is out, the Belgian should start. He showed too much promise in his debut season to be so marginalised. If Ashley Young is fit enough to play he should start on the left with Januzaj moving to the right instead of Valencia.

Getty Images

11/11 ST: Wayne Rooney

Playing Rooney in midfield isn't the worst option, he can play there in a pinch, but you lose so much by not playing him up top. He is such a dynamic force at his best that he has to play - it's not like Van Persie and Falcao have been on fire when they have played. Three goals in three games since returning to the front line shows his quality.

Getty Images
Manchester United take on Tottenham on Sunday in a fixture that could be key to who finishes in the top four - Van Gaal's only remaining target for the season.
Reuse content