Outspoken Argentine Diego Maradona has compared Manchester United boss Louis van Gaal to the devil over his management of Radamel Falcao this season.
The Colombian, on loan at Old Trafford from Monaco, has netted just four Premier League goals since moving to England eight months ago, and hasn't started a game for the Red Devils since February.
Speaking at a press conference in the Colombian capital of Bogota to promote a charity match, former World Cup winner Maradona insisted that Falcao had not been given a fair chance at the club, remarking that "Van Gaal is not a nice guy. [He] is closer to the devil than anything."
Manchester United vs Manchester City combined XI
Manchester United vs Manchester City combined XI
1/11 GK: David De Gea

Joe Hart is getting back to his very best but the Spaniard has been the form goalkeeper in the Premier League this season. Behind a dodgy defence De Gea has performed heroics for Van Gaal on numerous occasions.

GETTY IMAGES

2/11 RB: Pablo Zabaleta

Zabaleta is not the guaranteed starter he once was, with Bacary Sagna playing more often since the turn of the year. We're not sure why as the Argentinian is far superior to the Frenchman and a real driving force for this team. Antonio Valencia is not a right-back and could be a weak link City wish to exploit.

Getty Images

3/11 CB: Martin Demichelis

Vincent Kompany is the big name absence from this combined XI. Obviously the Belgian is the best centre-back either side can field but he is performing nowhere near his best. Demichelis gets a bad rap but he has actually been pretty reliable for City, although he is prone to the odd clanger.

4/11 CB: Marcos Rojo

Chris Smalling's recent form would have seen him in this team but injury while on England duty means he remains a doubt. Phil Jones is too unreliable leaving Rojo as the only other option. He has been decent if not outstanding since his arrival and Van Gaal desperately needs an upgrade at the position.

Getty Images

5/11 LB: Daley Blind

Looks much more effective as a left-back than he does in the middle of midfield, the Dutchman is a stout defender and good going forward. Both Gael Clichy and Aleksandar Kolarov have severe limitations, especially on the back-foot.

6/11 RM: Juan Mata

How he was out of the side for so long will remain a mystery. Mata might be weak and a bit of a liability defensively but he is one of the cleverest and most gifted players in the world. Jesus Navas has shown flashes but never really impressed for a long spell since his move to City.

Getty Images

7/11 CM: Michael Carrick

You don't know what you've got until it's gone. Carrick has his share of critics but the stats speak for themselves; United have lost 29 per cent of their games with Carrick out of the team and only seven with him in it. Yaya Toure scored just his second goal of 2015 on Monday and is one of the biggest disappointments of the season considering his great form last year.

Getty Images

8/11 CM: Ander Herrera

After a perplexing spell out of the team, Van Gaal has finally decided that Herrera is his best midfield option. Offers drive, great vision and combative tackling next to Carrick and more than capable of chipping in with a goal. Fernandinho can be good on his day but again lacks any kind of consistency.

Getty Images

9/11 LM: David Silva

Manchester United's first priority will be to stop the brilliant Spaniard - do that and you are halfway to beating City. Ashley Young is Manchester United's most improved player this season and a real threat on the left but Silva is a maestro.

Getty Images

10/11 ST: Sergio Aguero

Aguero scored 19 goals before his injury and only four since returning. The goals have dried up and so has City's title threat. Despite his desperate form and lack of fitness he is still one of the best around. Marouane Fellaini had found his worth as a bruiser for Van Gaal but he too has limitations.

GETTY IMAGES

11/11 ST: Wayne Rooney

Since he moved back up front he has six goals in his last eight matches and has proved to Van Gaal just what he was missing. Rooney is in red hot form and will be Manchester United's main goal threat on Sunday. Edin Dzeko has struggled all season and Wilfried Bony has been injured since his arrival.

Getty Images
"His time was cut short after the injury and he has to adapt to the move," added the Argentine in reference to the serious knee problem that kept the striker out of Colombia's impressive 2014 World Cup campaign.
Van Gaal has the opportunity to sign Falcao permanently for just over £43m this summer but, while the forward remains on the Old Trafford bench and continues to be blighted by niggling injuries, such a move seems unlikely.
On the pitch, Maradona showed that he still possesses the skill that made him one of the game's greats.
In the 'Game for Peace', organised to support the Colombian government's ongoing peace process , the 54-year-old scored the winning goal with a cooly taken penalty.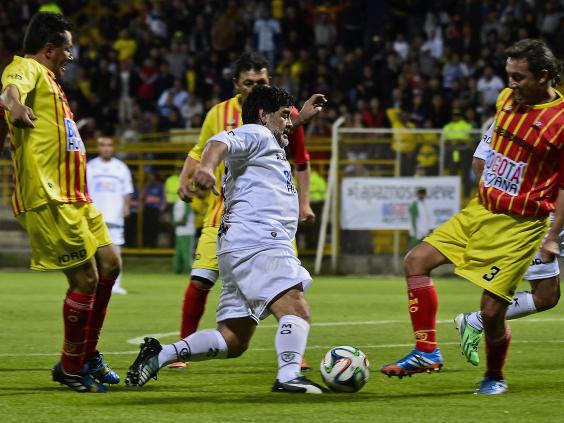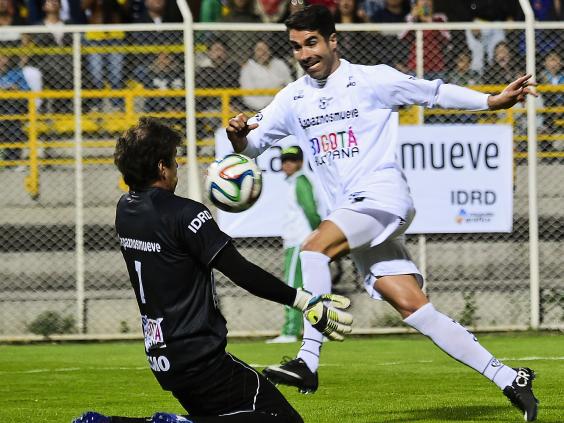 Maradona's girlfriend Rocio Oliva also took part in the match that featured a number of former Colombian internationals including the ex-Aston Villa forward Juan Pablo Angel and Freddy Rincon.
Reuse content