Louis van Gaal was so at pains to deny Manchester United play long-ball, that he handed out a dossier at his press conference earlier this afternoon.
After West Ham manager Sam Allardyce accused the the United boss of playing long-ball at Upton Park, the Dutch coach displayed a series of diagrams, charts, facts and figures intended to show just the opposite.
"Because I expected this question, I have made an interpretation of the data for this game and then I have to say that it is not a good interpretation from Big Sam," said Van Gaal when asked about Allardyce's comments.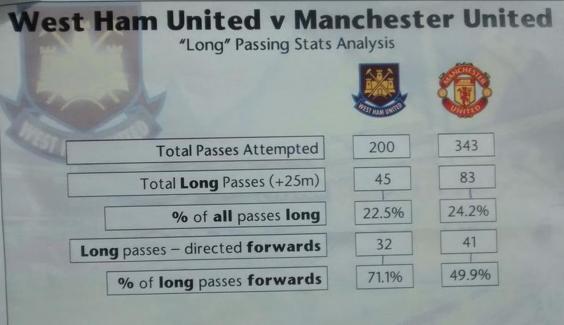 "You have to look at the data and then you will see that we did play long balls, but long balls wide rather than to the striker."
The statistics, presented on four sheets of A4 showed that United attempted 143 passes more than the home side, while 24.2 per cent were over 25m - compared to 22.5 per cent of West Ham's.
Van Gaal insisted that his team only adopted a more direct style when Marouane Fellaini entered the game with 14 minutes to go and the team were 1-0 down.
Reuse content