Louis van Gaal has only collected one win from five Premier League matches despite having the easiest start of any Premier League club this season.
Data put together by MatchStory ahead of the season showed Manchester United having the easiest start in their first five matches based on last season's finishing position.
United faced the three promoted clubs - Burnley, Queens Park Rangers and Leicester City - but managed to gather just four points from a possible nine after a 0-0 draw at Turf Moor and a 5-3 defeat at the King Power Stadium.
The highest placed team United had to face was Swansea on the opening day, where they suffered a 2-1 defeat, and then Sunderland, who held United to a 0-0 draw, who finished 12th last season.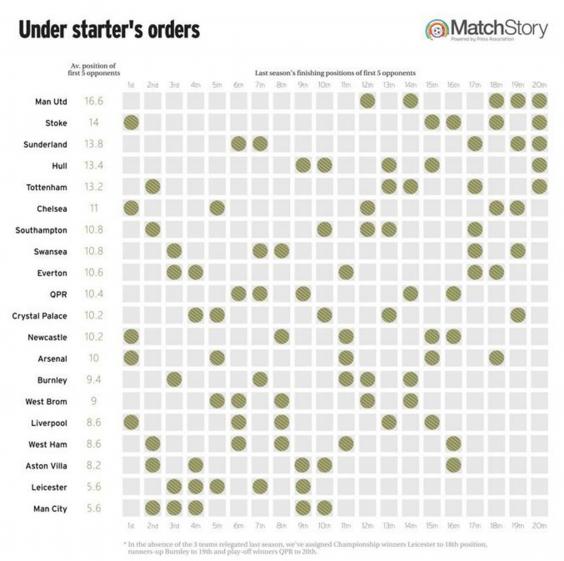 The start is in stark contrast to David Moyes last season. Moyes also faced Swansea City in his first Premier League match in charge, but had the daunting prospect of away matches at Liverpool and Manchester City and a game against Chelsea at Old Trafford, as well as one promoted club, Crystal Palace.
Moyes picked up seven points in his first five games in charge.
Van Gaal's next match is a home tie to West Ham, who are currently eighth, and then at Everton who are surprisingly struggling so far. With £150m spent this summer, United fans will be expecting a return soon from the Dutch coach.
Manchester City, the team with the hardest start this term, have performed already beaten Liverpool and drawn with Arsenal and Chelsea to pick up eight points from their five matches.
Chelsea had the sixth easiest start and are so far unbeaten to sit top of the Premier League table.