Stoke defender Robert Huth has called for Liverpool striker Luis Suarez to be banned for three games…for bursting into tears after the 3-3 draw with Crystal Palace on Monday night that effectively cost the Reds the Premier League title.
While Brendan Rodgers' side had to overturn a large goal difference to stand a chance of claiming a first title in 24 years, the three-goal lead over Palace looked to have given them a fighting chance of going into the final day of the season with a chance of glory. But the introduction of Dwight Gayle changed the game and saw the Eagles battle back to earn a share of the points, and leave Suarez and Co deflated on the Selhurst Park pitch.
While others such as Steven Gerrard and Martin Skrtel couldn't believe what had happened, Suarez pulled his shirt over his eyes and balled like a baby, and not even a consoling word from Gerrard or Kolo Toure could lift his spirits.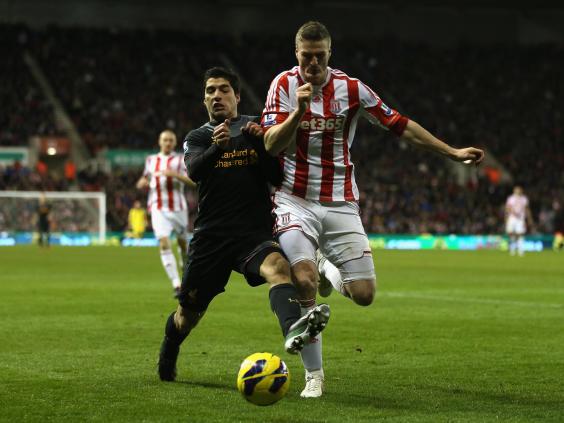 Immediately after the result, German defender Huth took to Twitter to express his belief that anyone who cries on the pitch should be immediately banned.
When sportsmen and sportswomen cry
When sportsmen and sportswomen cry
1/6 Andy Murray - 2010, 2012

Andy Murray 2012 – Federer made Murray's face wet again in the Wimbledon's Men's Final. 2010 – Tears fell after the Scottish giant's defeat in the Australian Open final against Roger Federer.

Getty Images

2/6 Bubba Watson - 2014

Bubba blubbered after his 2nd Masters Triumph at Augusta.

Getty Images

3/6 Carsten Jancker - 1999

The goal keeping Giant 'let it out' after Man United snatched the win against Bayern Munich in the Champions League final.

Getty Images

4/6 David Beckham - 2006, 2013

After England crashed out of the 2006 World Cup. Beckham sported his latest 'wet look' following his last game at Paris Saint–German and his retirement in 2011

Getty Images

5/6 Tiger Woods - 2006

The Claret Jug held Tiger tears in 2006.

Getty

6/6 Tonya Harding -1994

After the lace on Harding's right boot snapped at the start of her free-skating programme at the Winter Olympics; a cry persuaded the judges in Lillehammer permit Harding to fix her boot and skate again.

Getty Images
"Still maintain that crying on the pitch should warrant a 3 match ban," he said, with the post getting more than 16,000 retweets.
Still maintain that crying on the pitch should warrant a 3 match ban

; robert huth (@robert_huth) May 5, 2014
Suarez was not alone this weekend, as Chelsea left-back Ashley Cole could also be found blubbering at Stamford Bridge less than a week after his captain John Terry was also reduced to tears. Cole could leave the Blues at the end of the season with his contract set to expire, while Terry couldn't handle the Champions League semi-final defeat to Atletico Madrid. Of course, it is not the first time Terry has welled up in public, as the gallery below will show.
With Rodgers admitting that the title is now City's to lose, Suarez will not enjoy reflecting on a day that saw him named the Football Writers' Player of the Year, as well as netting his 31st league goal of the season.