In another season, or maybe a different set of circumstances, this 1-1 draw at the Etihad would have had a huge bearing on the title race. As it was, it was a hugely entertaining match, but one that didn't really change or tell us too much about either team.
Liverpool again got a respectable result against one of the top six, Manchester City showed resilience and probably shaded the game in term in terms of performance, and both still look good for a Champions League place. Yet, as even as it all ended, it was a very uneven game in terms of emotions.
There was an awful lot of anger, amid some gloriously furious football, and one moment of incredulity as Adam Lallana produced possibly the miss of the season - if not the decade.
Manchester City 1 Liverpool 1 player ratings
Manchester City 1 Liverpool 1 player ratings
1/22 Willy Caballero – 5 out of 10

Had a relatively quiet day – only conceding from Milner's penalty.

2/22 Gael Clichy – 5 out of 10

He was crashing into challenges, defending bravely and winning every aerial challenge.

3/22 John Stones – 6 out of 10

Made a number of vital interceptions and clearances. Tough defending from the back.

4/22 Nicolas Otamendi – 7 out of 10

Failed to keep up with the City strikers pace, but made up for it with headers and clearances.

5/22 Gael Clichy – 5 out of 10

Gave away the penalty for Milner's opener. Terrible decision for a man of such experience.

6/22 Yaya Toure – 6 out of 10

He was reading the game well from the middle of the park and opening the defence by spreading the balls wide.

7/22 Raheem Sterling – 6 out of 10

He used the width well, but he needs to be more clinical in front of goal.

8/22 Kevin De Bruyne – 7 out of 10

Deliveries were sublime and he was pumping balls into the forwards continuously. Assist for Aguero was world class.

9/22 David Silva – 7 out of 10

As always, he was picking the ball up and using possession tremendously. He's quick, skilful and is a nightmare to play against.

10/22 Leroy Sane – 7 out of 10

As always, his pace caused problems for the Liverpool defence and he was an all round nuisance to play against.

11/22 Sergio Aguero – 6 out of 10

His goal levelled the scoring for Guardiola's side, but he had a hard time today against the Liverpool central defenders.

12/22 Simon Mignolet – 5 out of 10

Made a handful of vital saves, but was beaten by Aguero in the second half.

13/22 Nathaniel Clyne – 6 out of 10

Had a tough afternoon against the pace of Sane, but he held his own and worked well.

14/22 Ragnar Klavan – 6 out of 10

Stuck tight with Matip and this kept Aguero relatively quiet.

15/22 Joel Matip – 6 out of 10

He made a number of crucial interceptions and clearances, but he needs to be careful when giving away fouls.

16/22 James Milner – 7 out of 10

Scored the opener after an encouraging display. He defended well and attacked relentlessly.

17/22 Adam Lallana – 6 out of 10

Defensively there is room for improvement, but going forward he passed well and created a handful of chances.

18/22 Emre Can – 5 out of 10

Was outplayed in the middle of the park at times by City's midfielders. Needs to improve his aerial game.

19/22 Georginio Wijnaldum – 6 out of 10

Drifted in and out of the game at times. Needs to make more of an impact in the games against bigger clubs.

20/22 Sadio Mane – 8 out of 10

Was Liverpool's biggest threat going forward – quick, skilful and he oozes confidence.

21/22 Roberto Firmino - 7 out of 10

Was the target for every Liverpool attack and when he received the service – he caused problems.

22/22 Philippe Coutinho – 5 out of 10

His deliveries were poor, particularly from set pieces. Needs to regain the fine form that the fans will be wishing for.
Both Pep Guardiola and Jurgen Klopp had moments of aggravation with the officials, but it was James Milner who probably bore the brunt of the anger, as he was repeatedly booed by the home fans in an apparent response to comments he made about why he left and the ongoing acrimony about how his opposite number-seven Raheem Sterling left Anfield. 
It was all too predictable that he would score a spot-kick, and just as predictable that the prolific Sergio Aguero would respond to that and his series of miss against Monaco in midweek with a key goal.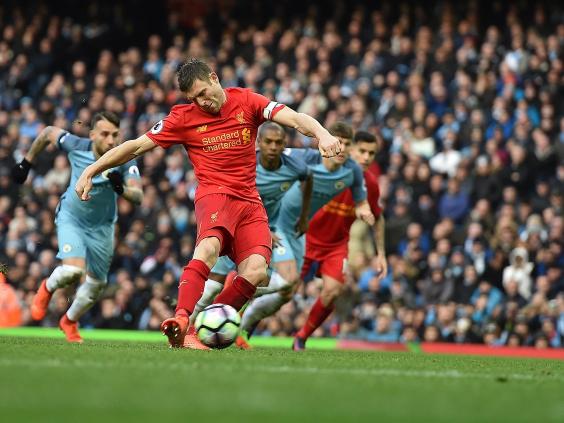 It was just a surprise that there weren't more goals, and maybe more penalties.
Most of the first half seemed to be dominated by calls.
The first came on 24 minutes. Just after David Silva had wasted an opportunity at one end by going for the spectacular in trying to volley the ball into the roof of the net, Sadio Mane seemed to waste an opportunity to leave Nicolas Otamendi in his slipstream, as he went down under the challenge of the Argentine when a one-on-one presented itself. 
Referee Michael Oliver waved away appeals, just as he did moments later when Georginio Wijnaldum went down as Yaya Toure went in rashly.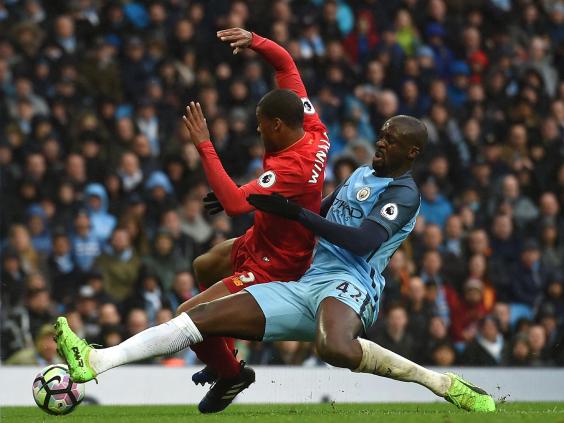 City had their own complaints 10 minutes later, as a supreme move between Kevin De Bruyne and Silva ended with the ball fizzing across the box but Milner appearing to impede - of course - Raheem Sterling. Perhaps the biggest question about that passage of play, however, was how Fernandinho still couldn't score.
It looked all the more wasteful as Liverpool then began to generate momentum, to the point a goal seemed to be coming even before the penalty. The first half ended with Willy Cavallero's goal under siege, as he pulled off a brilliant save from an Lallana volley, before John Stones probably did even better to get across and deny Joel Matip with a superb interception just as he seemed set to score.
There was no such spotless accuracy from Clichy when Firmino found himself in a similar position just minutes after the break, as the full-back clumsily bundled him, and Oliver finally pointed to the spot. Milner naturally wasn't going to miss, especially given all the boos and commotion around him.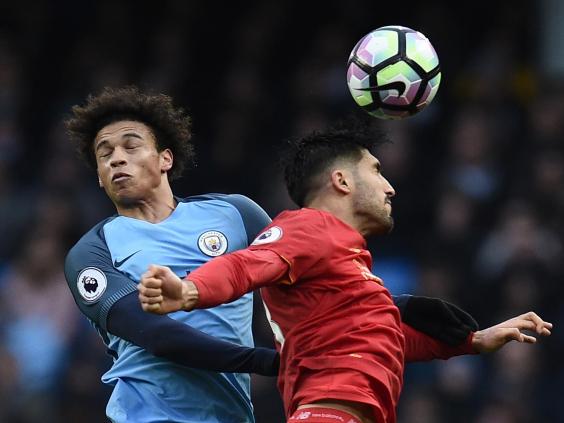 Firmino then had the chance to put the game beyond City with a one-on-one 10 minutes later, but Cavallero did well to divert his effort.
It seemed a bit of a last straw for City, as it jolted them back into life, and they began to again play some of the luscious football they been offering in the first half. There was a sharpness about them again, particularly Aguero.
After a spell when the Argentine had repeatedly and ominously threatened, especially with one header that went wide, he finally produced. On 69 minutes, De Bruyne drove the ball sharply into the area, and Aguero met it with the perfect finish.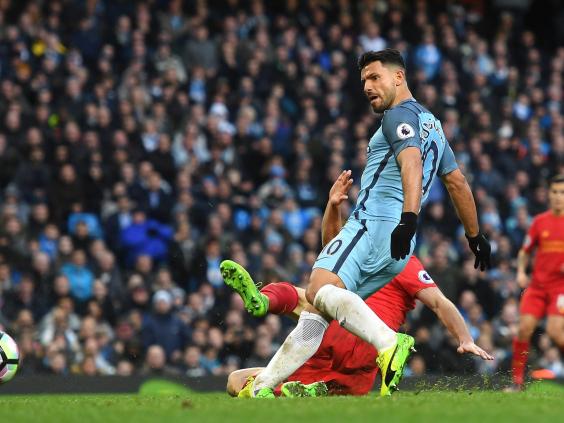 He should maybe have made it 2-1 on 75 minutes, as the ever-lively Leroy Sane brilliantly flicked the ball back to the Argentine, only for him to lose his footing in the box, before De Bruyne hit the post from the breaking ball.
Lallana, however, couldn't even make it that far. It was as if the attacker was as bamboozled by the quality of Liverpool's move as the City defence. Somehow, after Wijnaldum had deftly lifted the ball over the top for Firmino to help it on, Lallana somehow completely miskicked with the goal at his mercy.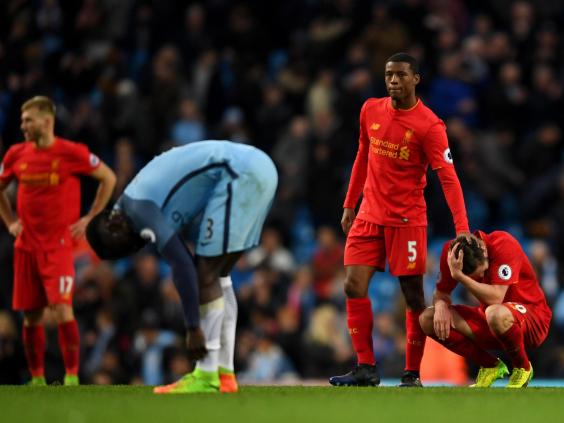 It was still City who will probably rue the closing stages most, as Sterling was denied having outfoxed Mignolet in a one-on-one, and Aguero blazed over from just yards out.
No-one could quite get the better of the game, and it means that there is still no manager to have twice got the better of Guardiola in a single league season. Klopp had that opportunity but, like some of his players, squandered the opportunity.
It also means Guardiola still hasn't been six times in a league season. That probably has a greater meaning for him than it does for the table, and should be something to be happy about, even if so many of the emotions of this match didn't reflect it.
Reuse content