Manchester City were selling tickets for their Champions League quarter-final. The game was against Fortuna Hjorring from Denmark and Manchester City would be represented by their women's team.
This was a match played in the long shadow of Monaco, the night when people began to wonder how Pep Guardiola would ever bring the European Cup to the Etihad Stadium when his side concedes an average of two goals in every Champions League fixture.
Unlike Manuel Pellegrini, an honourable man who was sacked for being insufficiently famous, Guardiola will not be winning the Premier League in his first season and this was an afternoon in which he and his players badly needed to make a statement of what they were about.
Mostly, they did. Guardiola protected himself from the driving rain with a woolly hat and raincoat, a considerably more elegant combination than Jurgen Klopp's choice of cagoule and baseball cap, and often City's football was as slick as the pitch.
Some of the play, especially from Leroy Sane, whose play reflects that fact he is the son of a footballer and a gymnast, made you realise the sheer sense of thrill that Guardiola has brought to Manchester City.
Manchester City 1 Liverpool 1 player ratings
Manchester City 1 Liverpool 1 player ratings
1/22 Willy Caballero – 5 out of 10

Had a relatively quiet day – only conceding from Milner's penalty.

2/22 Gael Clichy – 5 out of 10

He was crashing into challenges, defending bravely and winning every aerial challenge.

3/22 John Stones – 6 out of 10

Made a number of vital interceptions and clearances. Tough defending from the back.

4/22 Nicolas Otamendi – 7 out of 10

Failed to keep up with the City strikers pace, but made up for it with headers and clearances.

5/22 Gael Clichy – 5 out of 10

Gave away the penalty for Milner's opener. Terrible decision for a man of such experience.

6/22 Yaya Toure – 6 out of 10

He was reading the game well from the middle of the park and opening the defence by spreading the balls wide.

7/22 Raheem Sterling – 6 out of 10

He used the width well, but he needs to be more clinical in front of goal.

8/22 Kevin De Bruyne – 7 out of 10

Deliveries were sublime and he was pumping balls into the forwards continuously. Assist for Aguero was world class.

9/22 David Silva – 7 out of 10

As always, he was picking the ball up and using possession tremendously. He's quick, skilful and is a nightmare to play against.

10/22 Leroy Sane – 7 out of 10

As always, his pace caused problems for the Liverpool defence and he was an all round nuisance to play against.

11/22 Sergio Aguero – 6 out of 10

His goal levelled the scoring for Guardiola's side, but he had a hard time today against the Liverpool central defenders.

12/22 Simon Mignolet – 5 out of 10

Made a handful of vital saves, but was beaten by Aguero in the second half.

13/22 Nathaniel Clyne – 6 out of 10

Had a tough afternoon against the pace of Sane, but he held his own and worked well.

14/22 Ragnar Klavan – 6 out of 10

Stuck tight with Matip and this kept Aguero relatively quiet.

15/22 Joel Matip – 6 out of 10

He made a number of crucial interceptions and clearances, but he needs to be careful when giving away fouls.

16/22 James Milner – 7 out of 10

Scored the opener after an encouraging display. He defended well and attacked relentlessly.

17/22 Adam Lallana – 6 out of 10

Defensively there is room for improvement, but going forward he passed well and created a handful of chances.

18/22 Emre Can – 5 out of 10

Was outplayed in the middle of the park at times by City's midfielders. Needs to improve his aerial game.

19/22 Georginio Wijnaldum – 6 out of 10

Drifted in and out of the game at times. Needs to make more of an impact in the games against bigger clubs.

20/22 Sadio Mane – 8 out of 10

Was Liverpool's biggest threat going forward – quick, skilful and he oozes confidence.

21/22 Roberto Firmino - 7 out of 10

Was the target for every Liverpool attack and when he received the service – he caused problems.

22/22 Philippe Coutinho – 5 out of 10

His deliveries were poor, particularly from set pieces. Needs to regain the fine form that the fans will be wishing for.
The way Sergio Aguero, whose two goals in the first leg against Monaco should have secured a Champions League quarter-final, took the equaliser suggested that talk City could do without him might be very premature. The lovely over-the-top chip from David Silva that sent Raheem Sterling through, underlined the point that the old guard who sustained the regimes of Pellegrini and Roberto Mancini still have a distance left to run.
As always with Manchester City, the problems lay in defence. This is not solely a phenomenon of Guardiola's regime. The last time Liverpool came to the Etihad Stadium, in November 2015, they destroyed Manchester City 4-1 in one of the first demonstrations of what damage Klopp's high-pressing game could do in England.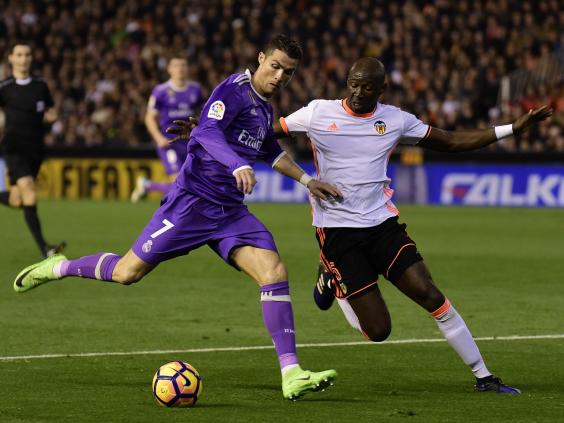 Then, Liverpool's opener was an own-goal scored by Eliaquim Mangala, a centre-half who cost the club £42m and who is not considered remotely good enough even for Guardiola's squad. Valencia, where Mangala plays on loan, have shown not the slightest interest in making the move permanent. It says something that a club as well-resourced as Manchester City should have employed Fernandinho as a right-back.
Here, Liverpool owed their point to a wild, uncontrolled challenge from Gael Clichy, the sort that completely belied his experience. Roberto Firmino did not have the ball under control when Clichy charged in. However much they howled down their former player, James Milner is probably the Premier League's best penalty-taker. This was his seventh of the season and was as emphatically converted as his spot-kick at Old Trafford in January had been.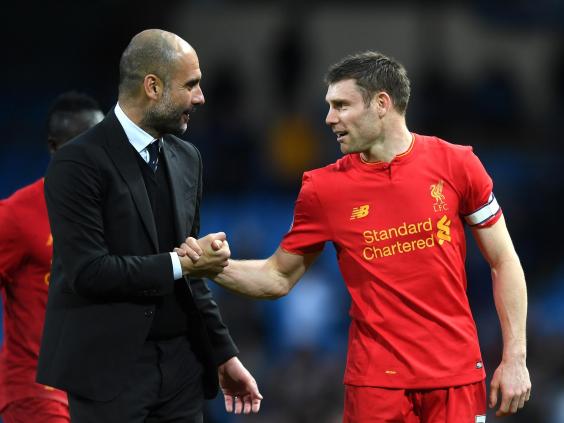 This was an afternoon when Guardiola emphasised that he will not change. Defending a two-goal lead in Monaco, he had employed five attacking footballers and paid the price. He selected the same five against Liverpool.
They produced a fabulously entertaining game which showed the Premier League at its best just when it is agonising over its continual failure to make an impact in the Champions League.
The match programme printed an evocative photograph of Joe Mercer and Bill Shankly chatting in the corridors of Maine Road in 1971. Neither club won a trophy in a year that was dominated by London. Arsenal won the Double, Tottenham the League Cup, while Chelsea beat Real Madrid to win the Cup-Winners' Cup. However, in 1971 Liverpool and Manchester City could claim to be England's two most exciting clubs and, then as now, that is not a bad accolade to aim for.
Reuse content