John Terry was out of the picture at the moment when the reality of his 34 years must have coursed through him like a lightning bolt.
His instincts had told him to head out of his penalty area to deal with the elusive presence of David Silva. And it was from there that he viewed the dreadful, yawning reality of the game's decisive moment: the chest-cushioned control by Sergio Aguero of Yaya Touré's return pass, the Argentine's weight transfer and swivel towards goal and, as Terry raced back to make amends, the side-footed finish. He was too late. Several seconds too late.
Terry said in pre-season, when his manager's pursuit of Everton's John Stones became so transparent, that he was "not naive enough" to consider himself irreplaceable and needed to maintain the form of last season, when he played every minute of Chelsea's Premier League season. "I know that if I don't, the manager will take me out of the side and replace me with someone else," he observed. That kind of talk is cheap when no notion lurks of what we witnessed today: Terry emerging from the interval to sit in a dug-out, with a face that told a thousand stories, after Jose Mourinho had broken the habit of a working lifetime and substituted him in a Premier League game.
Defenders will tell you that age does not creep up on you at such a remorseless level of football as this. It simply hits you like a juggernaut. For Gary Neville there was half time in the away dressing room at West Bromwich Albion on New Year's Day 2011, Sir Alex Ferguson barking out instructions on how to improve on a dire first-half performance, and that particular 35-year-old sitting in the toilet, reflecting on having made "Jerome Thomas look like Ronaldo," as he described it later. He wanted to be out of that godforsaken place. "Yes, it comes out of nowhere," says The Independent columnist Danny Higginbotham, who's lived through the experience, too.
Manchester City 3 Chelsea 0 player ratings
Manchester City 3 Chelsea 0 player ratings
1/20 Joe Hart, Manchester City

The goalkeeper had hardly anything to do in the first half, but responded well when called in action particularly for Hazard's second-half shot. 7

Getty

2/20 Bacary Sagna, Manchester City

Did well to pressurise Hazard early on, and also combined well with his defensive partners to stop the Belgian finding space to attack. 6

Getty

3/20 Eliaquim Mangala, Manchester City

Partnered well with Kompany, and had a good chance to double City's lead but headed wide minutes before the break. 6

Getty

4/20 Aleksander Kolarov, Manchester City

The full-back kept finding the space that helped build-up City's attack on the left flank. 7

5/20 David Silva, Manchester City

The Spaniard pulled the strings in midfield and worked small pockets of space well to find his teammates. He also assisted for Fernandinho's goal. 7

Getty

6/20 Jesus Navas, Manchester City

The Spaniard's pace was a constant issue for Chelsea, and he was consistently involved in the home side's attacks. A fine performance from the winger. 7

Getty

7/20 Fernandinho, Manchester City

Could have been sent off for his elbow to Costa but, otherwise, did his defensive duties well and netted a superb strike late on. 8

Getty

8/20 Raheem Sterling, Manchester City

His pace on the left allowed him to skip past Ramires and Ivanovic several times in the clash. City's summer signing showed a really good understanding with Silva, Aguero and the rest of his teammates to cause Chelsea problems. 7

Getty

9/20 Yaya Toure, Manchester City

Played a one-two with Aguero for the opener and his strength proved crucial in preventing Chelsea's forwards from finding a way through the middle of the pitch. 7

Getty

10/20 Sergio Aguero, Manchester City

Got the opening goal and could easily have had more with no less than five shots at goal in the first half. The Argentine gelled well with Sterling and Navas and was easily one of City's best performers. 9

Getty

11/20 Asmir Begovic, Chelsea

Dealt with his early tests well, but could not keep out City's goals. Showcased why he will pressurise Courtois for the No.1 spot this season. 6

Getty

12/20 Branislav Ivanovic, Chelsea

Like last week against Jefferson Montero, Chelsea's vice-captain struggled with pace of Sterling and could not stop Kolarov from using the left flank to drive in crosses into the box. Was beaten by Kompany for City's second goal and had a day to forget. 4

Getty

13/20 John Terry, Chelsea

Could not command and organise his back line as he usually does so well, with Chelsea looking disorganised in defence. 5

Getty

14/20 Gary Cahill, Chelsea

The centre-back was outwitted by Silva's fancy footwork for the opening goal, which ultimately allowed Aguero to gain possession and shoot. He was off the pace although he improved in the second half. 5

Getty

15/20 Cesar Azpilicueta, Chelsea

Navas proved a nuisance for the left-back and Azpilicueta found his compatriot's pace too much to deal with. 5

Getty

16/20 Eden Hazard, Chelsea

Last year's PFA Player of the Year was stifled and could not find the space to make the difference. 5

Getty

17/20 Nemanja Matic, Chelsea

Battled well in midfield, but was unable to stop the physical threat of Toure and the pace provided by City's forwards. 6

Getty

18/20 Willian, Chelsea

Was a source of pace for Chelsea and while he did well to provide crosses into the area for the visitors, was helpless to do much else. 6

Getty

19/20 Cesc Fabregas, Chelsea

Linked up well with his teammates from his slightly defensive position, but couldn't breach City's defence. 5

Getty

20/20 Diego Costa, Chelsea

The striker was dealt with in brilliant fashion by City's defence and while his work rate was good, Costa cut a frustrated figure throughout the game. 6

Getty
This may not be such a defining moment as all that for Terry, the outstanding Premier League centre-half of last season, but it was notice of the challenge these next nine months will represent. Mourinho's description of the "fragility" of Chelsea's defence – a word he used twice in his press conference – will have cut Terry all over again when he read it last night. Just like the manager's response to whether what had just happened on the pitch outside was the worst he had seen in his two Chelsea reigns. "Defensively?" Mourinho replied. "I don't know…"
There have been few 45 minutes quite like that for the captain; City operating with a pace and sense of intent that made them unrecognisable from the side of last season. Terry was not the only one who bled. Gary Cahill was the one Aguero sluiced as he navigated a course through the Chelsea area to open the scoring. But from the game's first knockings – no more than its 10th second – it was as torrid for Terry as it gets for the older man, Silva measuring a ball inside of him through the left channel, leaving Terry with a sprint after the No 10 jersey. It evaporated away from him, way out of range.
The Raheem Sterling component to the challenge was even less predictable. The 20-year-old's early suggestions that £49m will not look such a lot of money come May were born out of his movement off the ball as much as his time on it. Sterling drifted around the front line, seeking out the small pockets of space, leaving both Terry and Cahill looking unsure at times whether to leave or follow. Even when a decision could be taken, the impact was uncertain. Terry's leap to make a headed interception from one of Aleksandar Kolarov's several well-measured crosses, just beyond the 20-minute mark, saw him connect with fresh air. Aguero seemed as surprised as anyone. The ball hit his heel and went wide.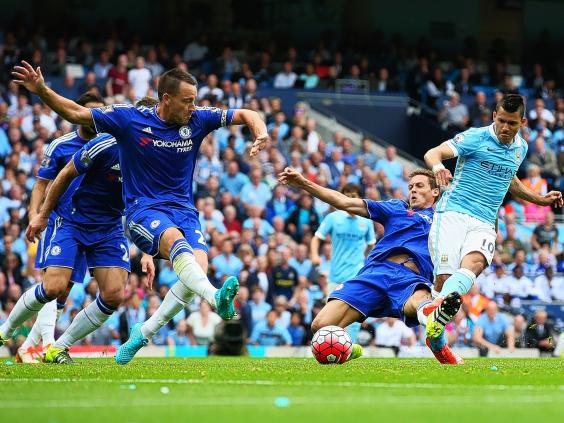 Mourinho's explanation of all this was one heap of contradictions. It had been the need to play a higher defensive line which had prompted Terry's half-time withdrawal, he said. Yet there could be no disguising his frustration with the way the week's meticulous planning – the dimension of his management which divides Chelsea from the rest – had so immediately come apart at the seams. "When you are all week speaking about movements and [about] Aguero runs and [about] Aguero positions and [about] wingers coming from outside to inside and after 10 seconds Aguero is in the face of Begovic…" he said, not completing his sentence.
It was the first time since May 2013, against Aston Villa, that any Chelsea manager had substituted Terry and not the kind of twist that will be music to the ears of Everton and Roberto Martinez, working resolutely to keep Stones from Stamford Bridge's clutches. If Stones had any doubts about his chances of challenging immediately in west London, then this would have put them to rest.
For Mourinho, the early anxieties stretch beyond the evidence, also exploited by Swansea the week before, that his defence are vulnerable to the through ball delivered at pace. He will have sized up Manuel Pellegrini's City and wondered – like everyone else – where this early sense of menace has come from. Perhaps from having thrown off the millstone of defending the title, which City do not do well. Perhaps from the clear mind of a manager, Pellegrini, who figures that this will be his last season if he fails and might as well be bold. On a strictly tactical level, the shift from 4-4-2 to a 4-2-3-1 has added ballast.
Terry did not stop to discuss the afternoon as he left the Etihad. The difficulty with these moments is to deal with the searing scrutiny that they always bring. It is not a Neville moment. There will certainly be more imperious performances ahead. But when a weakness is discerned in the Premier League, the drive to exploit it is remorseless. The captain's season will be a long one.
Reuse content