When Manchester City first took possession of the Commonwealth Games Stadium, they referred to the new ground jokingly as the "Blue Camp". It seemed ridiculous to believe there might be any other similarities to Barcelona.
At this moment there is perhaps no stadium in the world, not even the Nou Camp, that houses such a threat as the Etihad. The average scoreline here is a 4-0 home win and Cardiff, tenaciously though they played, went round roughly in par. Their manager, the former Manchester United forward Ole Gunnar Solskjaer, compared City in terms of sheer, irresistible force to Bayern Munich, the European champions.
Many had wondered how City's 100th goal of the season might be scored but few imagined it would be decided by a ping on the referee's watch. Edin Dzeko's 16th of the season not only brought up City's century it was the first in the Premier League to be awarded by the Goal Decision System, although you hoped that Neil Swarbrick or his  assistant might have noticed that the ball was over the line when Kevin McNaughton hooked it clear. The cameras, however, rendered any  debate superfluous.
The goal meant City became the quickest to score 100 goals in a top-flight season with a tally which now stands at 103 in 34 games in all competitions. The achievement of Manuel Pellegrini's side erased two records. Chelsea had been quickest to the 100 mark in terms of games (42) last season, while Leeds United in 1969-70 had been the quickest in terms of time (February).
"This is a good team with good players, we must be a candidate for all the trophies," Pellegrini said. "We are an attractive team, we create chances in every match to score a lot of goals and it is important to continue. At the start of the season we had to change many things from last year but that has happened and the players are improving all the time."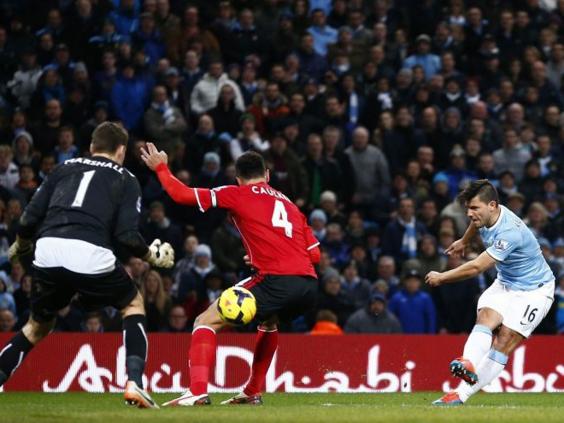 Perhaps he now has in his sights the top-flight record for a full season in all competitions, held by Manchester United's Busby Babes, who scored 143 goals in 1956-57.
It seems astonishing to think that City at home once represented another, more sterile world. In the 2006-07 season, they failed to score in 13 of their 19 Premier League games in this arena and Stuart Pearce was sacked because his style of football was so achingly dull. It is amazing what £500 million can change. Three of the goals were typical of the way City play. Only the second, a breaking ball pounced on by Jesus Navas, did not showcase an aspect of their game. The first was created by the speed and skill with which David Silva turned his man tight on the Cardiff byline and created the space for the pull-back to Dzeko, who in the event scuffed his shot.
There was a run from deep in his own half by Yaya Touré, as strong and certain as a midnight train through the moonlit countryside. Nobody in Vincent Tan's hated red shirts tried to close him down before a one-two with Sergio Aguero on the edge of the Cardiff area.
The Argentine's return pass was slightly awry but the Ivory Coast midfielder stretched for it and unleashed his shot. Then, there was Aguero, returning to League action for the first time since last month's 6-3 demolition of Arsenal. He had scored then and he scored now, turning Steven Caulker both ways before driving his shot past David Marshall. If City are to win four trophies they might ask the Cardiff manager the kind of qualities are required.
The United team that won three trophies with Solskjaer aboard in 1999 may have possessed a better defence and goalkeeper but did not quite have City's incredible forward line. Sir Alex Ferguson always said the secret of the Treble was that United's games came so thick and fast his footballers did not realise the scale of what they were about to achieve. That may be true of City.
"We didn't have bad players then but there is no doubt this is a terrific team," said Solskjaer.  "We have been tested by one of the best in Europe. Only Bayern Munich can compare with their record this season and we knew it would be tough."
It is routine for managers to remark that "they never gave up" but, 4-1 down, Craig Noone kept up the pressure on City's defence and contributed to the final goal of the afternoon, put away by Fraizer Campbell. Noone scored also the second and best goal of the game after a lovely one-two with Aron Gunarsson. Cardiff briefly dreamt of something extraordinary and these days at City very few teams are allowed even passing fantasies.
Manchester City (4-2-3-1): Hart; Zabaleta, Kompany, Demichelis, Kolarov; Touré, Garcia; Navas (Clichy, 82), Negredo (Aguero, 62), Silva (Milner, 80); Dzeko..
Cardiff City (4-3-2-1): Marshall; Theophile-Catherine, Caulker, Turner, McNaughton (John, 68); Noone, Medel, Mutch; Gunnarsson, Whittingham (Bellamy, 68); Campbell.
Referee: Neil Swarbrick
Man of the match: Noone (Cardiff)
Match rating: 7/10
Reuse content