The scoreline tells only half the story of the game of the season and of how it telegraphed to the rest of the Premier League what an incredible force this Manchester City team are.
The really breathtaking part was the way that Manuel Pellegrini's side came at Arsenal again and again, grinding them down to the very end, and to hell with consequences. Someone said that the last time the team played like this was in 2001, when Kevin Keegan was manager, though that would be to forget the all-round power and invention of this team.
FOLLOW ALL OF SUNDAY'S NEWS AND UPDATES HERE
A paradigm of the afternoon's performance was the display of James Milner, who has become an symbol of drab, unambitious football in recent years, yet who arrived as a substitute here and went at Arsenal just as he did against Bayern Munich four days ago. His football has been elevated by Pellegrini, and the joke here yesterday was that he is "Milnerino". Though Arsenal showed City's defence is breachable, good luck to any who seek to score more than City do.
The complaints of Arsène Wenger, whose record in the city of Manchester now reads one victory from 17 fixtures, felt very lame last night. Offsides, handballs, tiredness, opportunities lost: it was vintage Wenger. The Arsenal manager had been determined that there would no repeat of the stasis which beset his team in defeat at Old Trafford five weeks ago, but it was still there.
Yes, Arsenal had only enjoyed a solitary day's warm-down after the midweek exertions in Naples, while City looked freshened by eight changes from the team who beat the European champions, Bayern Munich. But none of that makes a material difference to the complexion of the Premier League table today. What matters is that City made a huge statement of intent, with Yaya Touré, Fernandinho, David Silva and Samir Nasri providing a level of creativity Arsenal could not touch.
To acclaim the combination of silk and steel in Touré's football is not original, but it has to be restated here. He is the most complete midfield player in the Premier League by a considerable distance. In one 15-minute first-half period alone he made Aaron Ramsey aware of his thundering presence by dispossessing him on the touchline, then executed an intricate flick with the outside of his boot to send Silva off on one of his myriad runs.
Arsenal were not helped by the positional failings of Nacho Monreal, who was at fault for both City's first- half goals, and by Bacary Sagna's calamitous pass which allowed the home side a third. But Wenger's justifiably celebrated midfield were not able to make the same impact as their opposite numbers, nor match the same deadly quality of pass.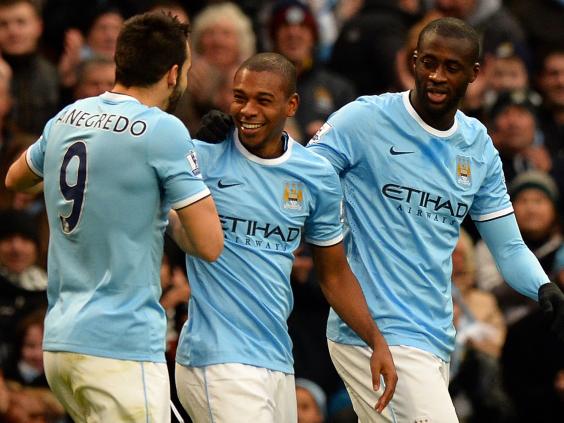 Sergio Aguero's sublime volley put them behind after Monreal's failure to track Martin Dimichelis's 20-yard cross-field ball proved crucial, as the Argentinian flicked on Nasri's corner into Aguero's line of fire. There were brief incursions into home territory from Mathieu Flamini but passes were misplaced, players outpowered and there was no attacking width. Sagna is capable of delivering a beautiful cross, but the first one of any danger, headed narrowly wide by Olivier Giroud, came an hour into the match.
The Mesut Özil threat flickered intermittently, but there was no getting the ball through to him. Arsenal had barely threatened before Ramsey pounced on a rare Touré moment of indecision and did manage to feed Ozil, who levelled for Theo Walcott to place a shot deflected in by Dimchelis's attempted diving header on the half-hour.
But City eased back ahead, Touré atoning for his mistake by delivering a gorgeous 20-yard crossfield pass for Pablo Zabaleta, whose supply was turned straight in by Alvaro Negredo. Sagna's moment of ignominy – a pass across his own area which Flamini could not seize – allowed Fernandinho to pounce and curl in his first City goal. It was well worth the four-month wait.
Walcott responded with something of equal merit, arcing a shot from inside the area over Costel Pantilimon's 6ft 7in frame. Joe Hart enthusiasts had their knives out in that moment, though a shot which defied the laws of physics is not one Pantilimon could take serious blame for.
The debate about this being the game of the season was spent by the time Fernandinho played in Navas for City's fourth. Then Nasri – whose final 20 minutes were another tour de force – stole the ball from Wilshere and supplied a return pass to Fernandinho, allowing the Brazilian to cut inside Per Mertesacker for City's fifth.
Arsenal showed some resilience,  and substitute Nicklas Bendtner's goal was wrongly ruled offside just before Sagna crossed for Mertesacker to head in Arsenal's third. But Milner, skipping around Wojciech Szczesny, drew the penalty which Touré converted for City's sixth.
 Vincent Kompany, poised and aggressive, was massively influential throughout. His languid feint past Ramsey in the first half was just one of his vignettes. He is another player lifted to new levels by Pellegrini.
Jack Wilshere's finger gesture threatened to dominate the post-match narrative, though in the scheme of things it is an insignificance. The story is City's. They have amassed 16 goals in thumping Manchester United, Tottenham Hotspur and Arsenal. It is not even the season's halfway mark, but we can say with impunity that they will take some stopping.
Line-ups:
Manchester City (4-2-3-1): Pantilimon; Zabaleta, Kompany, Demichelis, Clichy; Fernandinho, Touré; Silva (Milner, 71), Aguero (Navas, 49), Nasri Garcia, 90); Negredo.
Arsenal (4-4-1-1): Szczesny; Sagna, Mertesacker, Koscielny (Vermaelen, 42), Monreal; Ramsey, Flamini (Gnabry, 72), Wishere, Walcott; Özil; Giroud (Bendtner, 76).
Referee: Martin Atkinson.
Man of the match: Fernandinho (Manchester City)
Match rating: 9/10
Reuse content