It wasn't quite how Manchester's city council planned it when it decided in the last decade of the last century that bidding for a multi-sporting event was the way to regenerate the grim flatlands of east Manchester, but the economic benefit of the city winning the 2002 Commonwealth Games was finally revealed on Monday, 12 years on.
It came in the shape of Manchester City's new £200m training facility and academy which – with new community facilities attached – the club unveiled on 80 acres of previously contaminated chemical-industry land. Some will view with cynicism the £3m community investment that City's billionaire Abu Dhabi owners have made, and the 5.5 acres donated to locals, while building one of the best training facilities on earth for their fabulously rich young footballers. But it really was hard to find that response on Monday in the narrow back-to-backs which neighbour the new Etihad Campus.
The politician City invited to launch their facility, George Osborne, would certainly not have been their choice but they said that a cycle of unemployment had been broken in some of their homes. Contractors were awarded work on the understanding that they must recruit locally.
Sixty-eight new local apprentices were taken on for the project, all of whom have retained their jobs. More than 83 per cent of the contracts – 883 of them – went to firms within the M60 corridor and 25 per cent of the jobs to people within East Manchester. Those who have worked on the site will never be rich but 10 per cent of them had no work before this project.
Those are just the numbers. You need a longer memory – and to have seen the devastation when then Prime Minister Gordon Brown threw out plans for a super-casino here, which one always suspected would have brought addiction as well as work – to know what the complex, with its 160 construction jobs and 95 permanent roles, really means.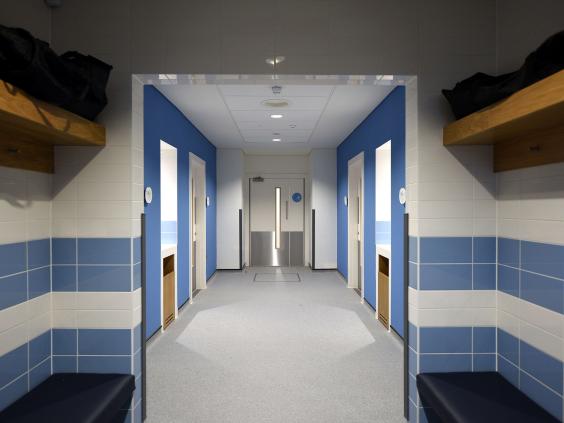 You do wonder what might have happened to the 2002 Games "legacy" had the Abu Dhabis not arrived with their money in September 2008. Sheikh Mansour bin Zayed al-Nahyan's predecessor as City owner, Thaksin Shinawatra, was heading for financial meltdown and would certainly not have been as enthusiastic about investing in acres which have not seen industry since the closure of the local tinworks and coal mine.
The fine details of the new facility are remarkable and no expense was spared as City scoured the world, drawing on basketball, softball and Australian rules football clubs, to create it. There are training pitches with three depths of grass to mimic opposition grounds. Four-star hotel-standard rooms for their players to sleep in on the night before games. Six temperatures of water in the hydrotherapy area. A circular main dressing room that the players asked for, to engender a feeling of inclusivity with all of them as one. A 7,000-capacity academy stadium which, like all the pitches, is on the same orientation as the main Etihad Stadium visible from the stands, as well as the largest indoor pitch in Britain.
CREATURE COMFORTS: The new facilities
Green
There is an 8.1 million-litre rainwater tank under the site which collects rain and waters the pitches.
In the wild
There are kestrels on the site and also Canadian geese, which are thought to have mistaken a blue artificial pitch for a lake.
Safe tweeting
A poster in the player care department reads: "Train like a professional, Eat like a professional, Drink like a professional, Tweet like a professional."
Safe hands
There are dedicated half-pitches just for goalkeeper training.
Water features
There are six areas of hydrotherapy – including a cold plunge pool at 4C, hot plunge at 36C, three-lane main pool which is 2m deep with side jets to treat injuries.
Perfect pitch
There are 16 pitches, eight of which have floodlighting good enough for TV coverage. All have the same orientation as the Etihad Stadium itself.
It is a far cry from the Manchester City that Mark Hughes and Pablo Zabaleta encountered when they arrived at the club in the early Abu Dhabi days. It was the wires and pipes that protruded on the external walls of the training facility, on a reclaimed peat bog called Carrington Moss, which always drove Hughes mad before City dispensed with his services in 2009.
For Zabaleta, it was the sheer cold of the gymnasium. "I'd been here for six months when they did some work to improve the gym, the physio's room and even the dressing room," he recalled. "I remember the gym was really big and it was freezing in there. After training you thought twice about going to the gym because it was really cold. They were two different parts of City and I guess I was one of the few players who had a chance to train in both."
City will hope to make their club more attractive to the best players in the world by creating this new environment, and Zabaleta describes Lionel Messi's astonishment when he provided the guided tour when Argentina were in Manchester to play Portugal last month. But it is the attempt to create young players for the future which is City's Holy Grail.
Manchester City 1 Everton 0 player ratings
Manchester City 1 Everton 0 player ratings
1/5 Tim Howard

Could do nothing about the goal, and made a fine save from Pozo to keep Everton in the game. 7

GETTY IMAGES

2/5 Leyton Baines

Marked Navas out of the game, but would have liked to contribute more going forward. 7

GETTY IMAGES

3/5 Gareth Barry

Frustrated by the dominance of the City midfield, but came into the game more in the second half. 6

GETTY IMAGES

4/5 Muhamed Besic

Anonymous as Everton lost the midfield battle before making way for Barkley. 5

GETTY IMAGES

5/5 Samuel Eto'o

Impressed with his link-up play and liveliness in a deep-lying role. 8

GETTY IMAGES
Two-thirds of the facility is committed to youth development. Yet a timeline wall in the academy area tells the story of how difficult that challenge will be. There are commemorative discs for each of the players who has graduated to play for the first team – five from 2011, none of whom started a Premier League game, only Frenchman Jérémy Hélan – a one-time League Cup substitute – for 2012, and none from 2013. For 2014, there is Emyr Huws (now at Wigan Athletic); Jose Angel Pozo, signed from Real Madrid's academy two years ago; and Jose Angel Esmoris Tasende who recently joined the club. Both Pozo and Tasende are on the margins. Pabaleta cited the young Belgian defender Dedryck Boyata, though he is only at the club to make up the Champions League home-grown quota numbers.
City can only say their academy has truly delivered when it is producing young players for the first team, though Zabaleta acknowledged how difficult that would be. "Yes, we need to be realistic and say that it's difficult for them, because you can see the squad is very big," he said, reflecting on the fact that there has been no academy breakthrough player in the six years since the Abu Dhabis took over. "The young players know it's difficult for them but you can see them working and waiting for the moment. In football you must be ready for that moment."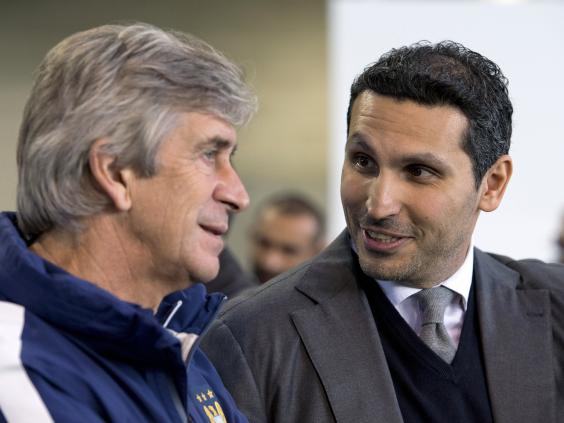 Zabaleta acknowledged that the vast sums of Premier League money were obstructing the pathways for young players which exist in his own country. "Exactly," he said. "[In Argentina], clubs don't have enough money to buy players so they have to produce players from the academy and soon they have players at 17 or 18 with enough quality to play in the first team. Maybe after two or three years they have to sell the players but at least they have a chance."
The academy area walls could barely contain more motivational messages. "Practise again and again… push myself… make it count." Another asks, "What do you do?" in certain scenarios, reflecting City's desire to encourage self-analysis in their football – the same culture that the Football Association's performance director, Dave Reddin, is bringing to St George's Park.
All of this will be academic if the young players cannot ascend to the first team. Mark Allen, who heads the academy, cites the vast gymnasium image of Sergio Aguero scoring City's title-winning goal in stoppage time against Queen's Park Rangers in 2012 as motivation for the boys to "keep going, keep striving, keep believing they can make it and be winners".
As things stand, though, the message from Sheikh Mansour on the reception wall does seem a long way off. "We are building a structure for the future, not just a team of all-stars." One of the fundamental frustrations of Brian Marwood, the academy director, is the lack of football competitive enough to provide a springboard to the Premier League. The league's Under-21 division just doesn't do it.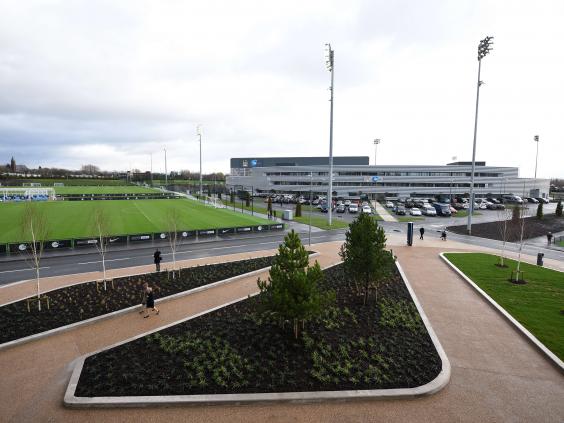 One of the keys to a breakthrough, according to Steph Houghton, the Manchester City women's team player whose side share the academy building, is the Spanish coach Rodolfo Borrell. His title is "global technical director" and is one of the most trusted former lieutenants of Rafael Benitez. "He has made me believe that there is always a solution to any problem on the pitch; always a way of playing out of it," Houghton said of Borrell.
The Spaniard's profile remains low, but City consider him to be a key component in their effort to create players.
"The quality of the young players has to improve what we have in the squad to have a chance. I'm absolutely sure that in the next few years we will see some of them," Zabaleta reflected. "I can't guarantee there will be two or three, we will see. But I can see the quality of them is better than before." His club have a habit of delivering on their promises.