The final round of fixtures before the current international break saw some light between those in the top four and the chasing pack open up.
The match between Liverpool and Manchester United always looked likely to play a pivotal role in deciding which sides would qualify for the Champions League and the victory for Louis van Gaal's side has put the Red Devils in a commanding positions.
But there are still eight games to play this season and the difficulty of one team's run-in varies wildly to others.
By most peoples reckoning, Chelsea (who are six points clear with a game in hand on their rivals) will finish in the top four. That leaves Manchester City, Arsenal, United, Liverpool, Southampton and Tottenham battling for the final three places. But six won't fit into three, so which trio look most likely to win the "rat race" (as Van Gaal has termed it) and be sitting at Europe's top table next season?
MANCHESTER CITY - 61 points
After a shock defeat to Burnley, Manchester City had to turn their focus on the top of the table to the teams scrambling up the league below them. According to Van Gaal, "Whether they want that or don't want that, that is the position. It is a rat race. They are in it." Victory over West Brom last weekend went some way to restoring faith that they can finish the season strongly and a Champions League exit at the hands of Barcelona won't do their focus on domestic matters any harm. Having held second position in the league since the end of November, with just a one point cussion over Arsenal, there are no guarantees of holding on to it.
Current form: DLDDW WLWLW (15 points from 10 games)
Remaining fixtures (against top seven teams in bold): Crystal Palace (A), Manchester United (A), West Ham (H), Aston Villa (H), Tottenham (A), QPR (H), Swansea (A), Southampton (H)
Assessment: Manchester City should have the quality to see them through - after all they did add a £28m striker in the shape of Wilfried Bony in January. However, after a disappointing Champions League exit, there is a real threat of that rubbing off on their league form. Add to that speculation over the future of Pellegrini and there is a real chance things could go horribly wrong in the final weeks of the season. Manchester United and Tottenham matches away from home could prove crucial.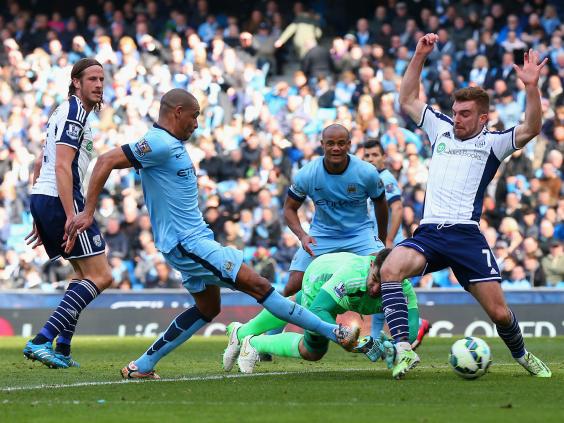 ARSENAL - 60 points
Arsenal remain on course following the latest round of fixtures - which for them resulted in a 2-1 win away at Newcastle. While their talisman for the first half of the season, Alexis Sanchez, appears to be tiring a little they've been boosted by the return of key players Mesut Özil, Theo Walcott and Danny Welbeck at just the right time. Striker Olivier Giroud is also firing again with nine goals in as many outings. This is a team with form for clinching a place in the top four - another one this season would be their 17th in a row.
Current form: WWWLW WWWWW (27 points from 10 games)
Remaining fixtures: Liverpool (H), Burnley (A), Chelsea (H), Hull (A), Swansea (H), Manchester United (A), Sunderland (H), West Brom (H)
Assessment: With a tough away game to come against Manchester United, plus home games against Chelsea and Liverpool, Arsene Wenger's side face a few hurdles. Plus they remain in the FA Cup which could prove a distraction to their league form. Despite that, Arsenal are a team in form and with big players back and some 'bankable' games at the Emirates they should finish in the top four. The penultimate match of the season at Old Trafford looks key though, whilst the upcoming match against Liverpool has the capacity to liven up proceedings.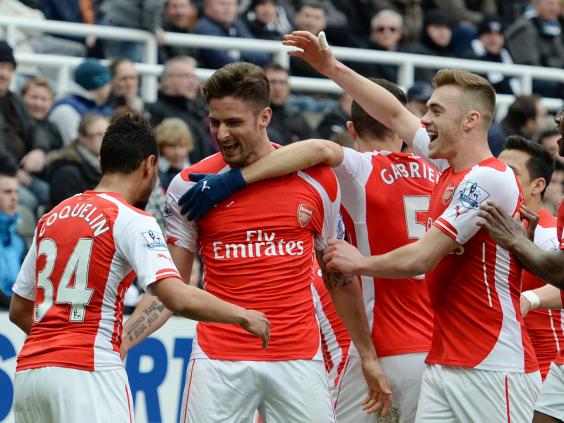 MANCHESTER UNITED - 59 points
Manchester United's ambitions of returning to the Champions League at the first attempt have at times looked unrealistic based on performances. However, even when Van Gaal's side have played badly they've managed to pick up points and recent wins over two sides just below them, Tottenham and Liverpool, put them in a commanding position. The form of their two big summer arrivals, Angel Di Maria and Radamel Falcao, are causes for concern but with the likes of Juan Mata, Ashley Young and Wayne Rooney putting in commanding performances on a consistent basis they look like a side that will be difficult to beat in the run-in.
Current form: LWWDW LWWWW (22 points from 10 games)
Remaining fixtures: Aston Villa (H), Manchester City (H), Chelsea (A), Everton (A), West Brom (H), Crystal Palace (A), Arsenal (H), Hull (A)
Assessment: The raw materials in terms of players are there to secure a top four place, and a manager of Van Gaal's experience ought to be able to use them to achieve their goals. But of all the team's fighting for a place in the Champions League, United have arguably the toughest run-in. Recent results will give them confidence though.
Liverpool 1 Manchester United 2 player ratings
Liverpool 1 Manchester United 2 player ratings
1/25 Simon Mignolet

A torrid afternoon for the Belgian keeper as his defence provided him with little cover. Made a good save to deny Rooney from the penalty spot. 6

GETTY IMAGES

2/25 Emre Can

Arguably Liverpool's most reliable defender this season and he produced another strong performance, though Di Maria gave him a difficult time when he came on. Conceded a penalty when he committed a daft foul on Blind. 6

GETTY IMAGES

3/25 Martin Skrtel

Another dicey performance from the centre-half. Struggled to cope with Fellaini as he drove forward. 6

GETTY IMAGES

4/25 Mamadou Sakho

Left exposed a lot of the time by Moreno and Mata almost constantly took advantage. 6

GETTY IMAGES

5/25 Raheem Sterling

Played a little out of position on the right of midfield and was therefore not able to make a major impact. 6

GETTY IMAGES

6/25 Jordan Henderson

One of Liverpool's most influential players on a difficult afternoon. His vision unlocked United's defence more than twice but his teammates failed to finish off what he started. 7

GETTY IMAGES

7/25 Joe Allen

He was shown a yellow card early on in the game and that seemed to have had a negative effect on his performance. Not as boisterous in midfield as he usually can be. 6

GETTY IMAGES

8/25 Alberto Moreno

Lost the ball on a number of occasions that left Sakho exposed. He failed on a number of times to track the runs of Mata. Replaced by Balotelli in the second half. 6

GETTY IMAGES

9/25 Adam Lallana

Took a nasty blow to his head when he collided with Jones as they both went for the ball. Let himself down when he pushed his left-footed shot wide of de Gea's goal after finding space. Replaced by Gerrard at half-time. 6

GETTY IMAGES

10/25 Daniel Sturridge

Undeterred by the scoreline, the England striker never gave up and his endeavour was rewarded when he skipped past Jones before slamming his right-footed shot beyond de Gea. 7

GETTY IMAGES

11/25 Philippe Coutinho

Very important again for Brendan Rodgers. He was relentless when going forward with the ball. Linked up midfield and attack expertly. 7

GETTY IMAGES

12/25 Off the Bench: Steven Gerrard

Replaced Lallana at half-time. Sent off within 38 seconds of coming on after he stamped on Herrera. 0

GETTY IMAGES

13/25 Off the Bench: Mario Balotelli

Stroppy when he came on - not exactly the calming influence Liverpool needed and that was proved as much when he received a booking seconds after coming on for Moreno. 6

GETTY IMAGES

14/25 David de Gea

A particularly assured display from the United goalkeeper. He probably should have done better when he was beaten one-on-one by Sturridge. 6

GETTY IMAGES

15/25 Chris Smalling

Made sure Balotelli wasn't able to get ahead of him at set pieces and generally cleared his lines well. He has much more authority now than he did earlier in the season. 7

GETTY IMAGES

16/25 Antonio Valencia

A very strong game from the winger come wing-back come full-back. He was excellent in supplying Mata on the right side. 6

GETTY IMAGES

17/25 Phil Jones

Slightly erratic in a lot of what he does. He was booked when he went in hard on Henderson. Organised his defence well, though. 6

GETTY IMAGES

18/25 Daley Blind

Found himself away from the action quite a lot during the match but he was effective in running the line behind Di Maria. 6

GETTY IMAGES

19/25 Michael Carrick

Sat just in front of the United back four it was his job to stop Liverpool's midfield advancing too far forward. He did that well but was bypassed by Henderson on a number of occasions. 6

GETTY IMAGES

20/25 Juan Mata

Calmly finished past Mignolet after he made a brilliantly-timed run to meet Herrera's pass. He looked a threat when he decided to break forward. Sealed all three points when he pulled off a spectacular bicycle kick to beat the Belgian keeper at his far post. 8

GETTY IMAGES

21/25 Ander Herrera

Provided an excellent through ball for Mata to take advantage of and open the scoring on 14 minutes. He dominated the midfield. 7

GETTY IMAGES

22/25 Marouane Fellaini

His presence very welcome again in the United midfield. He drove forward with intent and rarely lost a battle in the air. 7

GETTY IMAGES

23/25 Ashley Young

Replaced by Di Maria in the second half after he suffered a knock. He was bright in the first half. 6

GETTY IMAGES

24/25 Wayne Rooney

He didn't get as far forward as he usually prefers but he was instrumental in offering Di Maria another option when the winger chose to penetrate the left-side of the Liverpool defence. Held onto the ball well in the last few minutes of the match. Should have done better with his penalty. 6

GETTY IMAGES

25/25 Off the Bench: Angel Di Maria

Replaced Young in the second half and immediately made an impact. His lovely dink teed up Mata for the Spaniard's second goal. 7

GETTY IMAGES
LIVERPOOL - 54 points
The shock of losing Luis Suarez unsurprisingly took time for Liverpool to adjust to. But after being beaten 3-0 by Manchester United at Old Trafford, Liverpool went unbeaten in the league until they faced Van Gaal's side again in their most recent fixture. Despite that defeat at Anfield, Liverpool remain a form team in 2015 and there will be hope the gap can be closed. "Unfortunately, we lost an important game against Manchester United, but there are many matches left and they will still have to play other clubs at the top of the table," Philippe Coutinho has said. "We still have a big chance of finishing in the top four."
Current form: WWWDW WWWWL (25 points from 10 games)
Remaining fixtures: Arsenal (A), Newcastle (H), Hull (A), West Brom (A), QPR (H), Chelsea (A), Crystal Palace (H), Stoke (A)
Assessment: Until their defeat to Manchester United, Liverpool had looked on an unstoppable charge. But that's something that could have been said last season until they were beaten at home by Chelsea. Brendan Rodgers will be desperate not to fall just short as they did last term and the run-in for the team above them, as Coutinho has pointed out, will give them hope.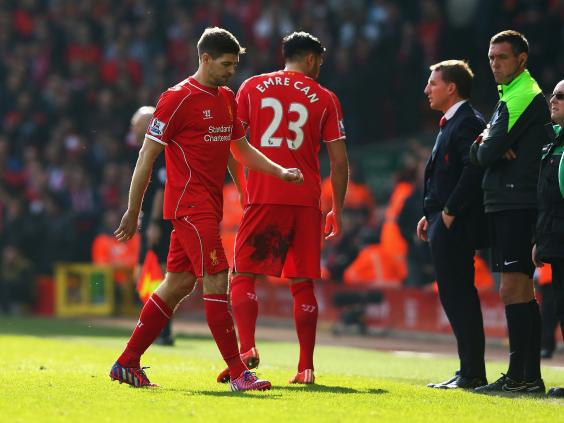 SOUTHAMPTON - 53 points
Southampton are the wild card. They are the only team never to have played in the Champions League and last finished in the top four of the top flight in 1984. But despite all that Ronald Koeman has kept them in contention, even if they have fallen out of the top four positions which they occupied for so much of the season.
Current form: WWLWD LLWDW (17 points from 10 games)
Remaining fixtures: Everton (A), Hull (H), Stoke (A), Tottenham (H), Sunderland (A), Leicester (A), Aston Villa (H), Manchester City (A)
Assessment: Southampton have struggled to keep up the pace in recent weeks and slipped down the table. But of the teams battling for the top four, they have arguably the simplest run in. Every remaining game looks like a potential three points up until they play Manchester City on the last day of the season in a meeting that could be crucial to both sides. The Saints are outsiders but can't be ruled out.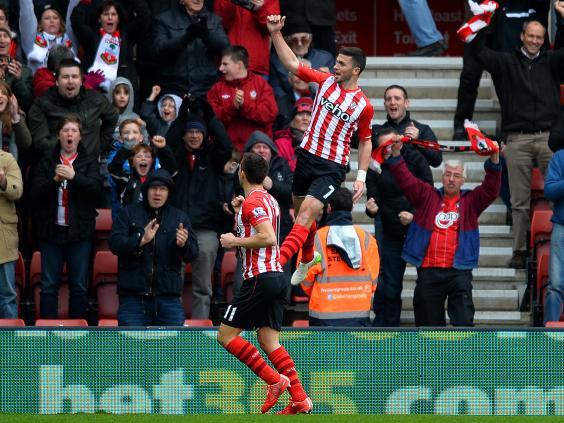 TOTTENHAM - 53 points
The Europa League and a run to the final of the Capital One Cup has seen Spurs look like a spent force recently - particularly in the 3-0 defeat to Manchester United. But if they can pick themselves up for one final push, as it appeared capable of doing in the dramatic Harry Kane hat-trick performance win over Leicester, there is the quality at White Hart Lane to merit a place in next season's Champions League - something that would be an incredible achievement for Mauricio Pochettino in his first season as manager.
Current form: LWWWL DWWLW (19 points from 10 games)
Remaining fixtures: Burnley (A), Aston Villa (H), Newcastle (A), Southampton (A), Manchester City (H), Stoke (A), Hull (H), Everton (A)
Assessment: They grasped a top four finish in 2010 and 2012 only to be denied Champions League football by Chelsea's European Cup win – and just missed out on the final day in 2013. Yet again they are in the mix but with a six point gap between themselves and the top four it could be another near miss.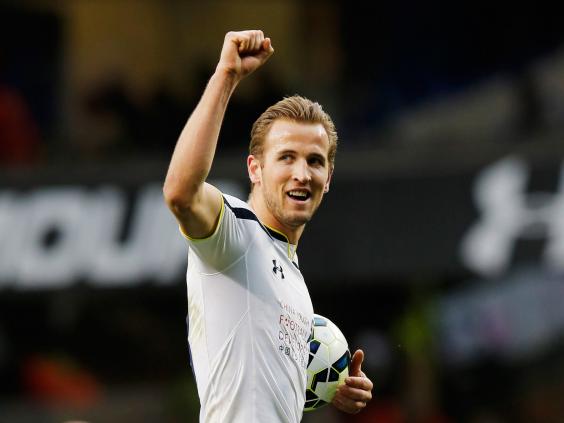 Follow @IndyFootball on Twitter
Reuse content