Manchester City believe that Pep Guardiola will find their club a more natural home than either Barcelona or Bayern Munich and that it may be the place where he builds his first managerial dynasty by staying for longer than four years.
It is understood that Guardiola does not believe there is a need to rip up the City squad, despite a chronic domestic underperformance which has seen them collect 36 points from the last possible 75 and left the club fighting to maintain Champions League status.
Juventus' Paul Pogba, Borussia Dortmund's Ilkay Gundogan, Toni Kroos of Real Madrid and Everton pair Ross Barkley and John Stones are possible transfer targets this summer. The central defensive requirement comes despite City's determination to give Vincent Kompany another season to fight off injury problems and also to blood his 20-year-old Belgian compatriot Jason Denayer, whom they will recall from loan at Galatasaray.
The potential for squad strengthening has also been enhanced, according to senior sources, by a marked number of players contacting City through their agents since it was announced last month that Guardiola would be the next manager to state: "We want to play for Pep."
But City's confidence that Guardiola will find the Etihad his natural domain is based on the environment they have promised him, rather than the potential to buy players. City can assure him that he will not encounter the internal politics which led him to leave Barcelona in 2012, after four years at the helm. Neither would they sanction one of his most coveted players being sold against his wishes, which Bayern did when insisting  that Kroos be sold to Real two years ago.
Man City 0 Man Utd 1 player ratings
Man City 0 Man Utd 1 player ratings
1/22 Manchester City: Joe Hart 5 out of 10

Beaten by Rashford in the first half, his second lasted just a minute before he was injured in clearing up another Demichelis mess.

2016 Manchester United FC

2/22 Bacary Sagna 6 out of 10

Returned to right-back after injury and went quietly about his business.

3/22 Martin Demichelis 2 out of 10

A nightmare of a performance. Embarrassed for the goal, he should have given away a penalty before his slack pass led to Hart's injury. Wisely substituted.

2016 Getty Images

4/22 Eliaquim Mangala 5 out of 10

The better of City's central partnership in defence, but still troubled by Rashford's pace and Martial's trickery.

5/22 Gael Clichy 6 out of 10

Solid in defence, he was not given enough opportunity to roam forward.

2016 Manchester United FC

6/22 Yaya Toure 6 out of 10

Made himself busy, but is not dominating midfields in the manner he can.

7/22 Fernandinho 6 out of 10

Moved to central defence following Demichelis' withdrawal, he slotted in seamlessly with his natural coolness.

8/22 David Silva 7 out of 10

At the heart of almost all City created, the midfielder found himself let down by his teammates' finishing.

9/22 Raheem Sterling 5 out of 10

Back in the side after a spell on the bench, he showed flashes of his lightning pace before succumbing to an early injury following Mata's challenge.

2016 Manchester United FC

10/22 Jesus Navas 6 out of 10

Often on the end of City's best opportunities, the Spaniard's shooting let him down.

11/22 Sergio Aguero 7 out of 10

Great movement inside and outside of the penalty box, he was, for once, let down by his finishing.

2016 Manchester United FC

12/22 Manchester United: David De Gea 6 out of 10

Saved well from Navas in the first half, he had less to do than he should have in the second period - although he did need the help of the post to keep out Aguero.

2016 Manchester United FC

13/22 Matteo Darmian 6 out of 10

Steady at both right-back and left-back, he suffered with cramp in the latter stages after featuring in two games in four days.

14/22 Chris Smalling 7 out 10

Unfazed by his early booking, the centre-back recovered to expertly marshall United's defence to a clean sheet and derby delight. Perhaps lucky to avoid a red card in this fixture for a second successive season.

15/22 Daley Blind 8 out of 10

Made a habit of moving into the right areas inside his own penalty box to deny City's forwards.

2016 Manchester United FC

16/22 Marcos Rojo 7 out of 10

Unable to last the match because of fitness, he nevertheless gave his all until his removal just after the hour mark.

2016 Getty Images

17/22 Michael Carrick 7 out of 10

A typical captain's performance from the midfielder who put his body on the line when it mattered most.

2016 Getty Images

18/22 Juan Mata 7 out of 10

Always looked to make space between City's defence and midfield, he played a key part in the winning goal.

Getty

19/22 Jesse Lingard 8 out of 10

A lively figure in United's attack, he also did his share of defensive work when City took control late in the game.

20/22 Morgan Schneiderlin 7 out of 10

Another composed and professional performance. United's midfield looks much better with the Frenchman in the team.

2016 Manchester United FC

21/22 Anthony Martial 7 out of 10

Once again showed glimpses of a great future. His pace and skill constantly had City on alert.

2016 Manchester United FC

22/22 Marcus Rashford 8 out of 10

Did not stop running from the first minute to the 96th, and deserves to have his name etched in Manchester derby history.

2016 Getty Images
Bayern can be a difficult club for a non-German to run, but the 45-year-old will find a Catalan enclave in east Manchester.
He has already worked with City's director of football, Txiki Begiristain, and chief executive, Ferran Soriano, at Barcelona and their football philosophy – possession, playing in their opponents' half and exploiting width – coheres with his own.
Sources at the top of the club believe that the biggest challenge Guardiola will face is the colossal difficulty of the Premier League itself – a competition which now dwarfs the Champions League and any other continental version, with every opponent equipped with players from the ranks of the world's top 200 players.
City's Abu Dhabi owners knew from their first months at the helm, in 2008, what the size of the challenge from clubs outside the so-called top four entailed. Chairman Khaldoon al-Mubarak also has vivid memories of the trip to Stoke City in the depths of winter in 2009 when the home side were reduced to 10 men in the first half but still beat City 1-0.
Yet even the owners did not fully appreciate how the vast broadcasting revenues would create such equilibrium between sides, manifest in Leicester City's title charge this season.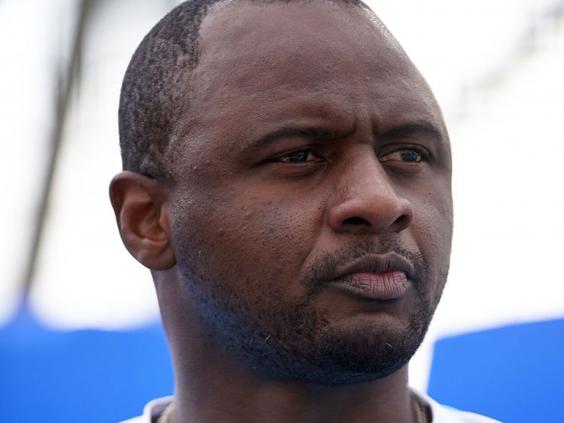 Such is the level of competition, City believe that it will now take more than a good transfer acquisition system to win the Premier League and are looking for other competitive advantages.
Guardiola's appeal to transfer targets who may otherwise settle for a less gruelling weekly environment in La Liga or the Bundesliga is seen as one.
City may seize on the interest in the elite player community which Guardiola's arrival is generating, though it is understood that no player from Barça has been in contact and no one from that club is on their list of transfer targets.
If Guardiola's stay in Manchester is limited to the three years of his contract, Patrick Vieira would be considered as the perfect candidate to take over if he can prove himself in the intervening period at New York City, City's sister club.
Vieira's side lost for the first time this season in the MLS on Friday, beaten 1-0 at home by Orlando, meaning they have a win, a loss and a defeat from their opening three games.