Claudio Bravo will miss Manchester City's run-in with a calf injury as they try to secure a place in next season's Champions League.
The Chile goalkeeper, who has faced severe criticism for his performances since arriving from Barcelona last August, was taken off on a stretcher with a calf injury during the goalless draw with Manchester United on April 27.
Manager Pep Guardiola has confirmed that the injury will keep Bravo out for City's remaining four Premier League matches, with Willy Caballero set to continue against Crystal Palace on Saturday, while third-choice Angus Gunn sits on the bench.
However, Sergio Aguero, David Silva and John Stones are all likely to play some part during the run-in.
Aguero, who has a calf injury, and Stones, struggling with a muscle problem, are likely to return against Leicester next weekend, as is playmaker Silva, who has returned to full training after two weeks out with knee trouble.
Guardiola said: "Bravo isn't coming back until next season, John maybe will in the last games.
"Sergio is not fit. Hopefully he will be for the next one but for this game, no. He is not fit.
"Yesterday was David's first training session. I don't know if he will be ready for tomorrow. No, after the reaction in the semi-final of the FA Cup, he's still not perfect."
Three of City's final four matches are at home, and they may need to win all four games to ensure a place in next season's Champions League.
Since winning their first 10 games under Guardiola, City have won four successive matches just once, although that run started with an FA Cup fourth-round win at Saturday's opponents Palace in late January.
Manchester City 0 Manchester United 0 player ratings
Manchester City 0 Manchester United 0 player ratings
1/23 Manchester derby player ratings

We run the rule over the two teams.

AFP/Getty Images

2/23 Claudio Bravo - 6 out of 10

A typically erratic performance. Came haring off his line to pat a cross down directly into the path of a United attacker in the first-half. Subbed late on with an apparent hamstring injury.

Getty Images

3/23 Pablo Zabaleta - 6 out of 10

Twice skinned by Rashford. But like Kolarov on the opposite flank, did well going forward.

Getty Images

4/23 Vincent Kompany - 7 out of 10

An assured performance from City's captain. Coped well against the pace of Rashford and made a couple of important blocks, too.

Getty Images

5/23 Nicolas Otamendi - 6 out of 10

Struggled desperately against Rashford's pace. But impressed in possession and looks a far better player when sat alongside Kompany.

AFP/Getty Images

6/23 Aleksander Kolarov - 7 out of 10

Looked shaky when defending but did well going forward. Had a couple of good long-range shots and his crosses into the box were deadly.

Getty Images

7/23 Yaya Toure - 6 out of 10

Performed better than Fernandinho and did well when in possession. But neither side truly won the midfield battle.

Getty Images

8/23 Fernandinho - 5 out of 10

A poor performance from the Brazilian. Made a number of unnecessary fouls and - remarkably - failed to make a single tackle all evening.

AFP/Getty Images

9/23 Raheem Sterling - 6 out of 10

Lively throughout but spurned a couple of good opportunities. Guilty of nervously shooting on goal when played through in the first-half.

Getty Images

10/23 Kevin de Bruyne - 7 out of 10

A fine performance from the Belgian. Dominated Herrera, made life difficult for Carrick and Fellaini and was unlucky not to score with a couple of powerful long-range drives.

AFP/Getty Images

11/23 Leroy Sane - 6 out of 10

Looked dangerous with the ball at his feet and had the better of Valencia. But drifted out of the game in the second-half.

Getty Images

12/23 Sergio Aguero - 7 out of 10

One of City's best players and impressed with his direct running, although should have done better given the number of chances he had.

Getty Images

13/23 David de Gea - 7 out of 10

Made a number of smart stops as City peppered him with shots from all over the place.

Getty Images

14/23 Antonio Valencia - 6 out of 10

Sloppy in possession. Barely ventured forward all evening.

Getty Images

15/23 Eric Bailly - 7 out of 10

One of United's better players. Dealt with the pace of Sane well and could be seen beckoning Valencia and Blind into position throughout the night.

Getty Images

16/23 Daley Blind - 6 out of 10

Given the tough task of marking Aguero. Failed to keep the Argentinian quiet and his positioning left a lot to be desired.

Getty Images

17/23 Matteo Darmian - 6 out of 10

Had a tough evening. His problems largely stemmed from his insistence at staying in a deep position, meaning he was frequently isolated by City's attack.

AFP/Getty Images

18/23 Michael Carrick- 6 out of 10

At 35, it's not surprising that he struggled playing in a three-man midfield up against the pace of Sterling and De Bruyne. Largely solid but left for dead by the latter on two occasions in particular.

Man Utd via Getty Images

19/23 Marouane Fellaini - 5 out of 10

Made twice as many tackles in the middle of the park as any of his United colleagues. But was then sent off in utterly farcical circumstances, completely losing his head and making life difficult for his team-mates late on.

Getty Images

20/23 Ander Herrera - 6 out of 10

Occasionally guilty of over-playing the ball in his own half. Also missed United's best chance of the match when he met Rashford's deep free-kick at the back post, only to head wide.

Getty Images

21/23 Henrikh Mkhitaryan - 6 out of 10

A very quiet night for Mkhitaryan. Like Martial, worked hard and dropped deep when needed, but did little of merit offensively.

AFP/Getty Images

22/23 Anthony Martial - 7 out of 10

A hard-working display from the Frenchman. Had a fine run forward early on and was always willing to drop deep to lend a hand to his defence.

AFP/Getty Images

23/23 Marcus Rashford - 7 out of 10

Terrorised the City defence with his pace and willingness to run at his man. But ultimately starved of service and given little to work with.

AFP/Getty Images
City have won only eight of their 16 home league games this season, and Guardiola has suggested that their record at the Etihad Stadium must improve in order to secure a top-four finish.
He said: "It's still in our hands if we are able to win the four games. But that's so complicated.
"Since the beginning of the season, when we won 10 games, we have been able to win four games in a row only once.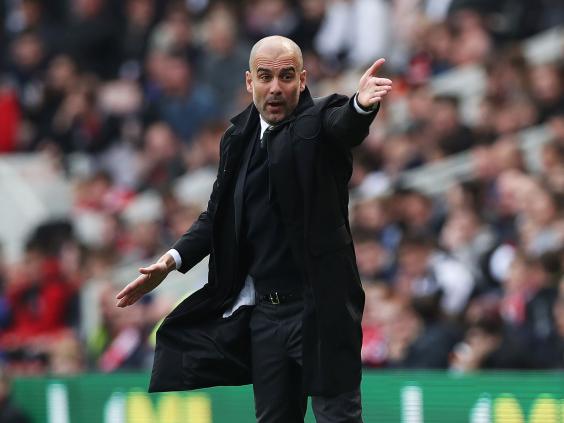 "I know how tough Crystal Palace are. They beat Arsenal, Chelsea and Liverpool.
"We have Leicester, the last champions. Then we have West Brom and Tony Pulis, who are always complicated but it is in our hands.
"We will see if we are able to make our step forward to qualify. If we win all four games we will definitely be in the Champions League and maybe in the third position. It depends on us.
"Our home games have not been perfect this season. We have to change it in three [home] games if we want to play in Europe [the Champions League] next season."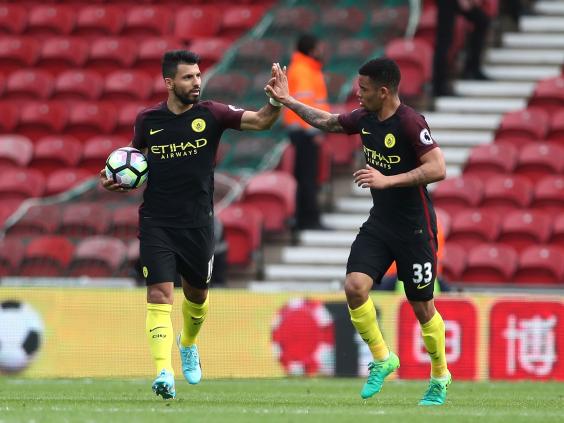 Guardiola has suggested that City's failure to mount a title challenge this season is a result of their failure to grasp the direct nature of English football.
As the City manager put it, "nothing happens in the middle" in the Premier League, with most teams keen to get the ball into the penalty area quickly rather than play a more patient style.
He said: "For the first two months, we were good, then we were inconsistent. So over the season, we were more inconsistent than consistent.
"In the boxes, we were not good, and in this league, everything happens in the boxes. In other leagues, the people in the middle take care of the process. Here, nothing happens in the middle.
"We were not strong in that way, and that is why we have suffered this season.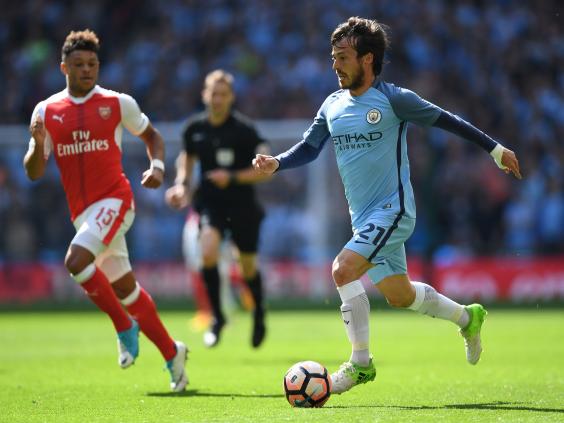 "It's no surprise because I was a fan of the Premier League as a teenager, as an adult, as a player and as a manager.
"When I was on my sofa watching the games in the Premier League, I realised how they play here.
"It's your culture. You create that football, and for all your careers, you are used to playing that way.
"That's why we have to adapt. I knew that when I came here. Now I realise it when I am here."
Reuse content