Pep Guardiola has again ruled out a late title charge to catch Premier League leaders Chelsea, despite Manchester City making it four Premier League victories on the trot.
City's 2-0 win at the Stadium of Light moved them to within eight points of Antonio Conte's side, who travel to West Ham on Monday night and then face City on April 5.
If Guardiola can lead his side to a fifth successive success at the Etihad Stadium on Wednesday night against Stoke they will move up to second place and have found the form they showed at the start of the season.
Goals in each half from Sergio Aguero and Leroy Sane were enough to secure another win but Guardiola conceded the team he took over last summer cannot catch Chelsea.
"It's a pity that the distance, the gap between Chelsea is so big," said Guardiola. "We are there behind Chelsea, who are almost unstoppable, but we are there for the rest of the teams. 
"You have to judge us and our performances. I said many times that we are here in the last month not thinking too much about the big targets or objectives, it is just about winning the next game. That is the way we've focussed on the on the last month or two months.
"I feel we are playing quite good and that's why we are making results, but now we are in a position when you arrive in March and April when if you win every game you stay but if you lose you are out.
"In the Premier League, the Cup, the Champions League, we know just to look at the next game. If we lose, we are out. That's why we have to continue, now comes Stoke City and it is so important for us and we need our supporters because people will start to be tired."
Guardiola paid tribute to Aguero, whose future at the Etihad is in doubt.
"I was very pleased with Sergio," he added. "When this kind of huge player sometimes doesn't play there is always a debate. It's always 'why, why, why'. We have an exceptional relationship.
2016/17 Premier League kits
2016/17 Premier League kits
1/20 Arsenal (home)

Our rating: 6/10

Arsenal / Puma

2/20 Bournemouth (home)

Our rating: 8/10

AFC Bournemouth / JD Sports

3/20 Burnley (home)

Our rating: 6/10

Bunrley / Puma

4/20 Chelsea (home)

Our rating: 7/10

Chelsea / Adidas

5/20 Crystal Palace (home)

Our rating: 5/10

Crystal Palace / Macron

6/20 Everton (home)

Our rating: 9/10

Everton / Umbro

7/20 Hull City (home)

Our rating: 6/10

Hull City / Umbro

8/20 Leicester City (home)

Our rating: 6/10

Leicester City / Puma

9/20 Liverpool (home)

Our rating: 9/10

Liverpool / New Balance

10/20 Manchester City (home)

Our rating: 3/10

Manchester City / Nike

11/20 Manchester United (home)

Our rating: 7/10

Manchester United / Adidas

12/20 Middlesbrough (home)

Our rating: 5/10

Middlesbrough / Adidas

13/20 Southampton (home, goalkeepers)

Our rating: 5/10

Southampton / Under Armour

14/20 Stoke City (home)

Our rating: 5/10

Stoke City / Macron

15/20 Sunderland (home)

Our rating: 5/10

Sunderland / Adidas

16/20 Swansea (home, away)

Our rating: 7/10

Swansea City / Joma

17/20 Tottenham Hotspur (home, goalkeeper)

Our rating: 7/10

Tottenham Hotspur / Under Armour

18/20 Watford (home, away, goalkeeper)

Our rating: 5/10

Watford / Dryworld

19/20 West Bromwich Albion (home, goalkeeper)

Our rating: 7/10

West Bromwich Albion / Adidas

20/20 West Ham United (home)

Our rating: 7/10

West Ham United / Umbro
"We are honest and I said to him from the beginning to him when I came, everything was good and when Gabriel came here I gave him continuity. But I have to involve both of them when they are fit. His goals are so important. In the last game against Huddersfield he played awesome and scored two goals. Today another one and he had more chances and he helped us a lot in our game and our build-up. Again, brilliant, really brilliant."
The defeat means Sunderland have won just one of their last 10 league games, however David Moyes again refused to accept his team, now six points adrift of safety at the foot of the table, are down.
"If we play like that we have a good chance of staying up," he said. "You could not question the attitude or energy of the players. They were terrific with what they tried to give.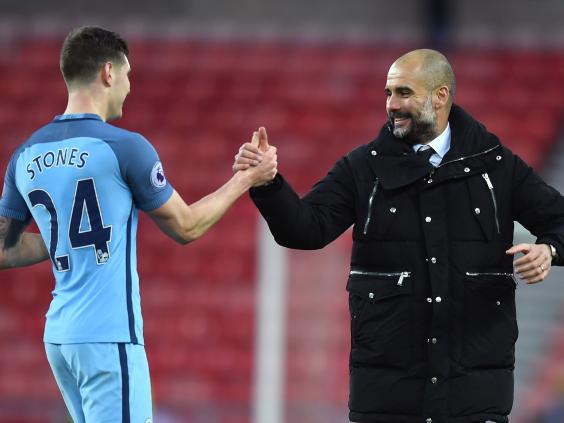 "We hit the post and we just don't quite get the rebound. At Everton we hit the bar. I just hope that changes.
"There is no room for manoeuvre. We know it will be tough. I want to get it to the wire. This was one of the tough fixtures. The players gave it a go. I said that to the players, they should remain positive.
"The boys played and worked really hard to get something out of the game. The game plans to stop Man City playing, which is very difficult, and the players gave everything they could."
Reuse content