He was carried from the field on the shoulders of Alex Oxlade-Chamberlain and you felt that, more than jubilation, it was because his legs had nothing left to give. Santi Cazorla was both the architect and engineer of a win which turned squarely on its head the recent Arsenal  experience at the Etihad – or at any top side's stadium for that matter.
By the end the Spaniard was toying with Manchester City, rolling a ball under his studs beyond Gaël  Clichy and into the City area, because that is the kind of flair he – one of his team's best technical players – possesses. What turned that flair into a performance which will live long in the memory at Arsenal was the accompanying energy and drive. Very few players can deliver both finesse and physicality like this; fewer still can maintain it deep into the second half of a match against the defending Premier League champions.
Arsène Wenger talked last night about a "good solidarity level" and that certainly defined what Cazorla had been a part of, as the controlling heartbeat of the midfield triumvirate on which this win was built. It was an improbable band of brothers in there and a second of the number, Francis Coquelin, warrants a particular place in the discussion, too.
Manchester City 0 Arsenal 2 player ratings
Manchester City 0 Arsenal 2 player ratings
1/22 Joe Hart

England man was left exposed for both goals as his defence endured a torrid afternoon. Almost stopped penalty. Let off when Ramsey blazed over.6

GETTY IMAGES

2/22 Pablo Zabaleta

Quick to snuff out Sanchez before the break but afforded little opportunity to break forward. Probably the least culpable of City's defenders.6

GETTY IMAGES

3/22 Vincent Kompany

First game for a month and it showed. Left himself liable to be punished when pushing into Monreal for penalty. Made couple of important blocks.5

GETTY IMAGES

4/22 Martin Demichelis

Regressed to form of his early City career, making couple of bad mistakes in first half to twice let in Sanchez. Lack of pace highlighted alarmingly.5

GETTY IMAGES

5/22 Gaël Clichy

Former Arsenal favourite has enjoyed a prosperous New Year in advanced role in recent games but made next to no impact against former side.5

GETTY IMAGES

6/22 Fernandinho

Flattened by Koscielny in opening minutes and that seemed to play on his mind. One or two surging runs before being taken off for Lampard.5

GETTY IMAGES

7/22 Fernando

Was nowhere to be seen as Giroud enjoyed freedom to head home Cazorla free-kick and secure the points. Had no answer to mastery of Cazorla.5

GETTY IMAGES

8/22 Jesus Navas

Policed well by Bellerin and let himself down with final decision at times. Did trouble Ospina with one shot and another cross almost found Aguero.6

GETTY IMAGES

9/22 David Silva

Drifted across the midfield behind Aguero without being able to find the way through. Kept ball well but it mostly came to nothing.6

GETTY IMAGES

10/22 James Milner

Jack of all trades but master of none? Used as an emergency striker in recent weeks and had forward role here but had little impact on proceedings.6

GETTY IMAGES

11/22 Sergio Aguero

First start in six weeks and lack of sharpness painfully clear. Improved a little after break but overall made very fitful impact, needs time to find form again.5

GETTY IMAGES

12/22 David Ospina

Colombian kept place ahead and rewarded his manager's faith with a third clean sheet on the bounce. Good stop from Navas but not tested greatly.6

13/22 Hector Bellerin

Replaced the again-injured Mathieu Debuchy and stood up to task well. Did not allow himself to be overawed and diffused threat of pacy Navas.7

14/22 Per Mertesacker

One of his better displays, standing up well to City's attacks and helping unite a changed Gunners defence. Kept Aguero threat to a minimum.7

15/22 Laurent Koscielny

Entered referee's book in the early exchanges after steaming into Fernandinho. Or was it Fernando? Made key block on cross intended for Aguero.7

16/22 Nacho Monreal

Surprise pick ahead of Gibbs but Wenger's gamble paid off and then some. Made the most of Kompany's lunge to win early penalty to set up the victory.7

17/22 Francis Coquelin

Frenchman remained disciplined, screening in front of an unfamiliar defence. Also not afraid to ball up his colleagues on occasion.8

18/22 Alex Oxlade-Chamberlain

Enjoyed sporadic spells in possession on right as City controlled ball. One cross set up Giroud but let down by poor decision making at times.6

19/22 Aaron Ramsey

Lively on first appearance since 9 December but showed some rustiness, blazing over the bar when played through by Giroud. Booked for a cynical trip.6

20/22 Santi Cazorla

Continued fine recent form, opening the scoring from the spot for his fifth in nine games. Faded late on but provided cross for Giroud's clincher.8

21/22 Alexis Sanchez

Made a few penetrating runs and always offered a threat but unable to influence game as much as in recent weeks. Trickery troubled Demichelis. 7

22/22 Olivier Giroud

Impressed with link-up but final ball not up to scratch. Header cleared by Kompany before being allowed acres of space for the all-important second goal.6
A few weeks ago he was playing on loan at Charlton Athletic but here he was shouting instructions and marshalling a side set up to defend the middle territory to the death, refusing to grant David Silva the space to kill with.
"He has gone through some difficult periods but he is a learner from his experiences," Wenger said of Coquelin last night. Aaron Ramsey, missing from the Premier League since the first week in December, contributed heavily to the resistance movement, too.
But it was Cazorla's energy which meant the most. We often hear about touch and vision in the attacking sense but his was equally demonstrable when Arsenal were on the uppers, trying to repel City. And after holding the line, he had the vision to send Arsenal on their way.
In the first half, that meant picking out passes to Alexis Sanchez, providing him with the chance to cut inside Pablo Zabaleta. In the second half, as City pushed up to find an equaliser, it meant running into the free yards of space they left behind.
The BBC's Pat Nevin last night memorably likened this performance to that of Emil Zatopek, the Czechoslovakian long-distance runner and 1952 Olympic gold medallist, and there certainly can be that worn-out look of a marathon man about the way Cazorla works up and down, box to box.
His decisive contribution to the goals – despatching the penalty and clipping the free-kick which Olivier Giroud did not even have to jump to head in – such was the failure of City's back line to defend it – were only a fraction of the story.
It really did not seem like the contribution of a player who, you might say, sometimes makes up the numbers, at Arsenal. He has not been an automatic choice in the starting XI as he has been previously and has returned to the fore at a time where Wenger is beginning to put the injuries to the squad behind him.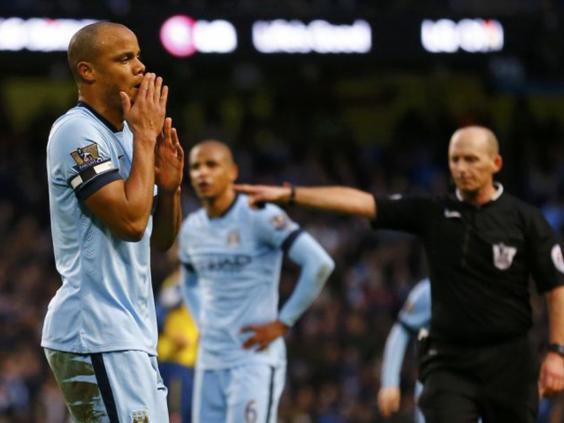 The Spaniard has made no secret of the fact that he wants to play in the centre. "I have more space [in the middle], more possibilities to score and assist, and I like this position very much," he declared only last week. "I always can help the team and I love when I play in the middle." But the problem is that everyone at Arsenal wants to play in the middle.
"Now he is at a level of his career where central he can have more influence," Wenger said of Cazorla as he reflected on the win. "He is fantastic. He gets you out of pressure in very tight space and can give you openings. He is a great example to young players. He shows how important it is to be two-footed in the middle of the park. He wants always to have the ball. He passionately loves the game."
Arsenal often play well when Cazorla is central but it will need regular performances such as this to stake a claim to such a place. Mesut Özil, expected back soon, blocks the route to a role behind Danny Welbeck or Giroud while Ramsey and Jack Wilshere don't expect to be pushed out wide, either.
There were other contributors to an Arsenal resilience which Manuel Pellegrini admitted was new in them. A back four with Nacho Monreal and Hector Bellerin in it did not invite confidence but all stood firm, with 19-year-old Bellerin exceptional.
And though for once Sanchez was not the beginning and end of the story, his own contribution at both ends resembled a sleeker, faster Wayne Rooney. His shooting was askew, at times: there was the mild embarrassment of a shot after he had spun around Pablo Zabaleta running out for a throw-in. But a cameo on the stroke of half-time – Sanchez being cheaply dispossessed by Zabaleta but sprinting 30 yards to hussle for the ball back – telegraphed the difference between the sides' philosophies.
Followers of Arsenal are too long suffering to consider this a new dawn. But it felt like one. Their team had not defeated City, United or Chelsea away from the Emirates since October 2011, had not won at the defending league champions since May 2002 and managed one point from a possible 21 in Manchester in recent seasons.
Wenger wasn't drawing any conclusions about turning points. "Time will tell," he said last night. "What is for sure is that it increases the amount of belief and confidence. The five months in front are very important in the lifespan of our team. They will determine our season."
His players have something real to fortify them, though: an afternoon like few others and, from Cazorla, something incredibly special.
Reuse content