We are only eight days into the new season and already Jose Mourinho is one doctor down, 16th in the Premier League table and has a captain wearing the expression of a man watching his home being repossessed. Chelsea have certainly started with a bang but the smoke is coming from under their own bonnet.
Diagnosis? Not yet critical, but with the potential to get much worse if things cannot be changed. With the caveat that these are early days, this was a wonderful performance from Manuel Pellegrini's Manchester City team who took the initiative within the first 20 seconds of the game and simply got stronger from there. It was City who looked invigorated, positive and full of confidence – if anything they looked like the defending champions.
There was a new three-tier South Stand open for the first time at the Etihad Stadium, and a team that looked radically different from the side that ceded the title so weakly at the turn of the year. Sergio Aguero, starting his first game of the season, was exceptional, and so too the likes of David Silva and Fernandinho but all the time you waited for Chelsea's response and it never arrived.
The drama was heightened by Mourinho's decision to substitute John Terry for the first time in 177 league games over the two spells that this manager-player partnership has been in existence. The explanation from Mourinho was that he wanted to play a higher line and in order to do so needed the pace of Kurt Zouma to defend further up the pitch, but Terry returned to watch the second half with a cloud over his head as grey as anything the Manchester climate serves up.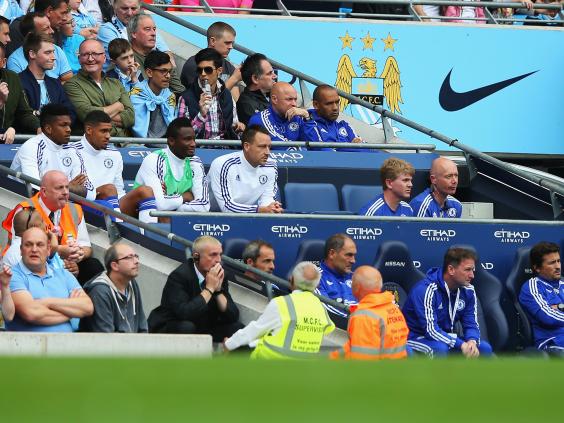 When asked about the decision, Mourinho immediately adopted his own defensive line – reminding all concerned that it was he who had resurrected Terry's Chelsea career. "I don't know if you ask [Rafa] Benitez, Roberto Di Matteo who never played him," he said. "I am the one who plays him every game, and recovered him in difficult moments with others managers. [I am] the one who has the right to look at the game and say 'I want Zouma on the pitch'.
The prospect of a fissure opening between Mourinho and his 34-year-old captain is really the least of his worries, and both of them seem a bit long in the tooth for that now. Of more immediate concern was how brittle Chelsea look defensively – Mourinho admitted to a "fragility" – and what implications that might have for the rest of their season.
Mourinho tried to put a brave face on it all, claiming that Chelsea had enjoyed the better of a second half in which they eventually conceded two goals but the malaise goes a lot deeper than that. Gary Cahill was out of form and struggling with a bleeding nose. Diego Costa's provocation schtick got little change of Vincent Kompany and Eliaquim Mangala. Eden Hazard and Cesc Fabregas were not the game-changers of 12 months ago.
Manchester City 3 Chelsea 0 player ratings
Manchester City 3 Chelsea 0 player ratings
1/20 Joe Hart, Manchester City

The goalkeeper had hardly anything to do in the first half, but responded well when called in action particularly for Hazard's second-half shot. 7

Getty

2/20 Bacary Sagna, Manchester City

Did well to pressurise Hazard early on, and also combined well with his defensive partners to stop the Belgian finding space to attack. 6

Getty

3/20 Eliaquim Mangala, Manchester City

Partnered well with Kompany, and had a good chance to double City's lead but headed wide minutes before the break. 6

Getty

4/20 Aleksander Kolarov, Manchester City

The full-back kept finding the space that helped build-up City's attack on the left flank. 7

5/20 David Silva, Manchester City

The Spaniard pulled the strings in midfield and worked small pockets of space well to find his teammates. He also assisted for Fernandinho's goal. 7

Getty

6/20 Jesus Navas, Manchester City

The Spaniard's pace was a constant issue for Chelsea, and he was consistently involved in the home side's attacks. A fine performance from the winger. 7

Getty

7/20 Fernandinho, Manchester City

Could have been sent off for his elbow to Costa but, otherwise, did his defensive duties well and netted a superb strike late on. 8

Getty

8/20 Raheem Sterling, Manchester City

His pace on the left allowed him to skip past Ramires and Ivanovic several times in the clash. City's summer signing showed a really good understanding with Silva, Aguero and the rest of his teammates to cause Chelsea problems. 7

Getty

9/20 Yaya Toure, Manchester City

Played a one-two with Aguero for the opener and his strength proved crucial in preventing Chelsea's forwards from finding a way through the middle of the pitch. 7

Getty

10/20 Sergio Aguero, Manchester City

Got the opening goal and could easily have had more with no less than five shots at goal in the first half. The Argentine gelled well with Sterling and Navas and was easily one of City's best performers. 9

Getty

11/20 Asmir Begovic, Chelsea

Dealt with his early tests well, but could not keep out City's goals. Showcased why he will pressurise Courtois for the No.1 spot this season. 6

Getty

12/20 Branislav Ivanovic, Chelsea

Like last week against Jefferson Montero, Chelsea's vice-captain struggled with pace of Sterling and could not stop Kolarov from using the left flank to drive in crosses into the box. Was beaten by Kompany for City's second goal and had a day to forget. 4

Getty

13/20 John Terry, Chelsea

Could not command and organise his back line as he usually does so well, with Chelsea looking disorganised in defence. 5

Getty

14/20 Gary Cahill, Chelsea

The centre-back was outwitted by Silva's fancy footwork for the opening goal, which ultimately allowed Aguero to gain possession and shoot. He was off the pace although he improved in the second half. 5

Getty

15/20 Cesar Azpilicueta, Chelsea

Navas proved a nuisance for the left-back and Azpilicueta found his compatriot's pace too much to deal with. 5

Getty

16/20 Eden Hazard, Chelsea

Last year's PFA Player of the Year was stifled and could not find the space to make the difference. 5

Getty

17/20 Nemanja Matic, Chelsea

Battled well in midfield, but was unable to stop the physical threat of Toure and the pace provided by City's forwards. 6

Getty

18/20 Willian, Chelsea

Was a source of pace for Chelsea and while he did well to provide crosses into the area for the visitors, was helpless to do much else. 6

Getty

19/20 Cesc Fabregas, Chelsea

Linked up well with his teammates from his slightly defensive position, but couldn't breach City's defence. 5

Getty

20/20 Diego Costa, Chelsea

The striker was dealt with in brilliant fashion by City's defence and while his work rate was good, Costa cut a frustrated figure throughout the game. 6

Getty
Aguero gave City a well-deserved half-time lead and Kompany and Fernandinho scored in the last ten minutes. It was patently obvious that this Chelsea team need the kind of lift that only a player capable of breaking into their first XI can provide, and that is unlikely to be supplied by signing Baba Rahman, a second-choice left-back, or even John Stones from Everton.
Of course, it had to be this day that Chelsea found themselves reaching the break with too few medical staff to go around, and blood and bandages proliferating. After 45 minutes of being run all over the pitch by City, it was Chelsea's recently down-sized medical department that found itself over-stretched.
The stand-in doctor Chris Hughes was still treating a blow to Cahill's face that required cotton wool to staunch the bleeding, when Diego Costa was felled by Fernandinho's elbow. In the meantime, the auxiliary medical team had to treat Costa who needed a bandage around the head and ended the half chasing his fellow Brazilian down the tunnel.
While this went on, Mourinho had to listen to the name of Eva Carneiro, his recently demoted doctor, being chanted around the stadium by the home support. "You're getting sacked in the morning," sang the City fans to the newly installed Chelsea medical team. And on top of that there were too few medics to go around. Truly, football has that miraculous habit of foiling the best-laid plans.
The opening stages had been grim for Mourinho as his team staggered from repelling one City attack after another. Three times in the first 17 minutes the goalkeeper Asmir Begovic saved instinctively from Aguero, including one fine stop in the first 20 seconds.
Cahill was struggling badly against the Argentine and found himself turned after 16 minutes and reliant on a second save from Begovic. The goal on 31 minutes was brilliantly worked with a ball in from the right from Jesus Navas, and an exchange with Yaya Toure before Aguero took the return on his chest and turned away from Cahill into space to score.
The elbow by Fernandino on Costa should have been a red card, Mourino said later, and having been kicked earlier by Kompany, the Chelsea striker was in no mood to shake and make-up. It took a few of his team-mates and most of the backroom staff to stop him charging down the tunnel after Fernandinho.
Zouma replaced Terry at half-time and after the hour Mourinho brought on Juan Cuadrado for Ramires. He brought Fabregas back alongside Nemanja Matic but it made precious little difference.
In midfield for City, Fernandino was outstanding and Toure's work rate appeared to have climbed steeply. The best chance for Chelsea came when Fernandinho slipped in midfield and allowed Hazard a run at goal. But Chelsea lingered over the shot itself and Joe Hart saved. In the seconds after Mourinho's third substitution – Radamel Falcao for Willian – the second, decisive goal came.
That was the second header in two games from Kompany and, like the one against West Bromwich Albion six days earlier, was from a Silva corner. The final goal, with Chelsea stretched, was buried by Fernandinho. It is a rare sight to see Mourinho's team so completely beaten with five minutes left. Everywhere he looked he saw players who had come off second best, and the question will now be whether he can afford to trust them to change.
Manchester City (4-2-3-1): Hart; Sagna, Mangala, Kompany, Kolarov; Toure, Fernandinho; Navas (Nasri, 65), Silva, Sterling (Demichelis, 79); Aguero (Bony, 83).
Substitutes not used: Caballero (gk), Zabaleta, Clichy, Iheanacho.
Chelsea (4-2-3-1): Begovic; Ivanovic, Cahill, Terry (Zouma, ht), Azpilicueta; Ramires (Cuadrado, 64), Matic; Willian (Falcao, 79), Fabregas, Hazard; Costa.
Substitutes not used: Blackman (gk), Falcao, Mikel, Remy, Loftus-Cheek.
Referee: M Atkinson
Man of the match: Fernandinho
Rating: 8
Booked: Manchester City Kompany, Fernandinho, Toure Chelsea Ivanovic, Hazard
Reuse content