It was not the gesture that Manchester City fans were looking for in their talisman, after a result which means they have still not beaten one of Europe's elite sides in the Champions League when it really matters.
Yaya Touré was so intent on a clinch with his former manager Pep Guardiola as he left the Allianz Arena pitch on Wednesday night that it was all the Spaniard could do to release the midfielder's grip on his hand. Whether on a £220,000-a-week salary or otherwise, players are not expected to exit an arena like that, moments after losing to a 90th-minute goal.
The significance of such moments can be overblown. The signals from Touré's agent, Dimitri Seluk, on Thursday were that the relationship between his man and City is currently stable – and Seluk certainly is not backwards in coming forwards when something is wrong. It was he who propagated "cakegate" this summer – referring to Touré's grievance that the club did not sufficiently mark his birthday – and also the far more serious accusation, baffling to City, that they had refused him the chance to mourn the death of his brother, Ibrahim.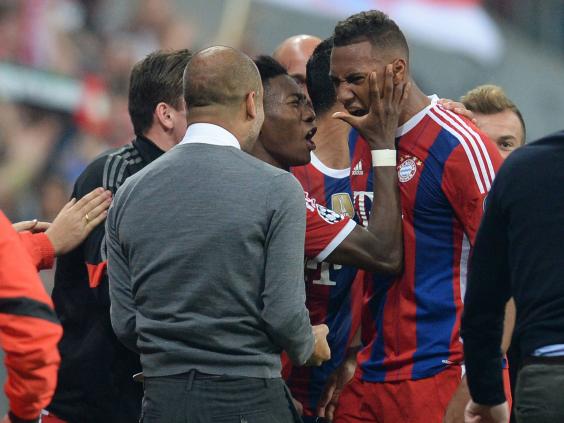 But the timing of the Guardiola scene, minutes after Jérôme Boateng's winner in Munich, reinforced the sense that Touré is not entirely with City in spirit. He was not one of the beneficiaries during a summer of new, long-term contracts for six players.
An element of City's thinking may be not wanting Touré to be seen to hold them to ransom with his bizarre allegations. And Touré signed a renewed four-year deal in April last year which will take Toure up to the age of 33.
For now, City's dependence on him as a holding midfielder is not doing much for his reputation. It is seven months since Touré was described as a "liability" by Dietmar Hamann after the free role he was allocated at the Etihad against Chelsea – who are Sunday's visitors – left the side exposed. Nemanja Matic made him look very average. For as long as City fail to show they are better than the best sides in Europe – the win at Bayern last December has been their only prize scalp but it came when both sides had qualified for the knock-out stage – they will run the risk of Touré being tempted to go elsewhere. He needs success in Europe to validate his decision to leave Barcelona for City in 2010 – a subject he is always prickly about.
Losing to Bayern is not a disaster. Roma's 5-1 win over CSKA Moscow in Group E's other fixture suggested City could face another grim three-way fight for the knockout stage but the Italians' scoreline flattered them. They were presented with three of their goals and the Russians also hit the post several times.
Chelsea are hardly ideal opposition next, though. Losing to Jose Mourinho's side would make it three defeats and a draw in four matches for Manuel Pellegrini, creating early pressure and leaving City eight points adrift of their title rivals. But the presence of Fernandinho – formidable as he covered for Touré's failings and performed the work of four players on Wednesday – will make the match more challenging than last season's fixture in Manchester, which Chelsea won 1-0.
"In the Premier League, the most important thing is not to give the team at the top of the table reasons to keep winning game after game," Fernandinho reflected. "We don't want a big space between us. We have to win because there are six or eight points' difference between us and Chelsea. We have to shorten it."
The look in the Brazilian's eyes said more than his words. They told of desire, hunger: qualities which City need in Touré to restore in his game.