Manchester City manager Pep Guardiola admitted on Saturday night that his side's three-game winless run may affect their confidence heading into Wednesday night's Champions League clash against Barcelona in the Nou Camp.
City dominated possession against Everton but had to come from behind to draw 1-1, after defeat at Tottenham Hotspur and a draw in the Champions League at Celtic. Asked if the run might have affected confidence, he said: "Maybe. I am here to try to make that [not] happen but if you analyse the three defeats, you can analyse each one. I try to analyse the reason we don't win. Of course the confidence and mood is much better when you win…."
It was, of course, not a draw as Guardiola had suggested – but it felt like one after City's domination and, though the Catalan did not admit it, illustrated that City have to be more capable of creating and finishing chances when in control.
Two missed penalties – by Kevin de Bruyne and Sergio Aguero, who also missed for Argentina in the week – means that City have now fluffed four out of eight this season, but Guardiola said the squad do not practice penalties.
"No," he replied, when asked if they did. "I don't have time to practice everything I want to practice. Penalties you can practice in training, but training is no one there. In the final of the Champions League, that is crucial. If the player says 'I want to be there [taking them]' that is enough." Asked if they might start practicing now, he said: "I don't know."
His opposite number Ronald Koeman paid Guardiola rich praise, saying that the side he had just drawn against were the best he had encountered in his entire managerial career and that Everton had possibly deserved to lose, after conceding two saved penalties.
"It is the best team of my managerial career we play against," Koeman said. "[A] really high tempo. We made some mistakes because the pressing was so high. We were pleased with the point. We didn't deserve more, I know. Maybe we didn't deserve one, counting chances, two penalties missed. But football is unpredictable and the key to get a point was the belief and the work rate of the players."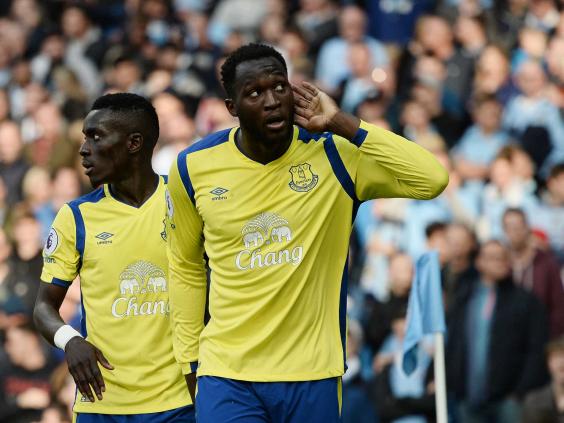 Asked if there was a risk of teams finding City out by finding strategies to stop them creating, Koeman said: "They have one point out of the last two [games.] It is difficult to win the Premier League because it is a very [great] intensity. They play in different competitions but if you look to the football - to their offensive style, the movement, the quality of the offensive players - they are in my opinion the best team in the Premier League."
Koeman also acknowledged the huge contribution of his goalkeeper Maarten Stekelenburg, his first signing as Everton manager, who had just played the game of his life.
"Maybe the goalkeeper played his best game ever," Koeman said. "We know he is a very good goalkeeper  - saving two penalties and two more shots of Kevin de Bruyne."
Guardiola said he would not adapt the way City play on Wednesday because they are playing in the Nou Camp. "Never in my life am I going to change the way I play football. I can make a lot of mistakes but my teams play the way they want. During that process, there are stones, there are problems. We improve a lot from Glasgow and Tottenham but you need that. We miss the last pass a lot but no regrets."
Reuse content