It had to be in this of all places that he materialised again – insulated against the night with a large dark hat, he served a reminder of the Mario Balotelli we used to know: ruminative, brooding, slightly menacing. There was even a reminder of what always used to pass here in his new manager's observations on the player he had signed: a striker on whose immediate future Brendan Rodgers' reputation as a maker of players now rests, in some ways. Asked what Balotelli would bring to Liverpool, Rodgers replied: "Trouble!" with that winsome grin that Roberto Mancini always used to conjure up for him.
But while the night took us back to the endless days of Mario making statements while saying next to nothing – one group interview in those two and a half years, with City's people on pins when he turned up late – it also told us a lot about how the club which sold him have moved on since he left. Six months after Balotelli disappeared out of the back door, taking his camouflage Bentley with him, Stevan Jovetic arrived through the front and this was his biggest statement of the player he can be. Injuries troubled him last season but Manuel Pellegrini has been telling us quietly for months that this is the man we should be looking at. A good pre-season – five goals – proved the point which he last night served only to reinforce.
The first goal was hard on Liverpool, running against the course of the first half even though it demonstrated to a momentarily ponderous Alberto Moreno how much slimmer the margins for error are here than they were at Seville. But the second – initiated by his sweet backheel and finished emphatically – provided a sobering moment for those of a Liverpool disposition who wonder what lies in the land after Luis Suarez.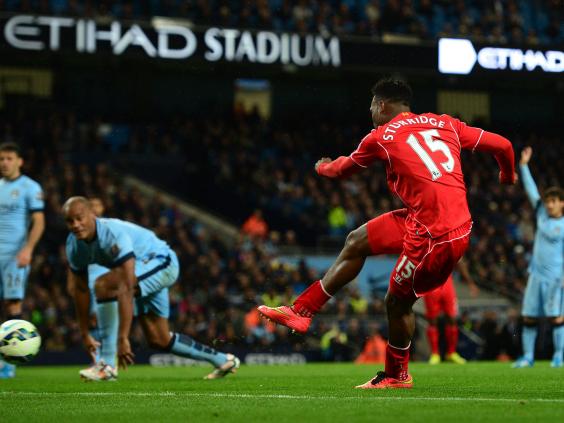 Daniel Sturridge demonstrated in flashes across the course of the night what his own contribution will continue to be. The venom with which he seized on Martin Demichelis's early error, countering at pace and levelling for Raheem Sterling, provided the same early message which Liverpool had given here last Boxing Day night, when City just about wrestled from them a game which had seemed to be theirs. The sight of Sterling taking a ball on his chest and swivelling to volley reinforced the point. Sturridge made equally light work of Vincent Kompany midway through the first half which they had the better of, all told. The contributions of Philippe Coutinho and Joe Allen in that period reinforced the sense that these players of Rodgers grew across the course of last season.
But City delivered the killer touches – those unpredictable, unscripted game-changing moments that give a defence cause to worry and especially a defence with the vulnerability that Liverpool's once again displayed last night. Those were the kinds of moments that for as long as Suarez was in town Liverpool could expect to see from their team, too. There were fewer here.
Rodgers believes that Balotelli can be a deliverer of them, too. The manager had something more serious to say about him last night – based, he declared, on a three-and-a-half-hour conversation the two of them had had. "Most players I like to sit down and look in the eye and see the honesty and the humility that they have and I saw that when I sat with him and I spent a bit of time with him," Rodgers said. "He's a very bright boy. He was very clever. He's a really good guy and I'm excited to work with him because that's the type of talent I like to work with – someone that we can improve both as a football player and a person."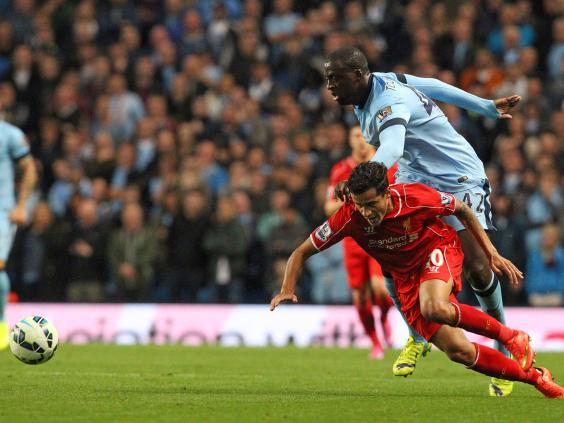 Creating any focus for him and a sense of responsibility was impossible here, though, and Milan's willingness to sell suggests nothing has changed. City, in the end, even appointed a housekeeper – a Mrs Doubtfire type – whom they knew would not be affected by his celebrity or take any nonsense. The idea was that she might be a surrogate for his tiny, indefatigable adoptive mother. It was a lost cause. Even his return to Milan 18 months ago – an hour west of the family home in Brescia – could not bring out some sense in him.
"If we see the Balotelli of Euro 2012, then I'd say it's a great signing, but I don't want to see the Balotelli we saw at City in a Liverpool shirt; petulant, stupid sendings-off, walking about…" Jamie Carragher said, more in hope than expectation. "I played against him two or three times and he did nothing in the game. You knew if you got tight to him and put him under pressure, he'd fall out of the game. We've got to see more than that."
Rodgers can reflect that £16m is a steal. But the early evidence suggests that he cannot afford merely occasional Balotelli brilliance. Rodgers needs to lead him right into the light. If he succeeds, he will be justifiably deemed a football genius.
Reuse content