Manchester City manager Manuel Pellegrini insists he is not feeling the heat at the Etihad Stadium.
Pressure is starting to increase on the Chilean after a less-than-convincing start to the season.
The champions have lost two of the opening nine matches of their Barclays Premier League title defence and have made another faltering start in the Champions League.
To compound matters they were dumped out of the Capital One Cup, which they also won last season, by an under-strength Newcastle in midweek.
They now face a critical few days with arch-rivals Manchester United visiting Eastlands on Sunday and a crucial Champions League clash against CSKA Moscow on Wednesday.
More questions will be asked of Pellegrini and his methods if they suffer further damage in those two fixtures but the Chilean claims not to be aware of any pressure.
Manchester City vs Manchester United combined XI
Manchester City vs Manchester United combined XI
1/11 Goalkeeper - David De Gea

Manchester United might have conceded more goals than City (13 to 10) but De Gea hasn't been to blame. The Spaniard has been making crucial saves this season, such as when Eden Hazard got in one-on-one last weekend and his superhero-esque save late on against Everton. It's led to talk of a move to Real Madrid for the former Atletico stopper and sees him get in ahead of Joe Hart.

GETTY IMAGES

2/11 Left-back - Gael Clichy

Luke Shaw is starting to show glimpses of why United paid so much money for a 19-year-old, but not enough to be selected ahead of the much more experienced Clichy. The Frenchman is doing enough to keep out Aleksandar Kolarov more often than not and looks assured at the back and is always a threat going forward.

GETTY IMAGES

3/11 Centre-back - Vincent Kompany

Whilst Louis van Gaal struggles to work out what his best options at centre-back are, Kompany has been looking his usual assured self. The captain has been gobbling up strikers and continues to put in exquisitely timed tackles with incredible regularity.

4/11 Centre-back - Martin Demichelis

The Argentinian was something of a laughing stock last season but has now settled and continues to look like Kompany's best partner at the back despite the big-money arrival of Eliaquim Mangala. Demichelis has made nine appearances to the summer signing's six so far this season. Marcos Rojo would be the stand-out challenger from United for the position, but he doesn't look comfortable at centre-back and recent performances suggest he's at risk of ending up a bigger laughing stock than Demichelis was.

GETTY IMAGES

5/11 Right-back - Pablo Zabaleta

Rafael has been the regular starter at United when fit but the Brazilian continues to ask more questions than he answers with sporadic performances that at moments make him look like the next Gary Neville, but in others more like Phil at Euro 2000. That's why Zabaleta has little trouble being selected as our right-back.

Getty

6/11 Holding midfielder - Daley Blind

Manchester City provided three options for this position but none of them warrant a place ahead of Blind. Yaya Toure has looked nowhere near his best whilst Pellegrini can't seem to work out if Fernando or Fernandinho is a better option alongside him. Meanwhile Blind has made a great start since joining from Ajax. Sitting deep, the Dutchman's sharp passing provides the base for attacks whilst his even sharper tackling stops opponents in their tracks. His late equaliser in the 2-2 draw with West Brom proved he can operate further forward as well if required.

Getty Images

7/11 Midfielder - David Silva

The little Spaniard is a class act that would probably get in any side. An eye for a pass and ability to deliver it ensure he is always among City's chief threats from the centre of the park. His goal in the recent defeat to West Ham was pure class. Silva manages to keep his fellow Spaniard Juan Mata out of the side. The former Chelsea player has been decent this season but not done enough to ensure he should be a regular in the United side when everyone is fit.

8/11 Midfielder - James Milner

He's not the most fashionable player, but as The Independent's Paul Scholes wrote earlier this season, every team should have a Milner. Scholes said: 'I would say he is an excellent attacking player in his own right. Milner's team-mates will be very glad to have him around, even if he does not always get the acclaim elsewhere.' The England international keeps Ander Herrera out, but only just because the Spaniard has impressed since arriving at Old Trafford.

GETTY IMAGES

9/11 Forward - Angel Di Maria

Manchester United paid a British record transfer fee to bring Di Maria in from Real Madrid and thus far he's looked worth every penny. The Argentina international has brought back that width and pace so much associated with United and despite concerns over his goalscoring record has netted three times in his seven games for United so far. Playing on the left-hand side, he keeps out Stevan Jovetic, despite the Montenegrin looking better than he ever has done since signing for City.

10/11 Forward - Sergio Aguero

Aguero or Robin van Persie? It'd be a nice conundrum for a manager to enjoy but based on the season so far, it goes to the Manchester City striker. The Argentinian has 11 goals from 12 games - despite only looking half-fit for most of it. Aguero is quite simply the best striker in the Premier League. In contrast, Van Persie has struggled this term despite the presence of his international mentor Van Gaal. His shirtless celebration after scoring a late equaliser against Chelsea showed his relief at getting back among the goals, and highlighted how frustrating a season it has been up to this point.

Getty Images

11/11 Forward - Wayne Rooney

Edin Dzeko has impressed in a City shirt this term but not as much as Rooney. And as well as keeping out the Bosnian, the Manchester United captain also keeps team-mate Radamel Falcao away from our combined XI. The arrival of the Colombian was supposed to signal the return of the good times at Old Trafford, but between being jet-lagged and not match-fit, Falcao has failed to make an impact with just one goal so far. In contrast, prior to his suspension Rooney had looked in strong form with six goals in 10 appearances for club and country. However, the temperament that got him a red card means the armband goes to the City captain Kompany in this XI.
The 61-year-old, who is renowned for his calmness, said: "I don't know what pressure (there is). I think it is very difficult to analyse the season when it is just in October, when you have just played nine Premier League games and you don't know whether or not you are going to qualify in the Champions League.
"It is the reality that we are eliminated from the Capital One Cup - but last year we were the only (title-contending) team to continue in the Capital One, so maybe the other teams will have more difficulties this season when they have to play so many games."
City have not won in their last three games, having surrendered a two-goal lead to draw at CSKA Moscow and then lost at West Ham prior to the Newcastle cup defeat.
The team are clearly not producing the performances that swept numerous opponents aside last season but Pellegrini is dismissive of suggestions rival managers have worked them out.
"I don't agree with you that they know how we play," said Pellegrini at his press conference to preview the derby. "I normally think that the players' performance in that (particular) game makes the difference."
Because of that, Pellegrini has no intention of abandoning his attacking principles.
He points to the experience of last season when, like now, they trailed the Premier League leaders by six points and turned the situation around.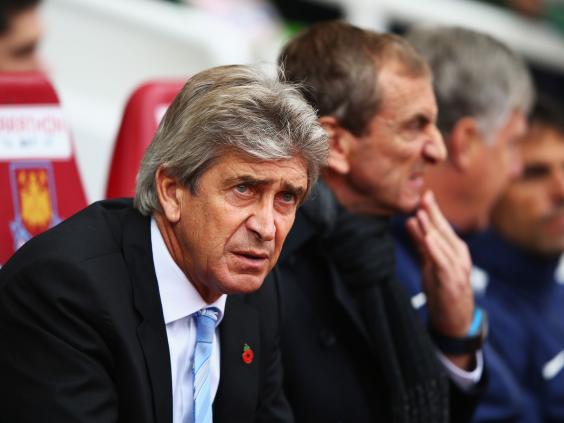 He said: "If I go (back) one year, it was exactly the same. Around the end of October, we had the same questions, and I answered the same way.
"It is the way we must play. We will continue doing the same way."
But Pellegrini insists he can be flexible, and often does vary tactics within games, to find the right formula. He has no doubt his side's class will eventually shine through.
He said: "We are always making different changes, not only in names but also in the way we play.
"If you review the last games, during the games, I always made some changes to try and improve the performance in defending and attacking.
"But I think that always you have better moments and bad moments. It's normal. It's not good to do it, but normally all the teams have a moment in the season when they are not at their best. It's important (for it) to be at the beginning of the season, not at the end of the season.
"I am sure that our team will be again the strong team that we were in the second half of last year.
"We continue with our target to try to defend our title, to try to continue in the Champions League. Maybe last year we did better in the Capital One but maybe this year we can win the FA Cup."
A further blow for City as they bid to rediscover their sparkle is that in-form playmaker David Silva has been ruled out for around three weeks.
The Spaniard suffered a knee injury in the early stages of the Newcastle game on Wednesday.
Pellegrini said: "David has a problem in his ligament. Maybe he will be out around three weeks, so he will not be available for the derby.
"He is a very important player but I always say the same thing, we have a squad and we have to replace him with another player.
"I think we are a team, and in that team we need top players in top performance always, because that is the best way to play."
PA