"We will deal with him with a degree of firmness." So says Manchester United defender Marcos Rojo of his fellow Argentinian Sergio Aguero.
There is a smile. Rojo knows it is a good phrase. The pair clashed during the World Cup. They face each other for the first time in England at the Etihad Stadium on Sunday afternoon. This is the way to build up a derby.
Rojo and Aguero's previous precedes the arrival of the defender at Old Trafford in the summer. Aguero took offence when Rojo invited the former boyfriend of his current girlfriend, the South American pop star El Polaco, into the Argentinian dressing room during the World Cup. The pair are said to have had a stand-up row as a result.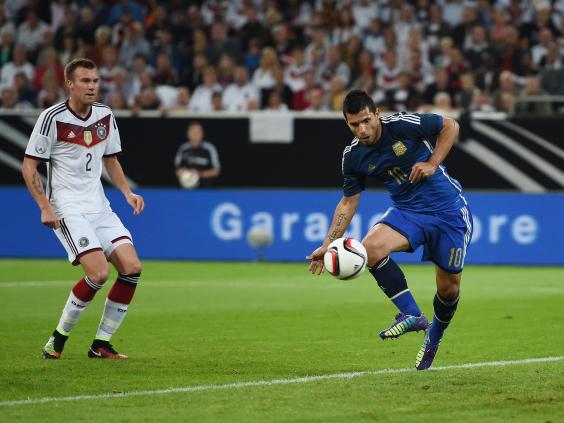 Rojo might be just 24 and with only six Premier League starts for Manchester United, but he is not unduly unnerved by either Aguero, his first derby or the question marks still raised over his side's defence.
When he is asked to expand on just how firm he will be towards his compatriot, he again smiles.
"It will be a hard game and you have to play in a hard way," he adds. "I don't mean go crunching in, but a tough way, the way he does. You have to play with close marking and strong tackles. You have to stick close to him, that's for sure. Be very attentive.
"Certainly in the penalty area he is a very quick mover and gets into position very quickly. He can be controlled, but it is up to us to keep an eye on where he at all times and get into him with a degree of firmness.
"You might exchange the odd word during the game, but generally with opponents you tend to forget if he is a friend or compatriot. He's City. We're United. And that's it. You put all that behind you, you go out there for the team and winning is everything. I've played with him in the national team but never against him. It will be the first time [we have played] against each other."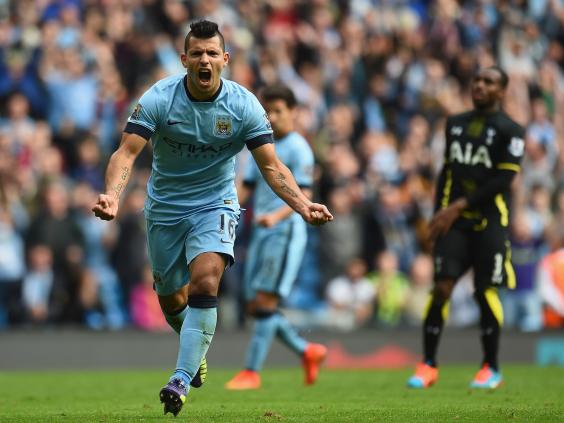 Rojo is talking at the Manchester College on Friday, tucked away in an office. The College sits within the shadows of the area where the first ground Manchester City ever played at was situated. In 1923 City moved out of Hyde Road to Maine Road. On Friday, Sergio Aguero hid.
Aguero and Marcos Rojo were both due to meet students, immaculately kitted out in the red and blue of both sides of Manchester. Aguero cited a misunderstanding for his no-show. It did not perturb Rojo.
"I thought he was going to be here," he says. "Is he worried about the derby? Haha, maybe that is the case. You'll have to ask him.
"Everyone knows it is a very important derby for this city and fans on both sides. So far the captain, Wayne [Rooney], has not said anything in particular, but we imagine it is something he will address. Everyone knows it is an important game; historically you have to say United have been superior between the two teams, but it will be a big test and something we will have to work hard on to have that continuing.
"I can play left-back or centre-back. The coach certainly knows that I'm very happy to play in both positions, I can play left or central. At the moment I am playing more centrally but I'll happily play on the left.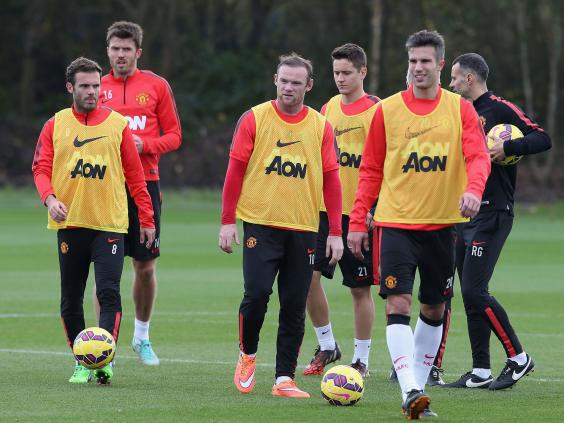 "We go out to win every match, as is our duty at United. That does imply a certain amount of risk-taking – you have to play high up and take your chances. Certainly as a defender we accept that the team has to play high, but we set out to win and that is what we'll be doing."
Rojo spent only two seasons in Portugal with Sporting Lisbon (following a brief move to Spartak Moscow) before his £16 million move to Manchester. His start to life in England, while his new team struggled, was delayed because of a protracted wait for his work permit,.
"My life has changed a lot," he says. "I am very happy to be at Manchester United, a top team in the world, sharing a dressing room with players like Wayne Rooney, Robin van Persie and Angel Di Maria.
"This is a very important step in my career as a player and as a person. Everything that has happened to me since the World Cup has been a dream."
Just how well Rojo executes that call for firmness against a player he offended at the World Cup will play a major role in the game.
First-team players from both Manchester clubs were on hand to take part in a Premier League Kicks session between City in the Community and the Manchester United Foundation
Reuse content