From Manuel Pellegrini, there came last night one of those rare, though extraordinary, outbursts on refereeing which we have seen before and which may well mean he faces a Football Association charge in the days ahead. He implied that Mark Clattenburg had a bias against Manchester City, should not have been appointed for this fixture and was intent on giving a penalty when Raheem Sterling was dubiously adjudged to have handled, early in the second half.
His evidence for the spurious first assertion was the two "offside goals" he claimed had been awarded to Spurs in his team's 4-1 defeat at White Hart Lane in September. "It was the same referee. We lost against Tottenham twice. For me, I don't think it is a good decision to have the same referee," he said. Of the penalty incident, he declared: "It was a penalty that referee Mark Clattenburg wanted to signal and he gave that signal."
The White Hart Lane claim, which could at least lead to him fined for misconduct, was ridiculous. It was not quite as extreme, perhaps, as Pellegrini's claim, after City's defeat to Barcelona two years ago, that referee Jonas Eriksson was "not impartial to both teams" and that an official from a Scandinavian nation should not have been chosen in the first place. But to observe the Chilean, whose City days are drawing to a close with rapidly diminishing prospects of a title, talk of injustice, shouting "I am finished with the referee" when he could not close the conversation down while admitting that his own team were "the problem", revealed the considerable distance between the territories he and Mauricio Pochettino, the Tottenham manager, occupy.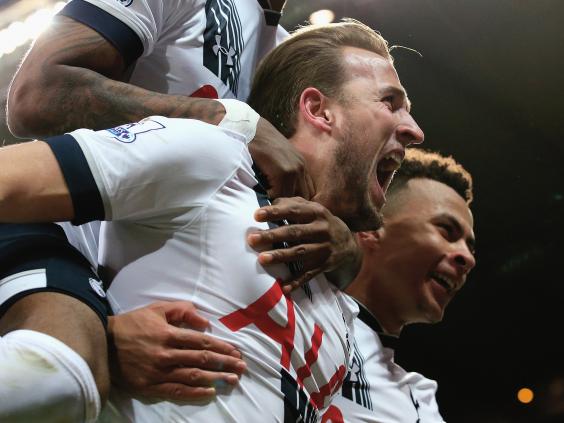 Twice during his own press conference, Pochettino was addressed as "Manuel" but there can be no case for mistaken identity. While Pellegrini might command today's post-match narrative with his sense of injustice, this story belongs, in essence and in spirit, to Tottenham – a club second on goal difference from Arsenal today – whose journey to the brink of an extraordinary accomplishment has been obscured by the leaders, Leicester, who are two points ahead.
For such a huge club, with a vast following to match, Spurs have been one of the great underachievers of the Premier League era. Not since 1985 have they been second at this stage of the season – a campaign in which they ultimately finished third behind Everton and Liverpool – and not since 1963 have they actually finished as runners-up. Winning here was a breakthrough result, their manager felt, reminding us once more that this is the youngest side in the division. "It is important to start to feel that you can win in a stadium like Manchester City. A big, big team and you can win. It is  a very important [win] for  the future."
The penalty decision was very poor and a justifiable talking point. Sterling had turned away from the ball when Danny Rose made to drive in a cross after 52 minutes and it struck him in the side. (Joe Hart's attempts to engage the penalty taker, Harry Kane in conversation before the subsequent kick failed utterly.) But there were nearly 40 minutes of football still to be played at that point.
Yes, the goal ignited City and brought out the best we had seen from them – Yaya Touré driving a free-kick against the crossbar and then Kelechi Iheanacho piling an equaliser past Hugo Lloris, after a beautiful exchange of passes between Sterling and David Silva, just eight minutes after arriving as a substitute. But the small details of Spurs' clinching goal bore out a sense that the winners are the coming team and the  losers are far from the side which once went a year without  losing in this place.
Not for the first time, Touré was halted by Mousa Dembélé and substitute Eric Lamela, who collected from him, shifted a ball through Nicolas Otamendi's legs for Christian Eriksen. He scored, on his 24th birthday, because Vincent Kompany's fractionally slow reactions had played him onside. It has so often been the case that with Kompany and Sergio Aguero in their ranks City can expect a victory, though the way the defender thumped the turf after the winner proved that he knew the consequences of his error. And though Iheanacho's equalising goal showed what the wise people have been saying here for 18 months – that he is the genuine article – it was one of those rare days when Aguero could not find the finish when the chances came.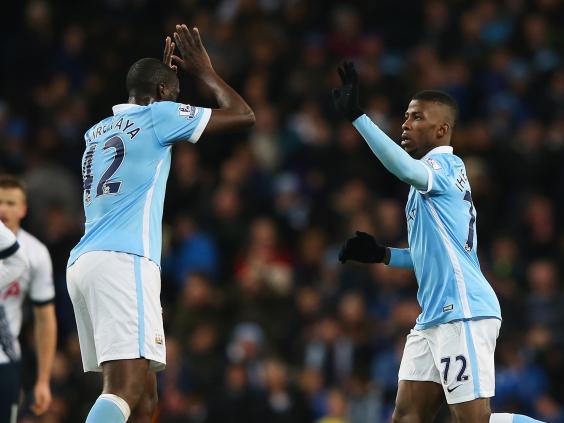 Spurs were also helped by Kyle Walker's strong first-half showing, in shutting out the threat of Sterling, as well as by Aguero's struggles. When a knock-down fell to the Argentine after a Silva corner in the first 10 minutes, he blasted his half-volley over – the most clear-cut shot of the first half – and also missed the target when Touré had improbably wriggled through a knot of four players to lift a steepling ball across the box for him after the break.
The Pochettino midfield also made Touré, operating behind Aguero, look like yesterday's man at times, in comparison to Dembélé and Eric Dier, struggling for the acceleration to drive past them. Touré could have been booked twice in the first 20 minutes, first for a bad,  raking tackle on Dembélé, and then for a late challenge on Kevin Wimmer.
Pellegrini insisted his side, six points off the top, can still win the title. "Yes, of course. We have 36 points more [to play for]. Everything can happen." But he also took refuge in the tired claim that he has "just 14  players".
At the end, Pochettino celebrated in front of his own supporters, and to see him there made you feel that anything is possible in the next couple of months. Their run-in is by no means formidable. The north London derby on 5 March looks momentous. West Ham and Liverpool are the highest-placed clubs Spurs must visit. It was, Pochettino said, a breakthrough in building "the trust, confidence and belief in our possibility. It is true our supporters  can dream."
Reuse content