To quote the phrase Gérard Houllier never lived down, Liverpool came to Old Trafford on Sunday 10 games from greatness and with their supporters carrying a banner that proclaimed: "Make Us Dream".
Football dreams are thin, fleeting things. Houllier's words from 12 years ago are remembered on Merseyside as a soundbite too far by a man whose self-belief failed to match the modern realities of Anfield. Yet he uttered those words when Liverpool were top of the Premier League and they won nine of their final 10 matches.
It was not enough; Houllier's dreams slid through his hands and, when Manchester United staged their last game of the 2001-02 season, Arsenal's fans unveiled another banner that stated with cutting simplicity: "Old Trafford: Champions Section."
Manchester United 0 Liverpool 3 player ratings
Manchester United 0 Liverpool 3 player ratings
1/24 David de Gea 6/10

Nowhere near any of the three penalties. Slightly made amends with a late stop from Suarez from close range, but then beaten again minutes after

2/24 Rafael 5/10

Lucky to remain on the pitch for the second period after an ugly tackle on Gerrard and then handball for the first penalty. Offered little in attack, too

3/24 Phil Jones 4/10

Confused by the movement of Sturridge, who ran rings around him. Recklessly charged out like a bull in a china shop to concede the second penalty.

4/24 Nemanja Vidic 3/10

Unlucky for second yellow for lunge at Sturridge, but, like most of his team-mates, looked well off the pace. His Italian retirement home awaits

5/24 Patrice Evra 4.10

Endured a painful afternoon. Could not cope with the pace of Sterling and Sturridge – and had to deal with pair on his own with little help from Mata

6/24 Juan Mata 4/10

Alienated on the wing, and did not track back to help Evra at all, constantly leaving space for Liverpool to exploit – which they did.

7/24 Marouane Fellaini 3/10

Had some success with interceptions early on, but, like Carrick alongside him, was run ragged as the game wore on. Another lacklustre display.

8/24 Michael Carrick 4/10

Pulled apart by the movement of Liverpool's midfield. Could have conceded a fourth penalty with clumsy foul on Sturridge late on as well.

9/24 Adnan Januzaj 5/10

A couple of bursts forward made it look like he could provide the spark for United, but grew more and more anonymous, and timid.

10/24 Wayne Rooney 6/10

Had United's only real chance, when his powerful effort was saved by Mignolet.

11/24 Robin van Persie 5/10

Cut a frustrated figure. Struggled to get in the game and kept turning away from goal into blind alleys whenever he got a sniff of the ball.

12/24 Best of the bench: Danny Welbeck 4/10

Replaced the ineffective Januzaj with 15 minutes remaining, and although a willing runner, he chased shadows like his demoralised team-mates.

13/24 Simon Mignolet 7/10

Impressive stop from Rooney's driven effort was the only time he was called upon. Then just watched the masterclass like everyone else

14/24 Glen Johnson 7/10

The right-back put in a solid shift, although was hardly in the thick of it such was United's tame attacking. Did everything that was asked of him well

15/24 Martin Skrtel 7/10

The busier of Liverpool's centre-back pairing, sticking close to Van Persie. But he struggled at times when Rooney decided to power into the box.

16/24 Daniel Agger 7/10

Beaten too easily by some early breaks from Rooney, but the Danish defender was comfortable for the majority of the match.

17/24 Jon Flanagan 7/10

Clattered about early on in the match but did not give Januzaj or Rafael any joy at all in a no-nonsense performance from the 21-year-old.

18/24 Steven Gerrard 9/10

Ended the match with a nose bleed as Liverpool entered nose-bleed territory in deserved fashion. A quite brilliant performance from the captain

19/24 Joe Allen 8/10

Usual great distribution of the ball, but was also happy to do the dirty work, putting in important blocks to launch his team on the attack.

20/24 Jordan Henderson 8/10

Sharp as a tack and always on the move. Has added incisiveness to his game this season. Something Carrick and Fellaini sorely lacked.

21/24 Raheem Sterling 7/10

Looked to get involved in every Liverpool attack, buzzing around the pitch. Neat and tidy with his passing in a more central midfield position

22/24 Luis Suarez 8/10

Put the icing on the cake with astute finish past De Gea in the final stages. Dropped a little bit deeper for maximum impact and terrorised poor Jones.

23/24 Daniel Sturridge 8/10

His pace and movement constantly troubled the United defence but was wasteful in front of goal. Unfair tumble to win the third penalty.

24/24 Philippe Coutinho 7/10

Came on for Sterling with 18 minutes remaining and nearly helped himself to a goal in closing stages but dragged a long-range effort wide.
Steven Gerrard was part of those dreams and perhaps it is why there was a slight catch in his voice when he wondered aloud whether Liverpool could win the title this year. Sir Tom Finney is probably the greatest English footballer never to win the league but Gerrard would run him very close.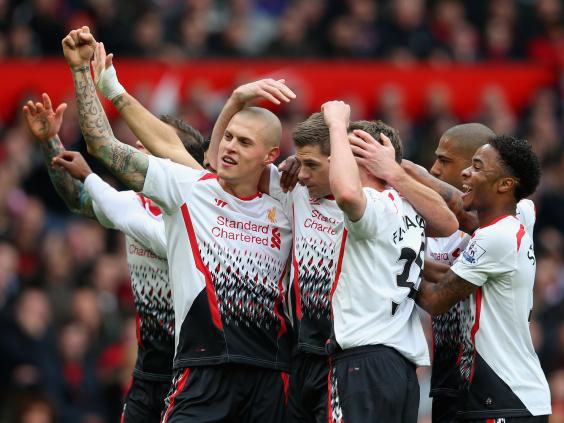 In September, before Liverpool faced Manchester United at Anfield, Gerrard gave an interview in which he conceded that he would probably never now win a championship.
The words uttered by Jose Mourinho when he tried to entice him to Chelsea in the summer of 2005 that, unless Gerrard left Merseyside, he would never know what it is to be a champion appeared to be about to be borne out. However, now there are nine games left, including the visits of Chelsea and Manchester City to Anfield next month, and if Liverpool win them all he will probably lift it at 33.
"I think we have shown we are genuine contenders, we are going to fight to the end for this," Gerrard reflected after the most straightforward afternoon he could have known in this corner of Manchester. Even when Liverpool won 4-1 here in March 2009, a victory summed up by the sight of Fernando Torres brushing aside Nemanja Vidic as he ran through to score, Manchester United put up more resistance than they did here. They also finished the season as champions.
 "I have come here many times and been played off the park," said Gerrard. "We dominated from start to finish and we are still going away disappointed that we didn't score more goals."
Gerrard has now scored more goals against United than any other Liverpool player, although it will eat away at him that the penalty that would have given him a hat-trick at Old Trafford struck the foot of David de Gea's post.
"We totally bossed the middle of the park. When you come away from home, you have to do that and we have got two of the best strikers in the world to exploit that. I am sure, if you ask the Manchester United defenders, I don't think they will ever have had a harder 90 minutes."
However, for United all matches at Old Trafford are now long, debilitating affairs. There was a time when winning here was the stuff of bar-room fantasies. When Middlesbrough played Manchester United at Old Trafford in December 1998, Bernie Slaven, a club stalwart and now a radio commentator, announced he would "show my a*** in Binns" – a local department store – if Bryan Robson's Boro side won. They did, 3-2, and Slaven went into the shop window wearing a kilt. United responded by not losing another match for five months, a sequence that brought them the treble.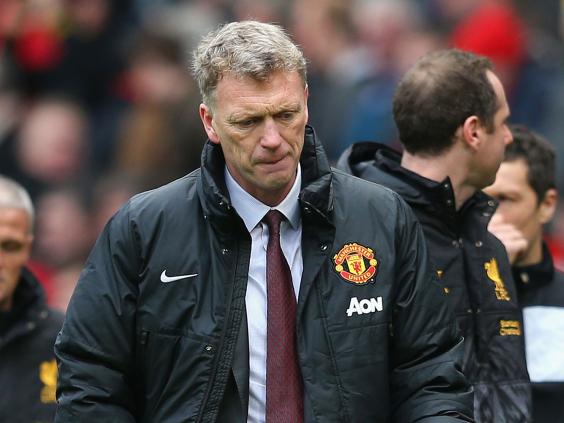 This season, Swansea have won at Old Trafford for the first time in their history, Newcastle for the first time since 1972, West Bromwich Albion for the first time since 1978, Everton for the first time since 1992. The spell has been smashed, just as the aura around Anfield began to crack and splinter once the giants – Alan Hansen, Kenny Dalglish and Ian Rush – had taken their leave. Mark Lawrenson commented that United's decline might be steeper and deeper than Liverpool's in the early 1990s and few here would doubt him.
Growing up in Utting Avenue, a decent goal-kick from Anfield, Jon Flanagan would have heard all the great Liverpool stories, particularly from his father, a trainee at Melwood who might have been part of it all if he had possessed any discipline. He was born in 1993, the year Liverpool began to nurture its history because the present was so bleak.
Brendan Rodgers remarked that Flanagan was once so little thought of that Liverpool could not arrange a loan deal for him. Now he dominated Juan Mata, a man who might replace Juan Sebastian Veron as Manchester United's most expensive irrelevance.
Rodgers' team may superficially resemble "The Spice Boys" of Steve McManaman and Robbie Fowler, who were the last Liverpool side to come here ahead of United in the league. Rodgers, however, points out that they have a harder core than the men whose most lasting legacy to English football were the white Armani suits they sported at Wembley in 1996. They also have an instinctive tactical discipline.
United, by contrast, were a mess. Howard Kendall, one of the few Everton managers who could claim to be more successful than David Moyes, once said that Harry Catterick's genius was that he bought players knowing precisely where they would play. Kendall added that Moyes had signed Marouane Fellaini and then wondered where he might fit in. He appears to have done the same with Mata.
Moyes grabbed an armful of straws by noting how the Stretford End had sung to the finish, some waving their scarves above their heads, chanting that United had won the title "20 times". Nobody had the heart to tell him that few at Old Trafford expect that total to increase under his management. Like Liverpool in their darkest moments, they were clutching their history to their breast like a crucifix.
At the end, Liverpool supporters unveiled another banner proclaiming Moyes "a football genius". It was something they would never have done to Sir Alex Ferguson. They hated him, they feared him, but they never mocked him.
Reuse content