Wayne Rooney described the atmosphere in the Manchester United dressing room as a "nightmare" after Liverpool inflicted the sixth and most humiliating home defeat of a disastrous season.
With his close friend and Liverpool captain Steven Gerrard noting that Brendan Rodgers' side were disappointed not to have won by a greater margin than 3-0, Rooney said: "It is like a nightmare. It is one of the worst days I have ever had in football.
"It is hard to take. You have go give Liverpool credit; they played well but it is difficult for us to take. Nobody wants to lose, especially in this way, in your own stadium."
The shambolic nature of United's performance was demonstrated by the fact that they conceded three penalties and finished the match with 10 men after their captain, Nemanja Vidic, who is quitting the club for Internazionale at the end of the season, brought down Daniel Sturridge. Gerrard missed one spot kick but United might have given away two more and Diego Maradona, watching from the directors' box, saw his spiritual successor, Luis Suarez, put away Liverpool's third.
Manchester United 0 Liverpool 3 player ratings
Manchester United 0 Liverpool 3 player ratings
1/24 David de Gea 6/10

Nowhere near any of the three penalties. Slightly made amends with a late stop from Suarez from close range, but then beaten again minutes after

2/24 Rafael 5/10

Lucky to remain on the pitch for the second period after an ugly tackle on Gerrard and then handball for the first penalty. Offered little in attack, too

3/24 Phil Jones 4/10

Confused by the movement of Sturridge, who ran rings around him. Recklessly charged out like a bull in a china shop to concede the second penalty.

4/24 Nemanja Vidic 3/10

Unlucky for second yellow for lunge at Sturridge, but, like most of his team-mates, looked well off the pace. His Italian retirement home awaits

5/24 Patrice Evra 4.10

Endured a painful afternoon. Could not cope with the pace of Sterling and Sturridge – and had to deal with pair on his own with little help from Mata

6/24 Juan Mata 4/10

Alienated on the wing, and did not track back to help Evra at all, constantly leaving space for Liverpool to exploit – which they did.

7/24 Marouane Fellaini 3/10

Had some success with interceptions early on, but, like Carrick alongside him, was run ragged as the game wore on. Another lacklustre display.

8/24 Michael Carrick 4/10

Pulled apart by the movement of Liverpool's midfield. Could have conceded a fourth penalty with clumsy foul on Sturridge late on as well.

9/24 Adnan Januzaj 5/10

A couple of bursts forward made it look like he could provide the spark for United, but grew more and more anonymous, and timid.

10/24 Wayne Rooney 6/10

Had United's only real chance, when his powerful effort was saved by Mignolet.

11/24 Robin van Persie 5/10

Cut a frustrated figure. Struggled to get in the game and kept turning away from goal into blind alleys whenever he got a sniff of the ball.

12/24 Best of the bench: Danny Welbeck 4/10

Replaced the ineffective Januzaj with 15 minutes remaining, and although a willing runner, he chased shadows like his demoralised team-mates.

13/24 Simon Mignolet 7/10

Impressive stop from Rooney's driven effort was the only time he was called upon. Then just watched the masterclass like everyone else

14/24 Glen Johnson 7/10

The right-back put in a solid shift, although was hardly in the thick of it such was United's tame attacking. Did everything that was asked of him well

15/24 Martin Skrtel 7/10

The busier of Liverpool's centre-back pairing, sticking close to Van Persie. But he struggled at times when Rooney decided to power into the box.

16/24 Daniel Agger 7/10

Beaten too easily by some early breaks from Rooney, but the Danish defender was comfortable for the majority of the match.

17/24 Jon Flanagan 7/10

Clattered about early on in the match but did not give Januzaj or Rafael any joy at all in a no-nonsense performance from the 21-year-old.

18/24 Steven Gerrard 9/10

Ended the match with a nose bleed as Liverpool entered nose-bleed territory in deserved fashion. A quite brilliant performance from the captain

19/24 Joe Allen 8/10

Usual great distribution of the ball, but was also happy to do the dirty work, putting in important blocks to launch his team on the attack.

20/24 Jordan Henderson 8/10

Sharp as a tack and always on the move. Has added incisiveness to his game this season. Something Carrick and Fellaini sorely lacked.

21/24 Raheem Sterling 7/10

Looked to get involved in every Liverpool attack, buzzing around the pitch. Neat and tidy with his passing in a more central midfield position

22/24 Luis Suarez 8/10

Put the icing on the cake with astute finish past De Gea in the final stages. Dropped a little bit deeper for maximum impact and terrorised poor Jones.

23/24 Daniel Sturridge 8/10

His pace and movement constantly troubled the United defence but was wasteful in front of goal. Unfair tumble to win the third penalty.

24/24 Philippe Coutinho 7/10

Came on for Sterling with 18 minutes remaining and nearly helped himself to a goal in closing stages but dragged a long-range effort wide.
Rooney admitted "the game plan went out the window when we went two down", although few imagined that a tactically incoherent United ever possessed any such thing as a plan. Unless they play with considerably more discipline on Wednesday night they will be eliminated from the Champions League, a competition nobody here expects them to re-qualify for.
The only time Maradona played at Old Trafford was in 1984 when a Manchester United side driven forward by Bryan Robson overturned a two-goal deficit in the Cup-Winners' Cup against Barcelona. That is precisely what United have to do against Olympiakos to remain in the Champions League. Unless they do, David Moyes' position as manager will seem even more perilous than it does two months before the end of his first season of a six-year contract.
The most damning statistic against Moyes is that under him the champions of England have managed to beat only one team in the top nine of the Premier League. "That tells you that we are not doing as well as we should be," he said with considerable understatement.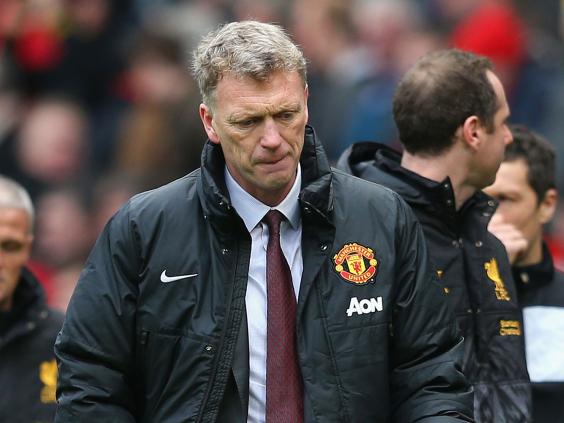 "We have to play better and we are going to have to make ourselves harder to beat. We have got to make sure we are creating more and taking more of our opportunities."
In what Sir Alex Ferguson, who was watching from the stands, always described as United's most important fixture of the season, Moyes named an aggressive starting line-up featuring Rooney, Robin van Persie, Adnan Januzaj and Juan Mata. Between them they created one clear-cut scoring opportunity, a shot from Rooney that Simon Mignolet pushed aside.
Moyes was asked why in a game he had to win to preserve his waning credibility he had described Liverpool, who had lost 10 of their previous 11 matches at Old Trafford, as "favourites". Rodgers afterwards remarked that he would not have described any team coming to Anfield as favourites "even if Liverpool were bottom of the table".
Moyes replied: "Liverpool were above us in the league, playing well and any average person would have said the same thing. I think people are entitled to their opinion."
In one of the most humiliating afternoons many of them could have experienced and beneath a banner that proclaimed Moyes "The Chosen One", the Stretford End sang for a beaten, disintegrating team to the very end.
"The supporters were unbelievable in the backing they gave the team," said Moyes, who was asked if he thought that backing might evaporate. "Results will always dictate that but I can only tell you what I heard. They are supporting their team in a difficult period. They were fantastic and brilliant. They shouted plenty and we didn't give them anything on the field."