Edin Dzeko is no Denis Law, yet his goals on Wednesday night were a symbolic reminder of the last time City enjoyed this kind of imperious dominance over their neighbours. Law's back heel on this turf sent United spiralling out of English football's top flight and City into paroxysms of delight.
Forty years on, the dynamics of the Premier League make it all-but impossible for United to experience relegation again. The fundamentals have changed at City, too. No longer content to run off into the Manchester night with bragging rights alone, City haven stolen United's power.
They are the club chasing the big prizes, while United adjust to reduced circumstances, if not in the second tier of the game, certainly a level beneath City in the top flight. City manager Manuel Pellegrini expected to win this contest and he did, without breaking step.
If it is any consolation for David Moyes, defeat No 10 of a torrid season was by no means the worst. This was no cause for shame. His team showed some fight and he demonstrated his readiness to adapt when it was so obviously going wrong.
Manchester United 0 Manchester City 3 player ratings
Manchester United 0 Manchester City 3 player ratings
1/24 David de Gea 6/10

Left exposed by his defence for Nasri shot, not to blame as Dzeko tapped home. Fine save from Bosnian later in the half but beaten twice more.

2/24 Rafael 6/10

Slow to react to Silva run into area and was punished as City took the lead inside a minute. Made ground down right and offered attacking outlet.

3/24 Phil Jones 5/10

As culpable as his defensive colleagues for the opener but made important blocks from Silva and Dzeko. Tired as the match wore on.

4/24 Rio Ferdinand 5/10

Has been trusted less and less by Moyes and you could see why as he laboured behind Dzeko as the Bosnian volleyed in his second from a corner.

5/24 Patrice Evra 6/10

Caught out of position as Dzeko opened the scoring in front of him. Got forward at every opportunity but did not give City any real cause for concern.

6/24 Michael Carrick 6/10

Restored to midfield position and tidy in possession but outperformed by City. Surrendered position cheaply to Silva for one chance.

7/24 Marouane Fellaini 5/10

Could only send disappointingly weak effort straight at Hart before the break. Fortunate to escape with booking after Zabaleta elbow. Cheered off.

8/24 Tom Cleverley 5/10

Much-maligned England international was unable to make any impact on proceedings and taken off at half-time in place of Kagawa.

9/24 Juan Mata 5/10

Shot over the bar when well placed before the break but is still desperate to recreate the form that persuaded United to splash out for him in January.

10/24 Wayne Rooney 6/10

Struggled to exert his influence on proceedings as City enjoyed the better of opening exchanges. Jumped in on Fernandinho.

11/24 Danny Welbeck 6/10

Troubled Demichelis with his footwork on the right hand side but little end product. Ugly coming together with Zabaleta after slipping.

12/24 Best of the bench: Shinji Kagawa 5/10

Given surprisingly early chance to impress as he came on at the break but too easily outmuscled and outmanouvered by City's midfield powerhouses.

13/24 Joe Hart 6/10

Little to do early on before United turned up pressure as first half wore on. Easily held Fellaini effort but was tested remarkably little.

Getty Images

14/24 Pablo Zabaleta 6/10

Bulldozed by a slipping Welbeck and stayed down for a while. Also elbowed by Fellaini in an interesting opening half. Volley deflected wide after break.

Getty Images

15/24 Martin Demichelis 6/10

Troubled by creativity of Welbeck but has improved in recent weeks and stood up well to sporadic attacks as home side flailed

Getty Images

16/24 Vincent Kompany 6/10

Belgian international was a commanding presence as usual. Relished battle with Rooney and came out on top against the England man

Getty Images

17/24 Gaël Clichy 6/10

Preferred to Kolarov and speed down the left gave United plenty to deal with. Important tackle on Fellaini and dealt well with United wingplay.

Getty Images

18/24 Fernandinho 8/10

Booked for desperate barge on Rooney on half-time but that was the only blip. Calm and assured in breaking up play and propelling City forward

EPA

19/24 Yaya Touré 7/10

Less influential than when scoring hat-trick against Fulham but still at centre of proceedings. Pushed forward after Garcia's entry and stroked in the third.

Getty Images

20/24 Jesus Navas 6/10

Tidy in possession and aided Nasri as City broke with pace and purpose. Sent dangerous balls across the United box. Replaced by Garcia late on.

AP

21/24 David Silva 8/10

It was the Spaniard's thrust deep into United's area that created the momentum for the opener. Industrious and creative throughout.

Getty Images

22/24 Samir Nasri 7/10

Showed superb footwork before hitting post as City opened scoring within a minute. Kept visitor's attacks moving and corner also set up second.

Getty Images

23/24 Edin Dzeko 8/10

Right place to follow up Nasri's rebound in opening minute. Denied a second by fine stop from De Gea before volleying in Nasri's corner.

Getty Images

24/24 Best of the bench: Javi Garcia 6/10

Replaced Navas for final quarter to reinforce visitor's defensive play. Helped side see out final minutes without conceding and allowed Toure to get forward.

Getty Images
The removal of the over-matched Tom Cleverley at half time was a kindness to a player who has clearly found his level. And this is not it. Cleverley epitomised the difference between the teams, one-paced, bereft of confidence and risk averse. Manchester lightweight boxer Anthony Crolla was introduced to the crowd half an hour before kick off. Crolla, a lifelong United fan, is involved in derby of his own next month taking on City supporting Manc John Murray in a world title eliminator.
Looking at the team sheet, the thought occurred he might be a better option than Cleverley, if his selection was predicated on shackling the marvellous David Silva. One punch might have been enough. Cleverley never got close to landing one... mind you, he was not alone in that.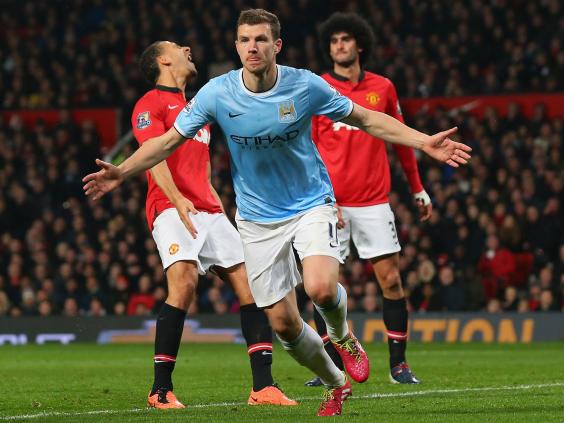 In one sense, Cleverley has done his manager a great service this season, absorbing the stick that might have come the way of Moyes. The reluctance of the majority to condemn Moyes for the enduring disappointment of his short reign diverts the pent up criticism Cleverley's way. His reward was to be given a start in a match of huge importance.
Despite the endorsement of Sir Bobby Charlton beforehand, insisting that the board had made the right appointment, each backward step imperils Moyes's prospects of seeing this engagement through much further. 
United were a goal down before Cleverley had touched the ball, but that fact applied to most of his team-mates. On the plus side, they kept out Silva's first attempt. Cleverley's pass into the inside right channel was not anticipated by Danny Welbeck, who broke instead through the middle, drawing a pained expression from his team-mate.
There had to be a degree of sympathy for the lad, asked to fill a slot down the right that fell half way between attack and defence. Not for the first time, Moyes was seeking insurance when he should have been backing his team to take the opposition on.
City did to United what Barcelona did to them, which begged the question why they were unable to summon the same arrogance when it mattered in Europe. Failure in the Champions League points to a lingering esteem issue when confronted by the major powers in Europe that still needs to be addressed.
Observing Silva co-ordinating the best of everything in that fearsome opening salvo, a mesmeric presence playing across the frontline just behind Dzeko, it is hard to imagine that City will be forever caught in the headlights of Munich, Madrid and Barcelona.
This is the role earmarked at United for Juan Mata, who is just as inventive but the locomotion around him had nothing like the fluid rhythm that kept Silva in business. But then again, there is no Yaya Tour or Samir Nasri in this United team.
There was a point 12 minutes from the end of the first half, when Fernandinho made a rare error misjudging the flight of the ball and heading into space down the right. Rooney looked for the raiding red shirt that would have been there not too long ago. Instead, there was Cleverley labouring in no-man's land, neither here nor there. Again, this was not wholly his fault but a consequence of how the team was set up and the job he was asked to do. It is all right panning Olympiakos and running through West Ham but this is the ultimate test of a manager's credentials; to plot your way past the best.
With five minutes of the half remaining after United had enjoyed their best spell of the evening, Moyes had the baton out in the technical area waving Cleverley into position to take the ball off his defence. The player duly responded, turned and passed directly to the opposition. His team was under pressure needlessly and Moyes twitched sideways as if stabbed with a cattle prod.
This was the moment his night ended. It might be the end of his United career as Moyes ponders a clear-out at the season's end, assuming he is also not on the way out. Cleverley's defence has been to claim that his Spanish stylistic inflections are not appreciated. With that one passage of play, he ran a sword through that bull.
Reuse content