It was when the Manchester City supporters at Old Trafford turned their attention to Sir Alex Ferguson tonight that you began to realise just now profound the shift has become. City always loathed Ferguson, and he them, but even when they won their one Premier League title two years ago they knew that the old boy would come back for one last revenge mission.
Not any longer. The old dictator is gone and in his place is a United manager who does not even merit the hatred of the City fans. Instead it was another full-scale humiliation visited on David Moyes, culminating in the demand from the City fans that he be allowed to see out the remainder of his contract at United. "Five more years, five more years," they chanted in the away end at the end, as Moyes turned on his heel and walked down the touchline for the safety of the tunnel.
The United fans have not turned on their manager, but that is about all he could take from another game in which his side were out-played and out-fought once again by a title challenger. "Fergie, Fergie, give us a wave", they sung from the away seats as Moyes struggled to prevent yet another retreat from the standards of a club that once set the pace at this stage of the season.
Manchester United 0 Manchester City 3 player ratings
Manchester United 0 Manchester City 3 player ratings
1/24 David de Gea 6/10

Left exposed by his defence for Nasri shot, not to blame as Dzeko tapped home. Fine save from Bosnian later in the half but beaten twice more.

2/24 Rafael 6/10

Slow to react to Silva run into area and was punished as City took the lead inside a minute. Made ground down right and offered attacking outlet.

3/24 Phil Jones 5/10

As culpable as his defensive colleagues for the opener but made important blocks from Silva and Dzeko. Tired as the match wore on.

4/24 Rio Ferdinand 5/10

Has been trusted less and less by Moyes and you could see why as he laboured behind Dzeko as the Bosnian volleyed in his second from a corner.

5/24 Patrice Evra 6/10

Caught out of position as Dzeko opened the scoring in front of him. Got forward at every opportunity but did not give City any real cause for concern.

6/24 Michael Carrick 6/10

Restored to midfield position and tidy in possession but outperformed by City. Surrendered position cheaply to Silva for one chance.

7/24 Marouane Fellaini 5/10

Could only send disappointingly weak effort straight at Hart before the break. Fortunate to escape with booking after Zabaleta elbow. Cheered off.

8/24 Tom Cleverley 5/10

Much-maligned England international was unable to make any impact on proceedings and taken off at half-time in place of Kagawa.

9/24 Juan Mata 5/10

Shot over the bar when well placed before the break but is still desperate to recreate the form that persuaded United to splash out for him in January.

10/24 Wayne Rooney 6/10

Struggled to exert his influence on proceedings as City enjoyed the better of opening exchanges. Jumped in on Fernandinho.

11/24 Danny Welbeck 6/10

Troubled Demichelis with his footwork on the right hand side but little end product. Ugly coming together with Zabaleta after slipping.

12/24 Best of the bench: Shinji Kagawa 5/10

Given surprisingly early chance to impress as he came on at the break but too easily outmuscled and outmanouvered by City's midfield powerhouses.

13/24 Joe Hart 6/10

Little to do early on before United turned up pressure as first half wore on. Easily held Fellaini effort but was tested remarkably little.

Getty Images

14/24 Pablo Zabaleta 6/10

Bulldozed by a slipping Welbeck and stayed down for a while. Also elbowed by Fellaini in an interesting opening half. Volley deflected wide after break.

Getty Images

15/24 Martin Demichelis 6/10

Troubled by creativity of Welbeck but has improved in recent weeks and stood up well to sporadic attacks as home side flailed

Getty Images

16/24 Vincent Kompany 6/10

Belgian international was a commanding presence as usual. Relished battle with Rooney and came out on top against the England man

Getty Images

17/24 Gaël Clichy 6/10

Preferred to Kolarov and speed down the left gave United plenty to deal with. Important tackle on Fellaini and dealt well with United wingplay.

Getty Images

18/24 Fernandinho 8/10

Booked for desperate barge on Rooney on half-time but that was the only blip. Calm and assured in breaking up play and propelling City forward

EPA

19/24 Yaya Touré 7/10

Less influential than when scoring hat-trick against Fulham but still at centre of proceedings. Pushed forward after Garcia's entry and stroked in the third.

Getty Images

20/24 Jesus Navas 6/10

Tidy in possession and aided Nasri as City broke with pace and purpose. Sent dangerous balls across the United box. Replaced by Garcia late on.

AP

21/24 David Silva 8/10

It was the Spaniard's thrust deep into United's area that created the momentum for the opener. Industrious and creative throughout.

Getty Images

22/24 Samir Nasri 7/10

Showed superb footwork before hitting post as City opened scoring within a minute. Kept visitor's attacks moving and corner also set up second.

Getty Images

23/24 Edin Dzeko 8/10

Right place to follow up Nasri's rebound in opening minute. Denied a second by fine stop from De Gea before volleying in Nasri's corner.

Getty Images

24/24 Best of the bench: Javi Garcia 6/10

Replaced Navas for final quarter to reinforce visitor's defensive play. Helped side see out final minutes without conceding and allowed Toure to get forward.

Getty Images
Of course, even in United's best years, City beat them. In the 2007-2008 season, Sven Goran-Eriksson's team did the league double over Ferguson. But they were anomalies. This, tonight, was the real thing. One hesitates to make too certain a statement about shifts in power but there is no doubt that it will take a profound change at United for them to change the way things are going. They are a long way from retaining the status as the best team in Manchester, never mind England.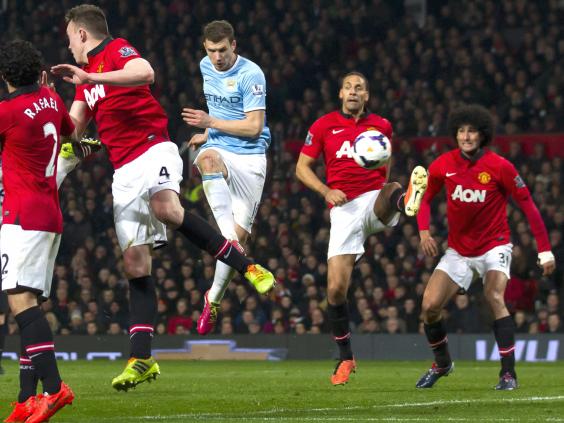 Edin Dzeko's two goals and another from Yaya Toure were a relatively modest margin of victory when one took into account the boldness of City's start and their goal within the first minute. United did indeed get their act together after the first half an hour and created a couple of chances before the break. But when Dzeko volleyed in his second goal ten minutes after half-time it felt simply like the game was heading towards its natural conclusion.
The expectation with United will always be that they have something in the tank. That they never give up. That a bold substitution and a roar from the Stretford End will see them over the line. But the spell is broken these days and now they lose 3-0 at home the same way as every other mediocre club.
As for City, they looked the part. Conducted in midfield in brilliant fashion by the magisterial David Silva, the win places them second, above Liverpool and three points behind Chelsea with two games in hand over the leaders. A victory over their old rivals does not carry the currency it once had but it still matters deeply. They are scoring freely too in a title race when the margins of victory will be slim.
In the Sky Sports studio, Paul Scholes, did not spare his former team-mates. The man who was reluctant to offer an opinion over a glorious career, proved scathing in front of the cameras. "City were far better than us," he said. "You could tell which one was on for the league and which team was seventh. It was glaringly obvious."
It was not a promising start when Moyes selected Tom Cleverley as part of a tight midfield three that left the right-side unguarded. Presumably it was done with City's central midfield strength in mind but it left United badly lopsided and Cleverley himself too often in no-man's land. With Antonio Valencia on the substitutes' bench, and Adnan Januzaj and Ryan Giggs left out the squad altogether, it looked like Moyes was more preoccupied with bolting the back door.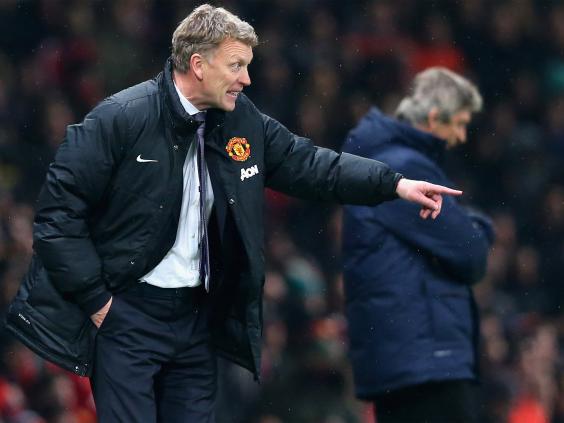 As it was, the back door was left wide open. It started about as badly as Moyes could have imagined, and he has seen a few worst-case scenarios in eight months in the job. Dzeko popped the ball into the United net on 43 seconds, after Samir Nasri's shot had hit the post.
Even worse for United, was that it was not City's first chance of the game. That fell to Silva who crept through the United defence in the first few seconds with the kind of authority that made his opponents freeze. Fortunately for Moyes, Rafael came to his senses and made the intervention. From his tackle the ball went from Fernandinho, to Dzeko and onto Nasri for the shot that made the goal.
For a while it looked like this could be the worst yet for United, completely overrun in midfield and with Silva the dominant figure in a very dominant City midfield, Michael Carrick gave the ball away to Jesus Navas on nine minutes and from there it went to Silva who was dispossessed by Rio Ferdinand. That tackle rescued United. So too, another excellent save from De Gea from Dzeko on 18 minutes.
As United got to grips with that early storm from City it matured into a decent game in the first half. Although there were times when the three of Marouane Fellaini, Cleverley and Carrick looked crushed, Ferdinand offered some stability. On the right wing, Danny Welbeck looked the part although he was not on the ball enough for United. But they faltered after the break.
For United's possession, they were held at bay by a City side that pressed and hustled them at every opportunity. The home side only carved out two chances before the break. The first, a volley from Fellaini after Welbeck knocked on Carrick's cross, never looked like it would trouble Joe Hart. Juan Mata's shot from Rafael's cross on 40 minutes was carelessly inaccurate.
There were four bookings before the break, although how Rooney escaped one for his foul on Fernandinho in the latter stages of the half remains a mystery. Had Michael Oliver decided to dismiss Fellaini for ramming a forearm into the face of Pablo Zabaleta in the 30th minute, there could have been no complaints from United. It was a misjudgement indicative of the struggles that the pnds27.5m man was having adapting to the level required of him.
Scholes was withering in his verdict on Fellaini. "I expected more to be honest," he said. "You pay that amount of money for a midfielder and you expect a few more goals." Ouch, and from one of the few at Old Trafford whose credentials to judge this team are unimpeachable.
Moyes brought on Shinji Kagawa for the hapless Cleverley at half-time, but out on the right wing he has little effect. Dzeko got away from Ferdinand, partly blocked by Fellaini, to score at the near post from Nasri's corner for the second goal. With barely a chance worthy of the mention from the home team, apart from a flick by Welbeck, Toure drilled in the third in the last minute. It was the first time since 1972 that City have won three consecutive games at Old Trafford. Another unwelcome milestone for Moyes.
Manchester United (4-3-3): De Gea; Rafael, Jones, Ferdinand, Evra; Cleverley, Fellaini, Carrick; Mata, Rooney, Welbeck.
Subs: Kagawa/Cleverley ht, Valencia/Fellaini 66, Hernandez/Welbeck 77
Manchester City (4-2-3-1): Hart; Zabaleta, Demichelis, Kompany, Clichy; Fernandino, Toure; Navas, Silva, Nasri; Dzeko.
Subs: Garcia/Navas 68, Milner/Nasri 74, Negredo/Dzeko 79
Booked: Manchester United Welbeck, Fellaini Manchester City Kompany, Fernandinho
Rating: 7
Man of the match: Silva
Reuse content