The most satisfying handshake a Manchester United manager can share with Arsene Wenger is the one in which the Arsenal manager scarcely deigns to glance in the direction of his opposite number. So it was for David Moyes today, who for the first time in his short career at Old Trafford must have felt like he was walking on air as left the pitch at full-time.
Finally, for Moyes, he has his big win as United boss. The sight of Sir Alex Ferguson in the directors' box, whistling for the referee to end the game, told its own story. Wenger's side turned the screw in the last 25 minutes chasing the lead given to United by Robin Van Persie and it could have been different if the Arsenal manager had a better second striker to throw on than Nicklas Bendtner. But he doesn't.
It was Bendtner who failed to connect with a cross from fellow substitute Serge Gnabry in the final minutes and before that Olivier Giroud had worked hard throughout but could not quite convert the pressure his side enjoyed into a goal. It feels like a long time since the days when it was suggested that Arsenal bid for a disaffected Wayne Rooney – and it turned out that the Englishman was the key difference between the two teams.
Van Persie produced the moment that won the game, but it was Rooney's hard work and ingenuity all over the pitch that was the biggest single influence on the afternoon. He is playing and competing for Moyes, there can be no doubt about that. So too, the impressive Phil Jones who moved from midfield to defence at half-time to cover for the injured Nemanja Vidic and was well-assisted by a fine performance from Chris Smalling.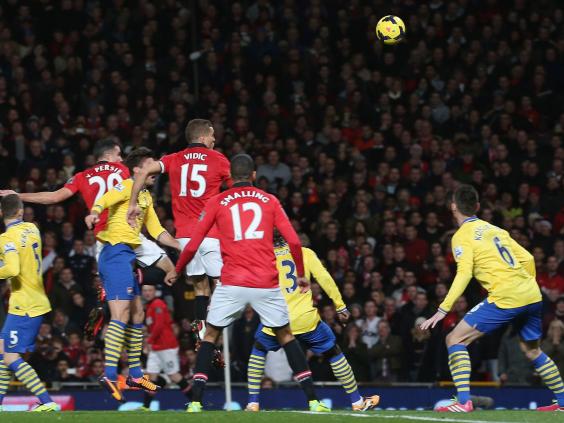 As for Arsenal, there were excuses they could have made, but Wenger chose not to. He lost Per Mertesacker and Tomas Rosicky to an illness among the group which may have affected others but Wenger said that if they declared themselves fit they should be considered so - dreaded virus or not. The Arsenal manager was relatively hard on his players blaming them for being "nervous" in the first half. "Maybe it was the fact we haven't won here for a long time."
Certainly, the fact that they pushed United to the very end was an improvement on more recent capitulations in this stadium. They remain top of the league by two points from second-placed Liverpool on a weekend when Arsenal, Chelsea, Everton, Tottenham and Manchester City, more than half the current top eight, dropped points. Remarkably only six points separate that top eight.
As for United, it was not a breathtaking performance but they were good value for their victory. Rooney worked Arsenal hard all over the pitch and he should have had a penalty in the first half when Giroud, of all people, knocked him over in the area. In front of the defence, Jones was excellent, sliding in to block a shot from Santi Cazorla after the half hour.
As for the big game-changers in Arsenal shirts – Mesut Ozil, Aaron Ramsey, Cazorla – there was too little from all of them. And Wenger's team were undone in the fashion they feared most: a moment of brilliance from Van Persie.
Rooney won the corner and it was Rooney who struck it towards the near post where Van Persie pulled away from Ramsey and out-jumped Giroud to head it behind him and across goal past Wojciech Szczesny. Having been goaded liberally by the Arsenal fans, he waited until his celebrating team-mates had cleared to turn to the home fans, with fists clenched, to roar one more time – and sod all that respecting your former club nonsense.
Van Persie never gained such a good sight of goal again and signalled to the bench in the last ten minutes whereupon he was replaced by Marouane Fellaini for the final battle. Later Moyes heaped praise on his Dutch striker "and his sidekick", Rooney. He praised Rooney's energy and of Van Persie said that "great players score great goals – and he's a great player."
Szczesny looked like he night add another chapter to the concussion debate when he and Jones, both leading with their heads, collided on 40 minutes. Mystifyingly, it was Jones who was booked by referee Michael Oliver, although on what basis it was not clear. Certainly there was nothing reckless about his challenge for the ball, unlike Giroud's crafty stamp on Jonny Evans' right foot in the first three minutes.
Vidic was injured in a collision with David De Gea in first half injury-time that Moyes said, having watched again, was "horrific". The United captain walked off the pitch spitting blood and was taken to hospital although is not thought to be seriously hurt. It was notable that in the shuffle around that took Jones back into the centre of defence in Vidic's place it was Tom Cleverley rather than Fellaini who came on for the United captain.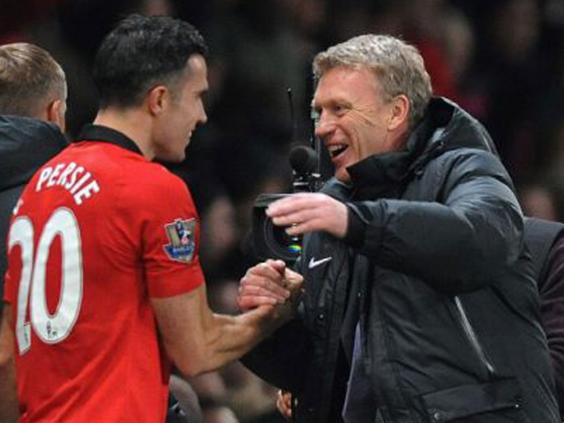 There was no reduction in the intensity the performance from Jones who showed the raw competition to win headers from crosses as well as composure on the ball. The pressure on United grew noticeably after the hour when Jack Wilshere replaced Flamini and Arsenal stepped up their level.
From then, much of what United did was, by necessity reactive to an energised Arsenal side who pressured them in particular from the wide positions. Bendtner joined Giroud in the attack, and later Gnabry was introduced too as Wenger's players threatened to overwhelm the home side.
With hindsight, the definitive tackle of the game came in the 84th minute when Giroud made space for himself in the area to shoot and Smalling excelled himself to nick the ball away at the crucial moment. There was no margin for error. In injury-time Bendtner failed to connect with Gnabry's ball across goal.
At the end of the game, Wenger was affronted with referee Michael Oliver's decisions – although which of them it was not clear. He would not clarify. "I need to buy Christmas presents and these statements cost too much money," he said. It is nice to see that he has not lost his sense of humour and, in a title race that promises so many twists, he will need to maintain it.
Manchester United (4-2-3-1): De Gea; Smalling, Evans, Vidic (Cleverley ht), Evra; Carrick, Jones; Valencia, Rooney, Kagawa (Giggs, 78); Van Persie (Fellaini, 85).
Substitutes not used: Lindegaard (gk), Hernandez, Nani, Januzaj.
Arsenal (4-2-3-1): Szczesny; Sagna, Kosciely, Vermaelen, Gibbs; Arteta (Gnabry, 83), Flamini (Wilshere, 61); Ramsey, Ozil, Cazorla (Bendtner, 78); Giroud.
Substitutes not used: Monreal, Fabianski (gk), Jenkinson, Hayden.
Referee: M Oliver
Match rating: 7
Attendance: 75,138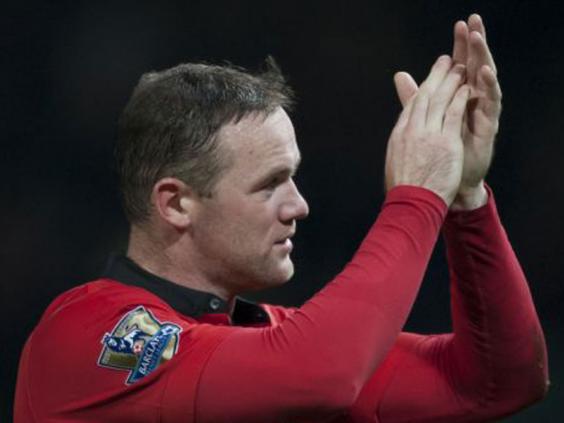 For Premier League Sunday - as it happened, CLICK HERE
Reuse content