Manchester United stunned league leaders Chelsea, possibly re-igniting the title race as they boosted their own chances of Champions League qualification.
Goals from Marcus Rashford and Ander Herrera at the beginning of each half handed Jose Mourinho victory against his former club, and blew open the top six once again. 
Rashford's inclusion ahead of Zlatan Ibrahimovic was a stunner, but Mourinho was vindicated as the England forward raced away to net the opener on the counter attack after a brilliant Herrera through ball.
The Spaniard then bagged one of his own just after the break, albeit heavily deflected, as United took control.
Chelsea's late efforts had little effect as their lead atop the Premier League was cut to four points.
Here is what we learned at Old Trafford....
1. United's extra mobility exposes Chelsea's defensive structure
Manchester United 2 Chelsea 0 player ratings
Manchester United 2 Chelsea 0 player ratings
1/22 David de Gea - 6 out of 10

Rarely tested. Impressive under the high balls and in his distribution.

2/22 Antonio Valencia - 7

Solid all round performance from him. Strong going forward and assured on the back foot. Physically impressive too.

3/22 Eric Bailly - 7

COmposed under pressure, read the game brilliantly and made all the right decisions. Excellent defensive display.

4/22 Marcos Rojo - 6

A gritty and fiesty display. Battled hard against Costa and largely kept his cool while the Spaniard repeatedly lost his.

5/22 Matteo Darmian - 6

Kept Pedro under wraps and limited the wingers' influence for much of the game.

6/22 Ander Herrera - 8

Demonstrated fantastic vision to play in Rashford for United's goal. Hard-working as ever. Shame about the yellow card but completely ran the game today.

7/22 Marouane Fellaini - 7

United's battering ram. Strong in the air, firm in his challenges and excellent at breaking up play. Dominated against Kante too.

8/22 Paul Pogba - 7

A rounded, mature performance from the Frenchman. May not have threatened as others did but kept the United midfield ticking over with his constant passing and movement. Still missing that 'wow' factor though.

9/22 Ashley Young - 7

Another hard worker who dug deep to give 100 per cent today. Made some encouraging runs going forward and was vital in the build-up to United's second.

10/22 Marcus Rashford - 8

FUll of confidence and energy. Used his pace to devasting effect and proved to be too much for the visiting defence at times. Showed today what he's truly capable of.

11/22 Jesse Lingard - 7

Complimented Rashford to a tee. Excelled at getting in behind United's backline and provided a reliable outlet throughout.

12/22 Asmir Begović - 6

Could have maybe done more for the first goal but unlucky about the second. Made some important saves to keep the score down.

13/22 Kurt Zouma - 5

Stepped in to replace Marcos Alonso which subsequently disrupted the balance to Antonio Conte's team. Looked out of place.

14/22 David Luiz - 5

Guilty of costly mistakes and, rather surprisingly, was overpowered at times by Rashford. A shadow of the player he has been this season.

15/22 Gary Cahill - 4

Completely dropped his guard for United's second. Struggled to match Rashford for his pace and made multiple sloppy mistakes. An afternoon to forget for him.

16/22 Victor Moses - 4

Anonymous and largely ineffective. Hauled off around the hour mark for Cesc Fabregas.

17/22 N'Golo Kanté - 6

Showcased his ability to drive into space on a number of occasions but was overwhelmed physically throughout the match by Fellaini.

18/22 Nemanja Matic - 5

Struggled defensively and seemed out of his depth. Couldn't deal with the United set-up.

19/22 Cesar Azpilicueta - 6

Pushed forward down the flank and provided his team-mates with a reliable source of deliveries. Defensively, he enjoyed a better display than the rest of the Chelsea back line.

20/22 Pedro - 5

Enjoyed a few half-chances but was subdued and lacked any real dynamism.

21/22 Eden Hazard - 6

Missed that magic touch today. Was played out of the game by Herrera. Occasionally threatened with his quick feet but it wasn't to be.

22/22 Diego Costa - 5

Bullish but another disappointing performance. His quality on the ball and in front of goal deteriorated as his composure faded throughout the game.
Zlatan Ibrahimovic was the casualty as Jose Mourinho went for speed/focused on the Europa League (delete as appropriate) with his starting line-up.
To attempt to pierce Chelsea's back three, Mourinho went with a mobile, flexible attack including Rashford and Jesse Lingard as a de facto front two. 
The Blues were no doubt impacted by Marcos Alonso going down in the warm-up, with Kurt Zouma replacing him and forcing a reshuffle. But it has been a noticeable trend in recent weeks that Chelsea's three centre-backs can be exposed by speed and Rashford followed the example of Wilfried Zaha in drifting off Gary Cahill to pull the defence apart. 
Springing them on the counter just seven minutes in - albeit after a clear handball by Herrera - Rashford out-gassed David Luiz with Cahill way in the rear-view mirror as he netted the opener in calm, composed fashion. 
He did it all game, staying on the opposite side to Zouma, the one defender who probably could have kept up with him, and causing issues for a Chelsea team that now needed to force the issue. 
Playing two speedsters up top ended up stretching Chelsea's defence to breaking point. It might not be an easily replicated strategy, and not every team will have such success, but on this occasion it handed United three points and the league a vision of how to trouble the league leaders. 
2. Ander Herrera the matchwinner at both ends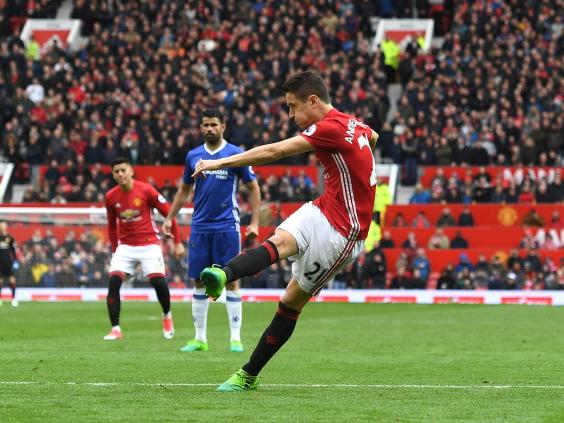 Ander Herrera's last game against Chelsea ended after 35 minutes with a red card and Manchester United's elimination from the FA Cup.
He made up for that with an all-action display at Old Trafford which showcased every facet of his game.
The Spanish midfielder was deployed to man-mark Eden Hazard after being rested in midweek, and he needed every ounce of that freshness as he became the Belgian's shadow for the afternoon - virtually nullifying him. 
But he also came up big at the other end of the field, setting up the opening goal with a sumptuous pass into space before seeing his shot (somewhat fortuitously) deflected home in the second half. 
For Mourinho it is vital to have players that he can rely on when it matters. This performance, in a big game, will mean a lot to a coach who is already looking at his squad and deciding who he wants to keep. Herrera could barely have done more to improve his stock with the manager.
3. Injury misfortune hits Chelsea title parade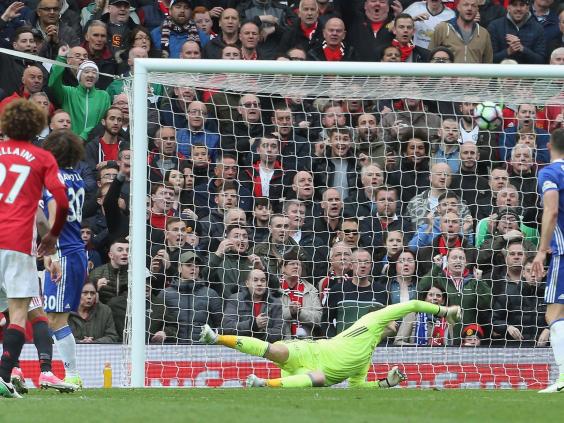 The title race was supposed to be over, but what of two pieces of misfortune that could come to define Chelsea's season?
First, Thibaut Courtois injured his ankle while being filmed playing basketball for a promotional video. Then Marcos Alonso hurt himself in the warm-up and was dropped out of the squad to face United.
Individually these are minor things but, should Courtois be in goal and save against Rashford one-on-one in the opening stages - as, for example, he did against Man City recently - then this game could easily have gone a different way. Similarly, playing Cesar Azpilicueta out of position as a left wing-back may not seem like an enormous downgrade but it meant the visitors were shorn of a naturally left-sided player who could instigate attacks down that flank.
Small issues, but the butterfly effect is strong. Only time will tell if these were turning points for Chelsea's season, but they certainly were in the context of the day for Manchester United.
4. Chelsea's midfield strangely missing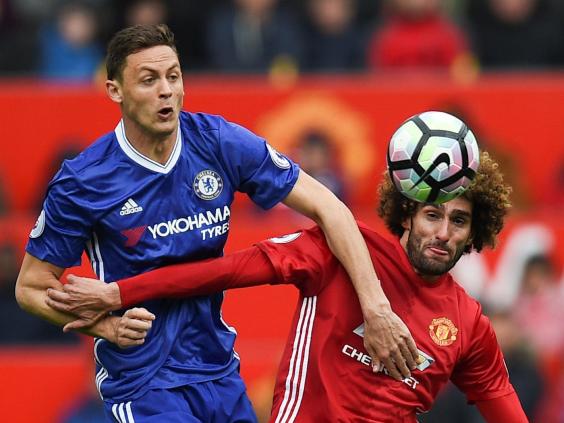 Perhaps Jose Mourinho knows how to make Nemanja Matic a non-entity as well as a midfield maestro?
Because the Serbian international's game was completely ineffective.
One foul, no aerial duels won, no tackles won, no clearances, no blocks.
He provided no security for N'Golo Kante to maraud, so little in fact that Conte may as well have played Cesc Fabregas in the centre of the park as he got precisely zero defensive contribution from Matic.
Kante's efforts against a fully-stocked United midfield were, ultimately, in vain as Chelsea struggled to get the ball to their creators. 
5. United win shakes up everybody in the top six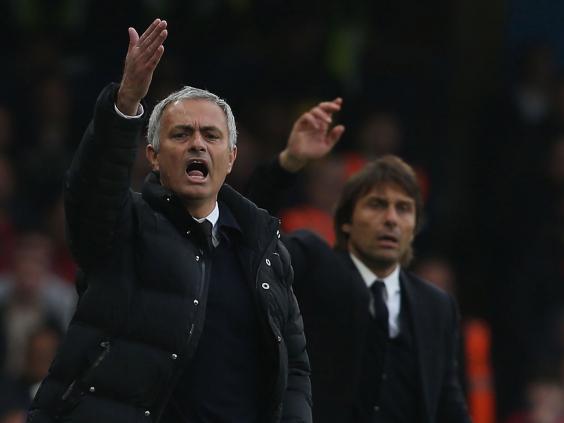 Tottenham threw down the gauntlet to Chelsea yesterday with a supreme dismantling of Bournemouth at White Hart Lane.
Today, for what feels like the first time this season, Chelsea failed to respond. The Blues were comprehensively outplayed and if they couldn't already must really now be feeling the breath of Mauricio Pochettino's men on the backs of their necks. The Blues have tricky trips to Everton and West Brom to come over the next month while Southampton will be no pushovers at the Bridge either. If they are to win the title that has seemed so long there's to lose they are going to have to earn it.
United, who Mourinho himself had as good as admitted were out of the race for the top four prior to this one, are right bang in it again. Play like this again and Liverpool and City ahead of them will be right to be worried.
A season that looked to be all but over has been turned on its head in a little over 24 hours.
Reuse content