David Moyes may have thought that he had already seen the very worst of this Manchester United team, but by now he will be coming to terms with the stark fact that they can find ever more ways to disappoint him.
This was the fourth home league defeat of the season for United, in front of a soporific Old Trafford that is still coming to terms with the lifelessness of their side when the situation demands so much more. Arsenal, Manchester City, Chelsea and Liverpool had all won earlier in the day and nothing short of three points was ever going to be good enough for United.
Most bemusing for Old Trafford was that for much of the game Moyes' players seemed to have no notion of how they might win. Once upon a time, moments of adversity were the signal for a United team to run all over the opposition at Old Trafford, now they do not seem capable of stirring themselves.
Moyes came out fighting after the game, claiming that Howard Webb's decision not to award substitute Ashley Young a penalty for a reckless lunge by Hugo Lloris at the end of the match was 'scandalous'. He put up a robust defence of his team's performance on the basis that they only lacked a final pass or cross. But the fundamental problems run much deeper than that.
With 18 games of the league season left to play, Moyes finds himself in seventh place with an 11-point gap to the leaders Arsenal. The feel-good bounce of those six straight victories has disappeared and everywhere he looks he sees problems. Nowhere more than in a midfield where it feels all the combinations have been tried, all the options exhausted and still nothing works.
They were beaten by a canny Spurs team who hit them on the counter-attack for the two goals but always gambled, as Tim Sherwood said later, on leaving players in attacking positions. It was a stand-out victory for the club's new manager who now has three wins from four league games. His team are up to sixth place and two points off the Champions League positions.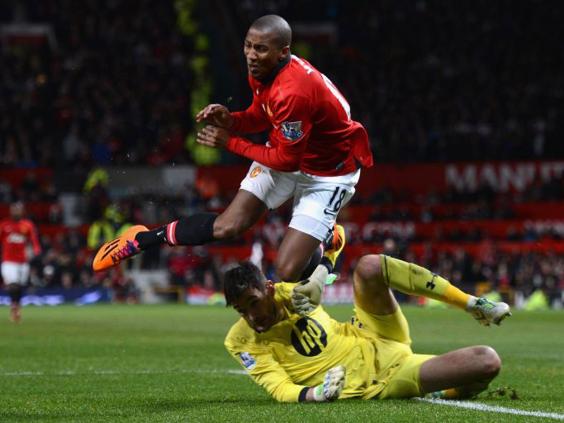 They were helped by an excellent performance by Emmanuel Adebayor who scored his team's first goal and was a thorn in United's side until he was substituted with an injury shortly after Danny Welbeck made the score 2-1 in the second half.
For a rookie manager, winning in the league at Old Trafford is a never-to-be-forgotten career moment, although you could say that it is not the achievement it once was. Not when Everton, Newcastle and West Bromwich Albion have already done it this season. In the stand, Sir Alex Ferguson looked on sourly at this mediocre United team.
For the last 30 minutes, Moyes brought Wayne Rooney back into the centre of the midfield to try to make it work but the game was already slipping away by them. Spurs had out-manoeuvred them and been able to fall back on Lloris with a couple of key saves late on. The likes of Mousa Dembele, Aaron Lennon and Christian Eriksen, scorer of the second goal, all had excellent games
It was a feature of United that they went sideways so much that the momentum they needed to overwhelm Spurs never materialised. There was always time for Spurs to re-group and re-organise and yet when they did break it was the away side who created the best chances.
The Adebayor goal was a very basic cross and header with some elemental mistakes along the way by United. First for Patrice Evra and Adnan Januzaj to allow Eriksen to get a deep cross to the back post where Adebayor took a couple of steps backwards and away from Chris Smalling. His header was placed so neatly into the corner that David De Gea scarcely moved.
In fact, Aaron Lennon should have scored before then on 14 minutes when Adebayor's run forced United open and Roberto Soldado provided the ball from the right. With just De Gea to beat, Lennon seemed to lose his nerve and hit his shot straight at the goalkeeper. Similarly, Soldado should have scored from the edge of the six-yard area when he met Lennon's cross.
Moyes left it until the hour to make the substitutions that he hoped would inject some life into his team. The prime goal was moving Rooney back into midfield. Javier Hernandez joined Welbeck in attack; Shinji Kagawa occupied the left side and Antonio Valencia moved to right-back.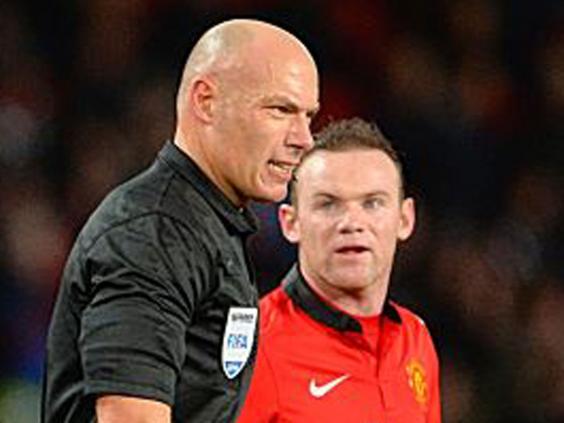 It was that final part of the plan that cost United just five minutes later when Lennon burst into the right channel of the home team's area and managed to wrap his foot around a cross. The ball was allowed to bounce in front of De Gea's goal before Eriksen shouldered his way in front of Valencia and stooped to head it in.
In that moment what noise there was from the home fans was sucked out of Old Trafford. It was another one of those moments of sheer disbelief for the home support. But then, aside from one unconvincing tumble from Welbeck when Vlad Chiriches unwisely stuck out a foot in the area, there had been precious little of note from them in the second half.
They only truly came alive a minute later when Januzaj's ball from the right touchline, perfectly weighted to fall into Welbeck's stride was chipped over Lloris. Januzaj was later booked for diving, a decision Moyes described as 'terrible'.
Lloris was excellent in the final stages with saves from Rooney and Nemanja Vidic. Moyes was five yards onto the pitch appealing for a penalty when the Spurs goalkeeper lunged Young. But soon the United manager was walking back to the tunnel, trying hard to put a brave face on it and wondering how much worse it can get.
Manchester United (4-4-1-1): De Gea 5; Smalling 4, Vidic 5, Evans 5, Evra 5; Valencia 4, Cleverley 4, Carrick 5, Januzaj 6; Rooney 6; Welbeck 6.
Subs: Smalling/Kagawa 5 61; Carrick/Hernandez 5 61; Young/Cleverley 84
Tottenham Hotspur (4-4-2): Lloris 7; Walker 6, Dawson 6, Chiriches 6, Rose 6; Lennon 7, Capoue 6, Dembele 6, Eriksen 7; Soldado 5, Adebayor 7.
Subs: Capoue/Bentaleb 6 65; Adebayor/Chadli 5 70; Soldado/Kane  75
Referee: H Webb
Man of the match: Eriksen
Rating: 6/10
Booked: Manchester United Rooney, Januzaj Tottenham Dembele
Reuse content