No-one imagined that Juan Mata would solve all Manchester United's problems, but for tonight just one would do for David Moyes.
That was quite simply that United needed to stop losing games and their victory over Cardiff City, at least took the club out of the tailspin that defeat to Chelsea, and Capital One Cup elimination to Sunderland have placed them in. It was a long way from being the revolution that Moyes has promised but it was at least a start.
January has been tough on the United manager. His team has been beaten in four games out of seven and one of the three they won, against Sunderland in the semi-final second leg, prefaced that calamitous penalty shoot-out defeat. This was undoubtedly an improvement on those dark days and helped immeasurably by the return of Robin Van Persie and Wayne Rooney as well as Mata's debut.
That said, the lead given to United by Van Persie in the sixth minute did not turn out to be the prelude to United demolishing Cardiff City, who were on their first visit to Old Trafford since March 1975. Instead United laboured to find any real fluency until a brilliant strike by Ashley Young just before the hour took the pressure out of the situation.
Until then, the best United managed for most of the game was a level of mediocrity, and at times it was worse than that. David De Gea flapped at the ball on a couple of occasions and while Cardiff never created a good chance they looked far from intimidated. Intimidation is not what United do these days at Old Trafford, certainly not for the time being.
Mata started behind Van Persie in a 4-4-1-1 formation with Ryan Giggs and Phil Jones the latest central midfield partnership that Moyes hoped would shore up that area of the pitch. Once again, it was there that United looked overwhelmed at times, with the five-men of Cardiff's midfield proving a good deal more effective.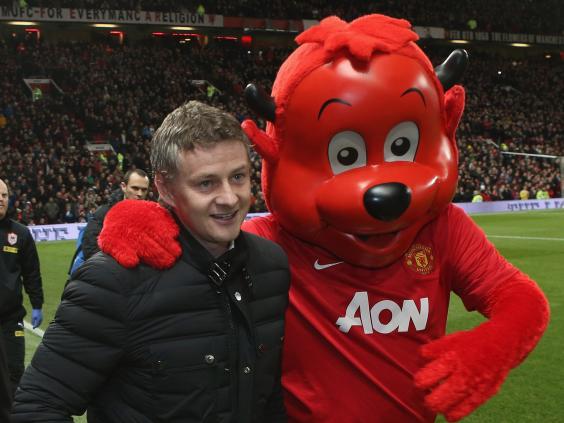 It was for that reason one suspected that Ole Gunnar Solskjaer declared himself pleased with the performance and confident about the future, not least with those crucial league games coming up against Norwich, Swansea, Aston Villa and Hull. "This was a bit of what I wanted the players to do, come out and express themselves at a place like this," Solskjaer said. "In the last third we just lacked the oomph".
As a manager of the team at the bottom of the table, he will have few defeats better than this when he was lauded by the home support from start to finish. There are few former players who are as popular as Solskjaer is at United and the home fans sang his name for long periods of the game - although the mood was helped considerably by the fact that they were winning for most of it.
Decked out in gloves and considerably slighter than the man who previously occupied the No 8 shirt at United, Mata was playing in a position that suited him - even if the team around him never looked quite right. It was notable afterwards that Moyes said he may try the Spaniard on the left wing and/or the right wing, "so I don't have to break up the partnership of Wayne and Robin".
How would Mata change United?  "I hope we will play better," Moyes shot back, "that would be the biggest thing".
Related articles...
United were running out of ideas by the hour when Young cut inside from the left on his right foot, went past a very half-hearted challenge from Craig Noone and struck a low drive perfectly past David Marshall in the Cardiff goal. That settled a few nerves.
With six minutes of the game remaining, Mata came off to a big standing ovation. The United formation that finished the game had Adnan Januzaj, Mata's replacement as the most advanced striker - a centre-forward - and Rooney lurking behind him. It was another act of improvisation but tonight it came together for Moyes.
They had the best of starts, that goal for Van Persie, and it looked like they might overwhelm Cardiff in that first period. The ball was worked out left and eventually it was Young who crossed from the wing for Antonio Valencia to head against the bar. The ball came back to Van Persie whose first header was saved before he buried the rebound.
There was something very reassuring for the home fans about the power and certainty with which Van Persie finished off the chance. It was the Dutch striker's first start since 7 December, and he was back down to business.
Yet, this United team remains fragile in the centre of midfield - where it really counts - and they looked vulnerable again. As has been common with United this season, they passed the ball in front of the ten Cardiff players who got goal-side but they did not pass it through their opposition anything like as much.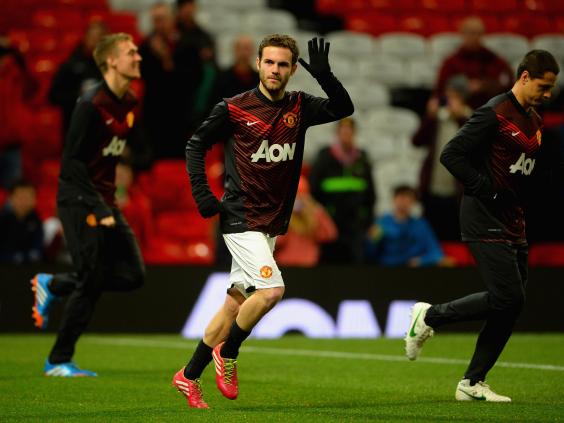 Mata attempted to drop the ball in behind the Cardiff defence on a couple of occasions without success. Yet the visitors always looked dangerous on the break. They created no big chances but there were a few attacks that caused mild panic in the United area. The right winger Noone was always available for the ball out on the Cardiff  counter-attack and he runs decisively at opponents even if his final pass or cross is not always up to scratch.
It was Noone who played in the overlapping right-back Kevin McNaughton on 35 minutes, and his cross had to be cleared by Chris Smalling's header. Old Trafford was going through one of those contemplative periods as it wondered whether this was another night that had the potential to go badly awry. Van Persie took a chance off Giggs' toes at the back post on 34 minutes but dragged the ball across the goal.
Young's goal at last unlocked the tension around Old Trafford. It was an excellent hit from the Englishman who, like Valencia on the opposite wing, had promised much in the early stages but not quite delivered. Before then, the only chance of note for United in the second half had been an aimless cut-back by Rafael Da Silva when Valencia presented him with the ball in space down the right wing.
The fresh impetus given to United by Rooney and Januzaj at the end, when both of them had good efforts on goal, meant that the home side finished the game strongly. The affection for Solskjaer from the home fans was only rivalled by their warmth towards Mata in whom so much hope is placed. But he will have realised, as well as anyone, that it remains a long road before this United side looks fluent again.
Manchester United (4-4-1-1): De Gea; Rafael, Smalling, Evans, Evra; Valencia, Jones, Giggs Young; Mata; Van Persie.
Subs: Van Persie/Rooney 63, Cleverley/Giggs 71, Januzaj/Mata 84
Cardiff (4-5-1): Marshall, McNaughton, Caulker, Hudson, John; Noone, Medel, Whittingham, Mutch, Bellamy; Campbell.
Subs: Mutch/Bo-Kyung 51, Turner/Hudson 68, Daehli/Noone 78
Man of the match: Smalling
Match rating: 6
Attendance: 75,301
Referee: C Pawson
In Pictures: Tuesday night's Premier League action
In Pictures: Tuesday night's Premier League action
1/12 Tuesday night's Premier League action

Steven Gerrard celebrates scoring the opening goal for Liverpool (Getty)

GETTY IMAGES

2/12 Tuesday night's Premier League action

Brendan Rodgers and Roberto Martinez make gestures to their players during the 222nd Merseyside derby (Getty)

GETTY IMAGES

3/12 Tuesday night's Premier League action

Daniel Sturridge celebrates his second goal against Everton (Getty)

GETTY IMAGES

4/12 Tuesday night's Premier League action

Santi Cazorla of Arsenal celebrates scoring their second goal with Olivier Giroud (Getty)

GETTY IMAGES

5/12 Tuesday night's Premier League action

Adam Lallana of Southampton celebrates scoring their second goal against Arsenal (Getty)

GETTY IMAGES

6/12 Tuesday night's Premier League action

Arsenal's Nacho Monreal holds his head after missing a chance that had Southampton's keeper Artur Boruc performing acrobatics (Getty)

Getty Images

7/12 Tuesday night's Premier League action

Referee Lee Mason shows the red card to Arsenal's French midfielder Mathieu Flamini (Getty)

GETTY IMAGES

8/12 Tuesday night's Premier League action

Robin van Persie wheels away after scoring against Cardiff City (Getty)

GETTY IMAGES

9/12 Tuesday night's Premier League action

Juan Mata made an impressive debut for Manchester United (Getty)

Getty Images

10/12 Tuesday night's Premier League action

Jason Puncheon of Crystal Palace celebrates his goal against Hull City (Getty)

GETTY IMAGES

11/12 Tuesday night's Premier League action

Chico Flores of Swansea City celebrates scoring his side's second goal (Getty)

Getty Images

12/12 Tuesday night's Premier League action

Loic Remy of Newcastle United and Bradley Johnson of Norwich City come to blows during the goalless draw at Carrow Road (Getty)

GETTY IMAGES