By the look of Brendan Rodgers' team sheet, he had been up all night with pencil and paper, examining what to change next, and a new goalkeeper, a new three-man defence and a change of centre-forward certainly had "counter-intuitive" written across it. It was the kind of invention that would have been heralded as the work of a football genius, if only it had worked.
The centre-forward, Raheem Sterling, can play pretty much anywhere and impress. He was always to be found where Liverpool's threat resided. That's why he can wrangle over a £70,000-a-week contract with impunity. But playing him left, right or centre is as much beside the point as playing a three, four or five-man defence, or any other piece of fiddling that Rodgers has tried while trying to rediscover what he described tonight as the lost "team ethos" in Liverpool. That is because his team cannot defend competently, and have not done for as long as he has managed them.
Manchester United's third goal – by Robin van Persie – was a product of Dejan Lovren not so much hooking a ball into Juan Mata's path as laying it there for him to plant at the Dutchman's feet. Lovren, who'd had time to stop, compose himself and clear the ball, dropped his head. He shook his head when Wayne Rooney rolled up to plant the first goal in. He lost his head when Ashley Young whipped in the cross from which Mata tapped in the second. And this was actually one of the better games from the man whose £20m acquisition persuaded Rodgers – in his wisdom – that it was safe to let Daniel Agger leave for nothing this summer.
Manchester United 3 Liverpool 0 player ratings
Manchester United 3 Liverpool 0 player ratings
1/24 David De Gea

How United have come to rely on him. Three brilliant saves from Sterling and two superlative ones from Balotelli made him United's best player. 9

getty images

2/24 Johny Evans

Still on the rutted comeback trail to full fitness, he was nevertheless the more assured of United's centre-back pairing. 6

GETTY IMAGES

3/24 Antonio Valencia

Tied Allen in knots and was allowed the freedom of the right wing to pick out Rooney for the first goal. 7

GETTY IMAGES

4/24 Phil Jones

A late replacement for Marcos Rojo, he looked off the pace and was booked in the first half for a flying swipe at Coutinho's legs but improved through the game. 6

GETTY IMAGES

5/24 Michael Carrick

Typically composed and elegant throughout, and quintessentially understated too. One backheel under pressure in the first half was a delight. 7

GETTY IMAGES

6/24 Marouane Fellaini

Gave the ball away too often throughout and was booked in the first half for a clumsy challenge. 5

GETTY IMAGES

7/24 Ashley Young

The winger has often appeared a salmon out of fresh water at United, but he helped consolidate United's lead with a cross nodded home by Mata. 7

GETTY IMAGES

8/24 Juan Mata

In exactly the right place as half time approached to convert Young's cross and set up Van Persie with the cutest of passes for the third goal. 8

GETTY IMAGES

9/24 Wayne Rooney

Influential. Composed side-foot finish on 11 minutes from a Valencia cut-back gave United the lead. 7

GETTY IMAGES

10/24 Robin Van Persie

Back to somewhere near his best and put gloss on a fine performance with the third goal. 8

GETTY IMAGES

11/24 James Wilson

Withdrawn for Herrera with 20 minutes to go after expending sweta but producing little inspiration. 6

GETTY IMAGES

12/24 Best of the Bench: Ander Herrera

Helped buttress the midfield after coming on for Wilson when United were 2-0 to the good but ceding possession and chances to their opponents. 7

GETTY IMAGES

13/24 Brad Jones

He had never conceded at Old Trafford before today, but this was a chastening experience. Could do nothing about the goals. 6

GETTY IMAGES

14/24 Dejan Lovren

Croatian was at fault as United made it 3-0 with wayward header. 4

GETTY IMAGES

15/24 Glen Johnson

Had little time to make an impact before he hobbled off with an injury to be replaced by Toure. 5

GETTY IMAGES

16/24 Martin Skrtel

Lost Van Persie for United's second goal, and looks a shadow of the granite-hard centre-back who once marshalled the Liverpool defence. 5

GETTY IMAGES

17/24 Jordan Henderson

Missed a presentable chance at the start of the second half when Sterling's cross found his head and failed thereafter to make a pinprick of an impact on the game. 4

GETTY IMAGES

18/24 Steven Gerrard

So nearly inspirational in midweek, Liverpool's captain could not summon the same spirit in a middling display. 5

GETTY IMAGES

19/24 Joe Allen

Unnerved and confused by Valencia and at fault for the first goal as the Ecuadorian burst past him to set up Rooney, his struggles to find any semblance of form this season continued. 3

GETTY IMAGES

20/24 Alberto Moreno

After a torrid opening half-hour, the Spaniard began to show his worth with forays towards the United box, almost getting in on goal only to be foiled by Valencia. 6

GETTY IMAGES

21/24 Adam Lallana

Anonymous as a ghost under an invisibility cloak, he was withdrawn at half time for Balotelli. 3

22/24 Philippe Coutinho

Grew into the game in the second half, but needs more movement ahead of him for his clever touches and passes to bear low-hanging fruit. 5

GETTY IMAGES

23/24 Raheem Sterling

Liverpool's main attacking threat but missed a trio of chances, most notably early in the second half when through on goal. Not a striker. 3

GETTY IMAGES

24/24 Best of the Bench: Mario Balotelli

His best performance in a Liverpool short so far. A clever flick almost set up Sterling before a thumping shot drew a fine save from De Gea. 6

GETTY IMAGES
What has befallen Lovren at Liverpool feels like a crime against humanity. He was the best defender at Southampton last season and the kind who looked like a Champions League player in the making: an individual around whom Rodgers was floating talk of future captaincy in pre-season. There is no elementary answer to the question of why Rodgers' judgement in signing him has looked so questionable, though it would help any defender arriving at a club with such expectations as this to have another leader at his side. Agger arrived with Jamie Carragher to help him and point the way. It has been Lovren's misfortune to have none other than Martin Skrtel.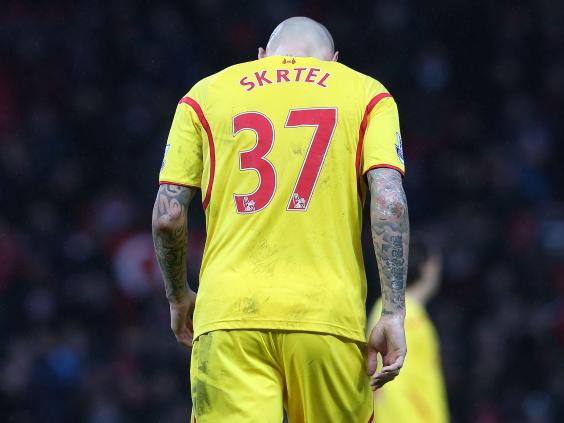 It was Skrtel's duty, in the middle of that back three today, to organise those on each side of him. Instead, the yard of space he granted Van Persie to leap and twist into the header that set up United's second belonged to his serial failure to get tight on the strikers in front of him.
Strikers enjoy Skrtel's company. One of those who has been up against him many times over the seasons reflected a few years ago – off the record, naturally – that he's not up for the fight. The Slovakian is 30 today. If he is not a leader by now, then he will never be.
  Rodgers said the changes to his system were designed to inculcate more creativity, and he certainly found that. This was not the simple narrative of one team bullying another that we witnessed 273 days ago when Rodgers' side wafted David Moyes' United aside. The only symmetry between the matches was the 3-0 scoreline. The manager was right to reflect on more chances than in the five or six previous games. Yes, they were unlucky. But he did not even discuss the elephant in the room: his defensive unit.
Old Trafford was a curious place to try the three-man defence, considering the only other occasion Rodgers has attempted it this season was at West Ham, where they shipped two goals in the first seven minutes before injury to Mamadou Sakho put the whole notion out of its misery.  It was also a curious place to drop Simon Mignolet and give Brad Jones his first Premier League start in 21 months. Jones is a 32-year-old reserve goalkeeper – solid Championship standard – but not an aspiring first choice. A less febrile environment – Anfield – would have seemed like the place to make the swap Rodgers said he had decided on after the midweek draw with Basel.
Jones dived the wrong way for United's first goal. His positioning was severely awry for the third as he could not recover after falling to his knees in the mistaken belief that Mata was going to shoot not pass to Van Persie. Rodgers was being positive when he said "the only thing he's had to do today is pick the ball out of the back of the net".
Louis van Gaal could reflect on the consequences of his goalkeeper doing rather more than that. A future home for his No 1 is a club in Real Madrid's bracket. Rodgers' choice might reasonably aspire to Reading.
There were other aspects of Liverpool's set-up which seemed a mystery. While the world appears to have given up on Rickie Lambert, challenging a central defence as vulnerable as United's with the main target man on the bench looked like a dereliction of duty. Yet it is the quality of fight, physicality and leadership – unfashionable though they might seem in the modern Liverpool quest for speed and technicality – which is most missing.
Such characteristics seem a rather quaint idea now, though they were good enough for the side which last brought the championship home to Liverpool, 9,000 days ago at the weekend. Red Machine, writer Simon Hughes' chronicle of those great days, recreates the particularly vivid picture of Graeme Souness, preparing for a League Cup second-round, second-leg tie with Brentford as if it were war – despite having won the first leg 4-1. Different days.
Rodgers, who looked less bereft tonight than at Crystal Place after Liverpool's previous Premier League defeat, reflected of the game that "the technical players stood up". His side, who were 11 points ahead of United after the  3-0 win here and sit 10 points behind them this morning, require something more visceral and physical than that if they are to halt this slide.
Reuse content