Ashley Young and Luke Shaw have revealed who the strongest Manchester United player is, and surprisingly it's not new signing Memphis Depay.
Images of Depay in on United's pre-season tour of the United States revealed that the Netherland's midfielder boasts one of the most ripped torsos seen in the top flight, which his thigh muscle definition on display for all to see during all three of their friendly victories in America.
The 21-year-old has also shown a habit of posting pictures on social media with his top off in an effort to show off his physique, but he'll be hugely disappointed to know that his team-mates refuse to put him at the top of the tree when it comes to the strongest in United's first-team squad.

"I was going to say Memphis," Young told the club's official website Manutd.com. "He was getting changed the other day and his legs are massive – it was like seeing Roberto Carlos again! It could well be him, but Tyler [Blackett] is in the gym every day so it could also be him."
Blackett broke into the United first team at the start of last season, when a defensive crisis led Louis van Gaal to hand debuts to both him and central defensive partner Paddy McNair. Despite not featuring as regularly as he would've liked once his team-mates returned to fitness, Blackett clearly rates highly in the eyes of his team-mates, as Shaw agrees.
"There is one who I would say – he is in the gym every morning and afternoon – and that's Tyler Blackett," said the England left-back. "He's the one that springs to mind. We don't tend to do gym work together, it's more an individual thing as we have our own programmes, but I'd say him from what I've seen."
But does Blackett believe that he leads the way in the United strength charts?
"I would say so, yeah," he happily conceded, while also noting that winger Antonio Valencia rivals himself and Depay for the strong man bragging rights.
"I do try to give my best in the gym and I am trying to get stronger each and every day. I do work hard and I try to push myself in every way possible.
"Being a central defender, you have to be strong and fast. You come up against all different kinds of opponents. They are big, small, fast, so you have to be ready for a mix of everything.
"It has helped me step up from youth football. You have got to try to adapt physically to each game. Once you have grown up, you are playing against physical players and you have to be ready for them."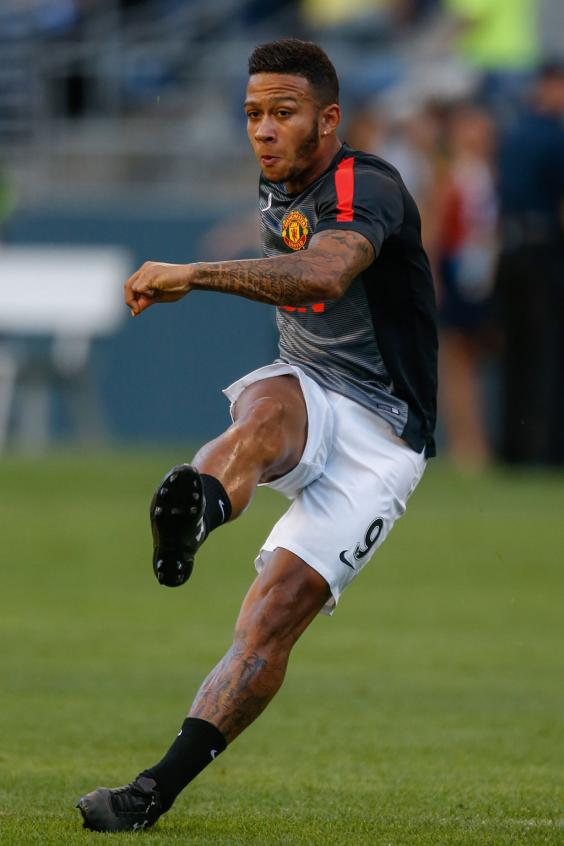 Even the addition of Bastian Schweinsteiger hasn't usurped Blackett from the top of the charts, and with captain Wayne Rooney hardly a player who shies away from the physical side of the game, United will be up there with the strongest teams around.
Reuse content