The Manchester United manager, Louis van Gaal, has allayed fears that Daley Blind will be out for six months in a continuation of the chronic injury problems that have afflicted Old Trafford since the Dutchman took over.
Blind damaged knee ligaments playing for the Netherlands in a 6-0 win over Latvia last Sunday to join an injury list that includes Radamel Falcao, Marcos Rojo, Phil Jones, Jonny Evans, Rafael, Ashley Young, Jesse Lingard and Luke Shaw.
United announced in a Twitter message from their official account, following Van Gaal's pre-match press briefing for Saturdays match at Arsenal, that the 24-year-old would be out for six months.
However, that was quickly corrected, with Van Gaal having told reporters: "Blind has a brace on his knee. He will have 10 days' rest and then we will make another scan and we can say more about it. It's not so bad as the doctor feared after the match, but it shall be a long story, I believe. It's not six months or so, or something like that."
Van Gaal later said: "I can't say it will be six to eight weeks. I can't even say it will be 10 to 12 weeks. But it is definitely not six months."
While the initial prognosis on Blind is positive, United still have to plan in the short term without a player who has been a key part of their side since his £13.8m signing from Ajax in the summer. He has played in both a holding midfield role for United and as a defender in the  1-0 win over Crystal Palace before the international break – their first win in four games.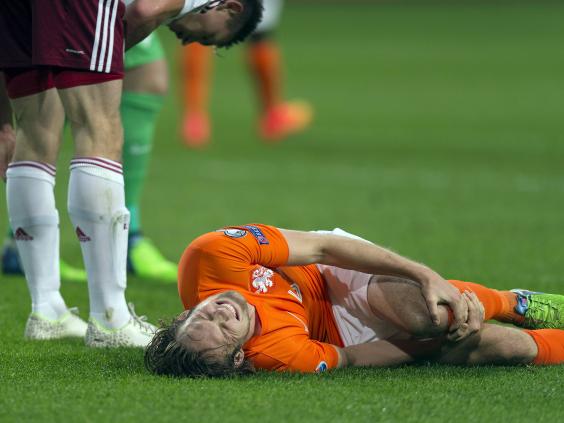 However, Michael Carrick is likely to be fit to retain his place in United's midfield at the Emirates Stadium, despite having to pull out of the England squad last week with a groin problem.
Shaw is not expected to be so lucky after injuring a hamstring in England's 3-1 win over Scotland on Tuesday night, but the goalkeeper David De Gea and winger Angel Di Maria, who both sustained injuries on international duty for Spain and Argentina respectively, are also set to figure at the Emirates Stadium.
"Di Maria has trained today normally so I don't think that's a question mark. David De Gea is good, no problem," Van Gaal confirmed.
Among the injury bulletins, United moved to confirm that Falcao has not suffered a fresh injury setback.
Talk of a "new injury" on the club's television channel, MUTV, related to the calf strain he sustained in training, forcing him to miss United's last three games, and not a recurrence of the knee problem that required surgery last season when he was still playing for Monaco.
The striker, who has scored once since his loan move from Monaco, joined in the debate to discuss the injury that could delay his return until United's trip to Southampton on 8 December.
"It is a bit frustrating. I did take a small injury to my calf, which is something that I need to be careful with," said Falcao. "I am getting better, I feel well and I hope to come back to the pitch soon.
"It is disappointing that I can't play, but I have to be calm and recover because that is important to help the team when I return to the games."
Reuse content