Manchester United will need to be among the busiest clubs in the summer transfer market if they are to return to previous glories, says former captain Roy Keane.
The Irishman also believes David Moyes is suffering from the fact United have "cut corners" in the transfer market for the past few years.
United drew with the Premier League's bottom club Fulham at the weekend to further dent their chances of claiming a place in next season's Champions League and face a difficult test at Arsenal on Wednesday night.
Keane has laid the blame for their problems not on Moyes but on the club's recent transfer policy.
"They've kind of cut corners in terms of transfers in the last few years, they've not gone out and got the big players, and it's just caught up with them this year," he said.
During the summer United made just one major signing with the arrival of Marouane Fellaini from Everton.
Moves were also made for Cesc Fabregas, Leighton Baines and Ander Herrera, however all of them failed to come off. That has left United with a major rebuilding task this summer according to Keane, despite the arrival of Juan Mata in January.
"I think Man United need five or six players. If it happens in the summer then instead of being fearful of it, embrace it – it's exciting. These can be exciting times for Man United. Get them back to the very top where they belong," he told itv.com.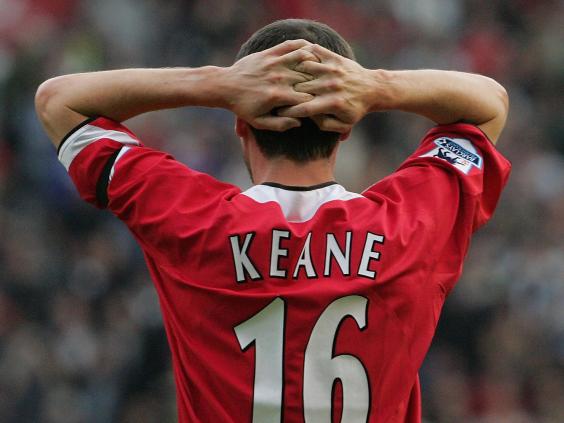 United can also expect a number of exits in the summer, with Rio Ferdinand expected to retire, Patrice Evra expected to leave and Nemanja Vidic having already announced he will depart.
Retaining their Premier League crown has been ruled out and defeat on Wednesday at the Emirates and a win for Liverpool against Fulham would see them 12 points off fourth-place with 12 games remaining.
However, Keane warns his successors at United that they cannot begin to think the season is over but understands that they will prioritise their Champions League last-16 tie against Olympiacos, a competition they can still be a threat in.
"There's always something to play for. You've always got to win your next football match so if you're telling me in January that your season is over, or when the Champions League starts, that's nonsense.
"You're playing for pride, you're playing for points, and United, if they do go out of the Champions League, still want to get in it next year.
"I think beating Olympiacos will be the priority. On form at this moment in time you have to say the Champions League is a long way off for Manchester United. But lots will change over the next few months. I think United will beat Olympiacos," Keane said.
"They'll have Rooney, Van Persie back after injuries. At this moment in time, would I fancy United for the Champions League? Probably not. But they're still a threat, they're still there. Big team, big players and in a couple of months' time when the big players are back up to speed with their fitness United will be a dangerous team.
"Watching United more closely perhaps than other people, you still think the Van Persies and the Rooneys if they're at it, will be a threat to the competition. I still think United can be dangerous if they get their act together over the next month or two."
Manchester United 2013/14 - a season of new lows
Manchester United 2013/14 - a season of new lows
1/10 Man United 1 West Brom 2 (28 Sept)

West Brom won at Old Trafford for the first time since 1978. None of the Baggies squad that day were born when they had previously won at United

2/10 Man United 0 Everton 1 (4 Dec)

Bryan Oviedo's goal gave Everton their first victory at Old Trafford for 21 years

Getty Images

3/10 Man United 0 Newcastle 1 (7 Dec)

Yohan Cabaye scores as Newcastle end their run of 41 years without a win at Old Trafford

PA

4/10 Man United 1 Tottenham 2 (1 Jan)

United lose on New Year's Day for the first time in 20 years

AFP/GETTY IMAGES

5/10 Man United 1 Swansea 2 (5 Jan)

Wilfried Bony's late header sees United knocked out out of the FA Cup at the third round for only the second time in 30 years

GETTY IMAGES

6/10 Sunderland 2 Man United 1 (7 Jan)

United lose three matches in the month of January for the first time in 40 years after League Cup first-leg defeat

GETTY IMAGES

7/10 Chelsea 3 Man United 1 (19 Jan)

Samuel Eto'o became the first player to score a hat-trick against United when the club were were reigning Premier League champions

GETTY IMAGES

8/10 Stoke 2 Man United 1 (1 Feb)

Stoke defeat United in a league match for the first time in 30 years

Getty Images

9/10 Man United 2 Fulham 2 (9 Feb)

United fail to beat the team ranked at the bottom of the league since 2011

GETTY IMAGES

10/10 Olympiakos 2 Man United 0 (25 Feb)

United lose to a Greek team for the first time ever. They had previously gone unbeaten in all eight previous European matches against teams from Greece

AP
With Keane laying the blame for United's difficult season on their problems in the transfer market, he is among those who believe Moyes should be given time to make an impression as Sir Alex Ferguson's successor.
"I think the man deserves plenty of time," said Keane. "I think people have been afraid to use the word that there might be 'rebuilding' going on but that's exactly the word I would use."
Reuse content