As it would turn out, the most incisive attack of Manchester United's cold night in Brussels would come not from the visitors' expensively-assembled frontline but rather their manager, who aimed stinging post-match criticism at his forward players. 
One goal on the night, Henrikh Mkhitaryan's close-range effort from a rebound, was all that United could muster against the Belgians despite a performance of superiority.  A late header handed Anderlecht an equaliser and a lifeline.
It is a familiar lament, and with just 19 goals in their last 11 games there is much for Mourinho to think about, especially with the visit of Chelsea on Sunday.
The Portuguese has tried to play down the importance of the clash with his former club, and well he might. Mourinho is a manager who feigns nonchalance but is endlessly obsessed with people's perception of him. Building up a game against his former side, one who have improved so markedly since his departure, would be unwise given Antonio Conte's men are such overwhelming favourites to pick up three more points in their title charge.
Last time they met, in the FA Cup at Stamford Bridge, it was an emotionally-charged affair with touchline clashes, a red card and more joy for Conte's Chelsea.
"You say that it was emotional… but for me," Mourinho recalls, fooling absolutely no-one, "it was just a game."
After a European night when Mourinho was frustrated by his side's lack of killer instinct on the counter and the way his forward line repeatedly made poor decisions, the Portuguese cited Sunday's Premier League opponents as a side who do things right – however much that pained him.
"It's not for no reason that they are top of the league. It's not just because they're fresh but they have individual quality and they have collective quality. They have a certain style of play, they stick to it, they do it very well.
"Not every team defends with 11 players, they defend with 11 players. Not every team is objective in their counter-attacks. They are very objective in their counter-attacks and they have individual players who, outside the context of the game, can cause problems."
Chelsea will be rested after a week off and they will be looking to take a step closer to the league title. United, Mourinho admitted, will continue to throw everything they have at the race for the top four until it is "mathematically impossible".
The players Mourinho has fallen out with
The players Mourinho has fallen out with
1/14 The players Jose Mourinho has fallen out with

Mourinho's treatment of the young full-back Luke Shaw has made headlines, with the manager angrily accusing the 21-year-old of not applying himself in training, before hinting he could farm the player out on loan. But Shaw is far from the first player Mourinho has spectacularly fallen out with...

Getty

2/14 Vitor Baia

The former Portugal goalkeeper started and ended a glittering career at Porto, having also spent two years at Barcelona. But Baia did not have it all his own way during his second spell, losing his first-team place and suspended for disciplinary reasons in Mourinho's maiden season as boss following a reported training ground row with his compatriot. Baia remained at the club until he retired in 2007, three years after Mourinho left for his first stint at Chelsea.

AFP/Getty

3/14 Ricardo Quaresma

Quaresma was meant to be Inter's star player under Mourinho, but the manager grew impatient with his ill-discipline and resorted to critiquing him in the press, which didn't go down well with the player. "My biggest regret was joining Inter," Quaresma later said. "I felt on the margins of the squad and woke up crying when I had to attend training sessions."

Getty

4/14 David Suazo

Mourinho failed to give David Suazo much of a chance when he took over at Inter in 2008 and criticised him in the press before farming him out on loan to Benfica. "Mourinho is arrogant and selfish, and likes to assert his dominance," Suazo later told the Honduran publication, Diez.

AFP/Getty

5/14 Romelu Lukaku

"The thinking behind the move was the fact that Romelu was always very clear with us, in his mentality, in his approach, he was not highly motivated to come to a competitive situation at Chelsea," Mourinho said after allowing Lukaku to leave Chelsea for Everton in 2014, for £28m. The striker has recently been linked with a summer move to Mourinho's United, for £65m.

Getty

6/14 Kevin de Bruyne

The Belgian infamously revealed that he gave up on his Chelsea career after Mourinho had embarrassed him in front of his team-mates. "He called in all the attacking midfielders," said De Bruyne of his final weeks in west London. "He showed us the stats of his six players - assists, goals, passing percentage, key passes, dribbles. He wanted to prove I didn't perform on the level of the others. I simply answered him: 'Sorry, that's not logical. I've played less games than the others. How can you compare me to the others?' That was just not fair in my eyes."

AFP/Getty

7/14 Juan Mata

Mata became a fans' favourite at Stamford Bridge after arriving at Chelsea from Valencia in 2011. However, the Spaniard struggled to adapt to Mourinho's style of play during his second spell in charge of the Blues and was sold to Manchester United in 2014. Mata and Mourinho were later reunited at Old Trafford and the former has now become an important player for his manager in Manchester.

Getty

8/14 Iker Casillas

The Madrid legend was one of the first players Mourinho fell out with after joining the club in 2010. Mourinho was disgusted that Casillas regularly spoke to Barcelona players and was said to be suspicious of his girlfriend, who worked as a journalist. "Mourinho saw him as a grass, a mole, a traitor and an egoist," Diego Torres wrote in his biography, 'The Special One'.

Getty

9/14 Sergio Ramos

Current Real captain Ramos was a key player during Mourinho's three year stay in Madrid, although the pair were far from friends. Ramos went public with his dismay at Mourinho's treatment of Mesut Özil and insisted in a 2014 interview that he had forgotten who Mourinho was.

AFP/Getty

10/14 Pepe

The pair frequently bickered during Mourinho's time at Real, although like Ramos, Pepe remained a key part of Madrid's starting XI. Pepe accused Mourinho's treatment of his friend Casillas as being "not adequate". Mourinho replied: "It is easy to analyse the Pepe thing. His problem has a name, and it is Raphael Varane," suggesting that Pepe wasan inferior player to the emerging 20 year old.

AFP/Getty

11/14 Pedro Leon

Similar to Luke Shaw, Pedro Leon was a young player inherited by Mourinho whom he almost immediately dismissed. The Guardian's Sid Lowe reported that "Mourinho told Leon that even if the team plane crashed without him on it and he was the only man available, he still would not play the following week." Leon accused Mourinho of workplace bullying before being sold to Getafe.

AFP/Getty

12/14 David Luiz

Mourinho sold Luiz upon his return to Chelsea and insisted that the defender "would not be missed". The pair have regularly traded jibes since and Luiz perhaps got the last laugh when Chelsea resigned him in 2016, under Antonio Conte.

AFP/Getty

13/14 Bastian Schweinsteiger

Frustrated with Schweinsteiger's habit of flying back to Germany when injured, Mourinho banished the veteran midfielder to training with the reserves. However, in a possible sign that he had mellowed, Mourinho later admitted to feeling regret over his handling of the player. "After knowing him as a person and a professional and the way he was respecting my decisions as a manager, yes I regret [it] and there is no problem for me to admit it, because I have told him," he said after selling the midfielder to the Chicago Fire.

Getty

14/14 Luke Shaw

Mourinho's rant on Shaw's lack of effort in recent months was one of his most explosive yet. "It is difficult for him to be on the bench," Mourinho said. "I cannot compare him with Ashley Young, with Matteo Darmian, with Daley Blind. I cannot compare the way he trains, the way he commits, the focus, the ambition. I cannot compare. He is a long way behind."

Getty
As it stands, the feeling remains that winning the Europa League may be their best chance of Champions League qualification given their frustrating tendency to turn wins into draws.
United have drawn 14 games this season, 10 of those 1-1 and six of those after leading 1-0. You can fairly say that they were unfortunate to be sucker-punched in Brussels but when the sample size is much bigger it is not written off quite so easily.
God forbid anyone blame the coach but is it not the responsibility of him and his staff to improve these young forwards, teaching them when and where to make what decisions? And what of his latest negative substitution, bringing on Marouane Fellaini for his most dangerous attacking player, Marcus Rashford, with 15 minutes to go?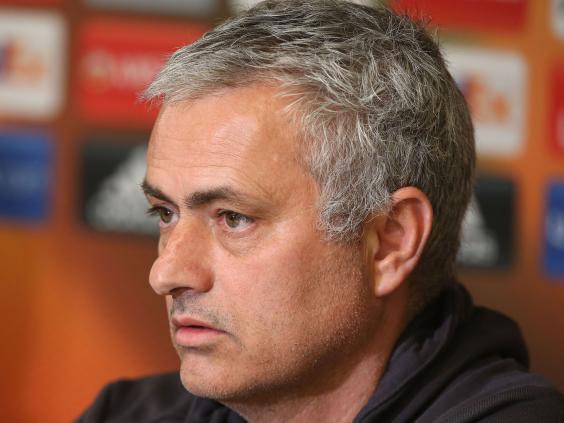 United were suddenly shorn of their pace on the counter in exchange for what should have been midfield reinforcement. But the Belgian international, whose every touch was met by a chorus of jeers, was nowhere to be seen as Leander Dendoncker ghosted in to net the equaliser five minutes from time.
Mourinho cannot afford to be so negative at Old Trafford on Sunday, playing against a side who are fresher, faster and stronger. Indeed, even a draw would feel insufficient as they hunt down Manchester City and Liverpool, but a tough fixture list suggests the top four may still be beyond them.
It is "just a game," Mourinho insisted, and yet it feels like it could be the defining game in their season.
Reuse content