Jamie Carragher has labelled the tactics that Jose Mourinho deployed in Manchester United's defeat by Arsenal last weekend "embarrassing" after highlighting the fact that his side have not scored an away goal against any top six side this season, despite spending more than £430m on new players over the last three seasons.
United suffered a 2-0 defeat at the Emirates to all but rule them out of the top four hunt and pin all of their Champions League hopes on the Europa League, something Mourinho was happy to do as he made eight changes in an effort to keep his players fresh for this Thursday's semi-final second leg against Celta Vigo.
But the loss also represented the fourth time that United have failed to score away from home when taking on one of the top six sides ahead of them, leaving Mourinho with just one more chance to rid his team of that unwanted tag when they take on Tottenham at White Hart Lane this weekend.
Former Liverpool defender Carragher was left far from impressed with how Mourinho has set up his sides in United's biggest games this season, and he did not hold back when giving his assessment of Sunday's defeat by the Gunners.
"It is not right that United have not scored away from home against a top six team this season," Carragher said on Sky Sports' Monday Night Football.
"For Manchester United with the manager they have, the players on the pitch, the money they spend it is embarrassing really that they can't score a goal in those games.
"It comes from Mourinho and the way he sets up his teams.
Manchester United summer transfer targets
Manchester United summer transfer targets
1/10 Gareth Bale - Real Madrid

The Real Madrid forward would be a marquee signing, the type that the Manchester United boardroom are keen to make, and The Independent has been told by sources from both United and Madrid that a deal is 'much likelier' than ever before. The player himself though is happy in the Spanish capital. Likelihood: 5/10

Getty

2/10 Alvaro Morata - Real Madrid

The Real Madrid forward fits the mould of the out and out No.9 Mourinho is looking for. Strong, quick and good in the air Morata figures to fit well in United's system in Ibrahimovic's place. A £60million deal could be done soon. Likelihood: 9/10

Getty

3/10 Andrea Belotti - Torino

Another of Europe's most promising players, Belotti is fast becoming well-known after his outstanding performances at Torino, where he has scored 37 goals in 64 appearances since 2015. His best years are still ahead of him aged just 23, which contributes to the incredible €100m release clause, applicable only to clubs outside of Italy, negotiated into his contract. Torino are in no hurry to sell and will drive a hard bargain with any deal likely to start at upwards of £70m. Likelihood: 7/10

Getty

4/10 Victor Lindelof - Benfica

United have been monitoring Lindelof for over a year with a deal now closer than ever. The young Swede nearly made the switch from Benfica back in January but United are confident the move will finally be completed soon. Likelihood: 9/10

Getty

5/10 Ivan Perisic, Inter Milan

United want to spend £35m on Perisic but Inter are holding out for closer to £50m. That said, Mourinho is a big fan and may be willing to go the extra mile to get him. Likelihood: 7/10

Getty

6/10 Willian - Chelsea

Mourinho is a huge admirer of Willian, who he signed in 2013 while at Chelsea. The pair won a Premier League title and League Cup double together the following year and it is believed that the United manager will do his best to sign the player, who has not been a regular starter in Antonio Conte's system. Whether Chelsea will allow him to leave, particularly to join Mourinho at their rivals is yet to be seen. Likelihood: 4/10

Getty

7/10 Fabinho - Monaco

An extremely versatile player Mourinho sees him more as a defensive midfielder and could be used to give Paul Pogba, last summer's big addition, more freedom. Monaco aren't in any rush to lose any more first team stars this summer though and are likely to demand a hefty fee. Likelihood: 7/10

AFP/Getty Images

8/10 Michael Keane - Burnley

Once seen as the ideal signing due to his Premier League experience and the presence of a buy-back clause which effectively gives United a 25% discount, interest in Keane has cooled with Lindelof now the preferred central defensive option. Likelihood: 5/10

Getty

9/10 James Rodriguez - Real Madrid

Rodriguez signed for Real Madrid in 2014 after taking over the World Cup in Brazil the same summer, where he won the goal of the tournament and golden boot awards. Despite his undoubted talent, he has failed to hold down a regular spot under Zinedine Zidane this season and Madrid will sanction a sale this summer. Likelihood: 3/10

Getty

10/10 Marquinhos - PSG

Mourinho is in the market for defensive additions with Jones, Smalling, Blind and Rojo all largely failing to convince. But, understandably, PSG are extremely reluctant to let Marquinhos leave and would demand in excess of £50m. Likelihood: 4/10

Getty
"Jose Mourinho, whenever he is in a game that he feels in 50-50 or maybe the opposition have the slight edge on them, his first thought is to nullify, kill the game, 'What are they good at? Finish it'."
Carragher's criticism also highlighted the fact that in United's four away games against Chelsea, Manchester City, Liverpool and Arsenal, they have recorded a cumulative 11 shots on target. But his negative remarks over Mourinho's tactics this season did not sit well with co-pundit Gary Neville, with the former United defender insisting that the Portuguese manager would be able to play expansive football once he has his squad at his disposal, and not the remnants of the one that Louis van Gaal left behind last season.
"I think he has found a formula to get him through these big games but this season is not acceptable to Manchester United in the Premier League by any stretch," said Neville.
"When he has an inferior team to the opposition he will try and nullify them completely.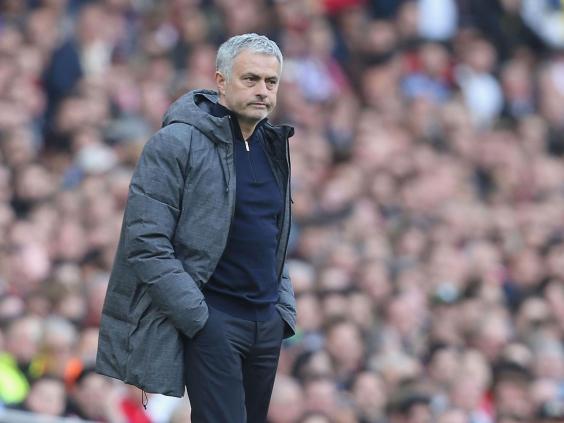 "I would expect Manchester United to go away from home in any big game - historically - whether it be Beckham, Keane, Scholes and Giggs, against Arsenal, Chelsea, Manchester City, 10-15 years ago, you'd be 4-4-1-1 and you'd have to be compact.
"Mourinho has only signed four players for Manchester United, once he's signed eight to 10 and he is a year further forward I'd be asking the question then if he's still playing a back six."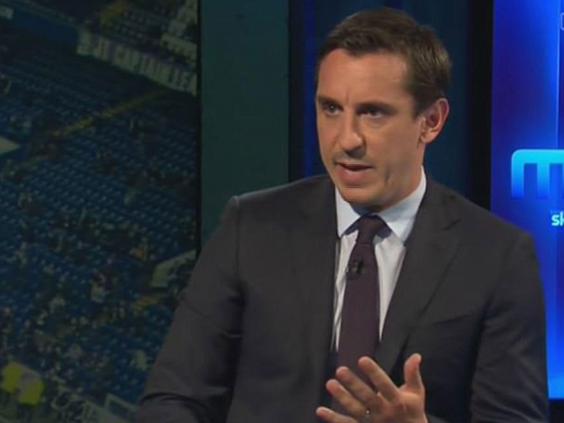 Neville also defended Mourinho over United's lack of goals scored this season, and labelled the 2016/17 campaign a "freak" occurrence given his teams are usually ranked highly for the number of times they find the back of the net, with United's current haul of 51 13 goals shy of his previous worse record  - with Chelsea in 2006/07 – and less than half of the record 121 goals his 2011/12 Real Madrid side scored.
"If you look at his career record for goals scored, [this season] is an absolute freak," Neville added. "Jose Mourinho has always been second or first in terms of goal scoring.
"This season is the freak. This is probably the worst performing team that Jose Mourinho has managed in the last 10-15 years of his career."
Reuse content