Manchester United manager Jose Mourinho admits he will need time like Sir Alex Ferguson to turn them into English football's preeminent club.
Ferguson took over at United 1986 but did not win a major trophy until he lifted the FA Cup in 1990, and it would be a further three years after that until he won his first Premier League trophy.
Follow The Independent's live coverage of Manchester United vs Feyenoord here
However, that proved to be a spur for United to become the dominant power in England as they enjoyed a period of significant success under Ferguson.
During his 26 years at Old Trafford Ferguson won 38 trophies, including 13 Premier League titles, five FA Cups and two Champions League titles.
While United are not quite at such a low ebb as having won the FA Cup under Louis van Gaal last season, they have not won the Premier League since Ferguson's last season in 2012-13 while their last success in Europe came under the Scot in 2007-08.
Mourinho only took over from Van Gaal in May and claims it may take time for his managerial skills to have an impact at the club.
"The best manager in the history of the Premier League needed a few years to build such a successful period," Mourinho said ahead of United's Europa League clash with Feyenoord.
"If the best needed that time, means that the others need also need that time.
"The job is as difficult as I was expecting. I was not expecting the job was easy. I said that I wanted to try to win the PL but at the same time I thought that was a risky approach with my words.
"My words were not defensive with the risk. I knew it was going to be very difficult."
Mourinho revealed that he has ambitions to manage United beyond his current three-year contract, but only performances on the pitch warrant it.
"I am in the beginning of my contract. I am in the beginning of the process. Let's go step by step," explained the Portuguese.
"If you ask me would I like to be successful in these three years, would I like to stay here for more time than these three years then yes.
Manchester United vs Arsenal player ratings
Manchester United vs Arsenal player ratings
1/22 David de Gea - 4 out of 10

With Arsenal scoring their only shot on target, it's not been the best day for the Spaniard. He had very little to do throughout.

2/22 Antonio Valencia - 8 out of 10

Performed exceptionally today, looking strong going forward and defensively.

3/22 Phil Jones - 5 out of 10

Did the simple stuff well at the back, but looked slow defensively at times.

4/22 Marcos Rojo - 6 out of 10

Defended well throughout proceedings, played safely and used possession well from the back.

5/22 Matteo Darmian - 5 out of 10

A mediocre performance from the Italian. He was lunging into challenges, despite already being armed with a yellow card.

6/22 Michael Carrick - 5 out of 10

The skipper played a very standard performance today. He played his role well and stuck to his position.

7/22 Ander Herrera - 7 out of 10

His work rate was faultless and he influenced play in the middle of the park – good overall performance.

8/22 Paul Pogba - 6 out of 10

He appeared to patrol the middle of the park in the first half, but in the second half he seemed to go off the boil. He did not make many chances and lacked any attacking prowess.

9/22 Juan Mata - 8 out of 10

An exceptional performance from the Spaniard today. His goal was an example of his immense technical ability and he created chances throughout.

10/22 Anthony Martial - 6 out of 10

A somewhat quiet performance from him today, but he showed glimpses of brilliance in the first half with a number of strikes that tested Cech.

11/22 Marcus Rashford - 6 out of 10

Despite being caught out for the late Arsenal goal, his performance throughout was positive. He attacked confidently and his crossing was inviting problems for the Arsenal defence.

12/22 Petr Cech - 6 out of 10

He made a number of important saves in the first half, but was out of position when Mata broke the deadlock.

13/22 Carl Jenkinson - 4 out of 10

It was a somewhat uncomfortable performance from him today, as he looked slow and unable to keep up with the pace of the United strike force.

14/22 Laurent Koscielny - 6 out of 10

He did well in the air today, but the United attack got the better of him at times as he was caught out of position.

Phil Noble

15/22 Shkodran Mustafi - 5 out of 10

It was an incredibly mediocre performance by the German. He did well in possession, but that wasn't enough at times.

16/22 Nacho Monreal - 5 out of 10

A questionable penalty call in the first half was the main incident for the Spainard. He failed to show his defensive ability against the quality of United going forward.

David Klein

17/22 Francis Coquelin - 6 out of 10

Made a number of important tackles, but it wasn't enough to stop his opponents running the midfield battle.

18/22 Mohamed Elneny - 4 out of 10

The Egyptian made a few unneeded and mistimed challenges and failed to show any sign of threat when going forward.

19/22 Aaron Ramsey - 5 out of 10

He had very little of the ball throughout, and when he did he failed to do much with it.

20/22 Mesut Ozil - 5 out of 10

Taking into account his huge talent, it was a rather dim performance. He failed to create chances and feed Sanchez which resulted in Arsenal having no spark going forward.

21/22 Theo Walcott - 4 out of 10

A very quiet performance from the winger today. He saw very little of the ball and was regularly caught playing too narrow which left Arsenal with no width to their attacks.

22/22 Alexis Sanchez - 6 out of 10

He looked dangerous when in possession, but a lack of service did not allow him to make a real impact on the game.
"Because I am in the club that I want to be. So yes, I would love it. But I have also to deserve that.
"Let us see the evolution of my result. And if one day the club thinks I deserve then I will be very happy and proud about that. I am just in the beginning."
Mourinho accepts, though, that United fans will expect him to put some silverware in the cabinet sooner rather than later although he is focused on putting his imprint on the squad.
He added: "The three-year contract I was given is a fair period of time to give to me to where we want to be. Three years is not just about the transfer window, though.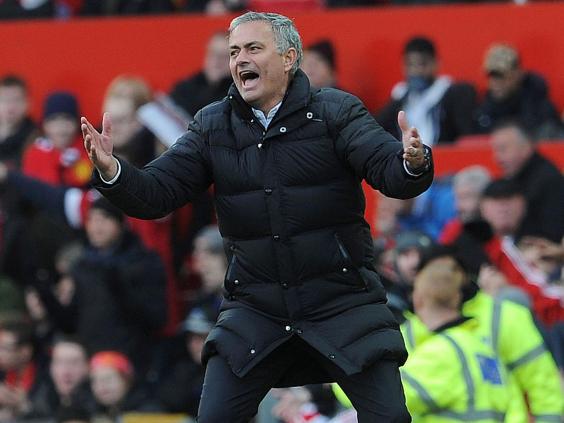 "It's not just about that. It's about my relationship with the players, my understanding of the player, the understanding of the players of my personality as a manger. A person's routines, dynamics of how they work.
"That's to be key. It's all about that. But if you ask me if I am a waiting for my third year in the club to have good results. No, I am not waiting. I am going to immediately try to do my best to get results."
Reuse content