Manchester United's pre-season tour is reaching its conclusion with a match against Real Madrid tomorrow night possibly their last. Ian Herbert, with the team in Detorit, asks what we have learned about new manager Louis van Gaal during its two-week course
He is testing Premier League player-power to the maximum
We knew that the six-figure weekly salaries would cut little ice with Louis Van Gaal but we didn't know quite how much until now. He is an instructor – has viewed himself that way ever since his work as a PE schoolteacher at the Don Bosco Lower Technical School in Amsterdam from 1977 – but his players are finding him applying principles learned in those days to an extent unknown at other Premier League clubs.
At dinner time, the players take their place at round tables, while Van Gaal and his coaching staff sit at a rectangular top-table – 1980s school canteen style. He addresses the room and then points to tables, one-by-one, whose members are then allowed to go up for food.  He has challenged players in open training, rebuking Darren Fletcher and Phil Jones, for example, for their training session shooting in Los Angeles. It is a high wire act. Van Gaal's former Barcelona chief executive, Ferran Soriano, who now runs Manchester City, has said of him: "He is very tough.  People don't like him.  But he wins. And one day you don't win - and when you don't win, everybody that is angry with you will come… and try to kill you."   
Manchester United: Potential summer transfer targets
Manchester United: Potential summer transfer targets
1/19 Arturo Vidal

The Juventus midfielder is among United's top targets this summer, particularly after impressing for Chile at the World Cup. Having helped his current team secure the Serie A title, Juventus aren't keen on letting him go.

Getty Images

2/19 Marco Reus

Rumoured to be near the top of United's target list, a possible swap deal involving cash and Shinji Kagawa has been mentioned. The Borussia Dortmund player would not be a cheap acquisition, especially given his recent declaration that he wants to stay at Dortmund next season

Getty Images

3/19 Arda Turan

Former manager David Moyes had been seen watching Turan, though his dismissal put a doubt over whether United were still interested. The winger's agent claims an offer has been made, so is the Atletico Madrid winger on his way to Old Trafford?

Getty Images

4/19 Arjen Robben

The Bayern Munich winger has said Van Gaal has offered him a place at Old Trafford if he wants it. Currently he's happy to stay where he is, but things can quickly change.

GETTY IMAGES

5/19 Claudio Marchisio

With Paul Pogba highly unlikely to be prised away from Juventus, United's attention could turn to team-mate Claudio Marchisio. The Italian international would provide some class and experience.

6/19 Mats Hummels

With defensive reinforcements high on United's list of priorities, Borussia Dortmund's Mats Hummels has unsurprisingly been linked with a move to Old Trafford. The German has been earmarked as the ideal replacement for the now-departed Rio Ferdinand and after his impressive showing at the World Cup, he's even more desirable.

GETTY IMAGES

7/19 Raphael Varane

Raphael Varane has already snubbed United once in his career, opting instead to join Real Madrid. It would surely take a big offer to prise the classy defender away now.

GETTY IMAGES

8/19 Seamus Coleman

Reportedly already the subject of a £15m bid, Seamus Coleman could be the man being lined up as the answer to United's problems at right-back.

GETTY IMAGES

9/19 William Carvalho

The Sporting Lisbon midfielder has reportedly been watched 15 times by Manchester United, although the £29m asking price could prove a stumbling block. The Portugal international has also been linked with Arsenal.

Getty Images

10/19 Xherdan Shaqiri

Bayern Munich winger Xherdan Shaqiri has struggled to force his way into the first team at the Allianz Arena and could be a target for United as well as rivals Liverpool. His impressive displays for Switzerland this summer could make it harder to prise him away.

GETTY IMAGES

11/19 Alex Song

Barcelona are understood to be ready to let the former Arsenal player leave this summer. Could provide some strength to United's midfield. Could also bring embarrassment judging by his behaviour at the World Cup.

GETTY IMAGES

12/19 Fabio Coentrao

Supposedly came within hours of signing in January, the Portuguese left back could be brought in to provide back-up to Luke Shaw.

13/19 Julian Draxler

A long time Arsenal target, United are reportedly interested in pinching the young German with a bumper offer. Seems unlikely though. Arsenal also strongly interested.

14/19 Sami Khedira

The Germany international is reportedly being pursued by a host of sides, and United might be wise to get in the mix as they look to add some quality to a fairly feeble looking midfield. Real Madrid appear open to letting him go with the 27-year-old having just one year left on his contract. Arsenal and Chelsea are among the others keen on signing the World Cup winner.

15/19 Edinson Cavani

The Uruguayan hitman would prove pricey and tricky to snatch away from PSG and it seems unlikely United have enough to offer him.

16/19 Luciano Vietto

The Racing Club youngster has been impressing in Argentina for some time although a move directly to United would be something of a surprise.

17/19 Santiago Arias

Should a move for Seamus Coleman fail, PSV defender Arias is reportedly being lined up by United. Played for Colombia throughout the group stage of the World Cup.

18/19 Miralem Pjanic

Rumoured to part of a joint bid including teammate Benatia, the Bosnian midfielder is reportedly another on United's large hit list.

Getty

19/19 Kevin Strootman

Van Gaal knows Strootman well from working with him in the Netherlands set-up and has indicated he is interested. Roma are reluctant to sell whilst his recovery from a knee injury may prove a stumbling block.

GETTY IMAGES
He is as open-minded about players as she said he would be
It felt like diplomacy when he said he would give players four to six weeks to prove themselves to him but we are seeing a willingness in Van Gaal to look beyond a player's established reputation. He famously turned Bastian Schweinsteiger from a forward into a midfielder and already we are seeing Ashley Young playing wing back, a position he has taken up only once in his 11-year senior career.
Van Gaal seems to think Young, whose United career seemed to be ebbing away under David Moyes, has the defensive qualities now needed in the wide roles of a 3-4-1-2. He played both left and right flank against Internazionale. Wilfried Zaha's opportunities seemed to be more limited after Van Gaal publicly declared that he did not have the ability to play wide and only central. But he did look impressive in a new central role against Inter. "All people have a talent," runs one of Van Gaal's maxims. "But they often do not know which."
He likes brainy players
One-by-one, Van Gaal is selecting players to step out with him to sit at the press conference top table and field questions. He complains when that individual is asked none, and after he had praised Chris Smalling as "the best" of his players in this realm, in Washington DC, a journalist quipped that he "must say that about all the players." He was insistent. "No. No." Van Gaal likes players who are articulate of speech and quick of mind.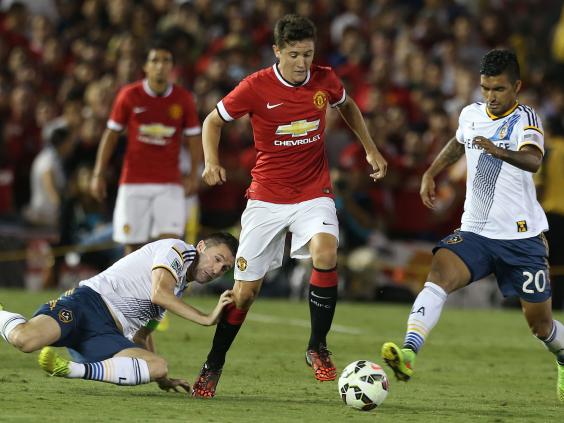 A slight abstruse, though very significant, part of his philosophy is that players should play with their brains not their instinct; being wholly aware of why they are moving into a position and not just being there intuitively. "You play football with your brain," he has said. "Instinctive reactions are part of it but it is important to always put the intuitive in service of the rational. Then you make headway. If you play intuitively you just play your trick at the wrong moment." This seems like a huge adjustment for a player to make; especially one in his mid-20s. We shall see. Jonny Evans, Juan Mata, Wayne Rooney and Ander Herrera look capable of this switch.
Van Gaal and Sir Alex Ferguson do not seem likely to be close.
Ferguson has an interest in what is unfolding, of course. He has told one former United colleague to expect things to be "lively" with the Dutchman, though has not travelled out here, as had been thought. The word is that Ferguson had other commitments, rather than affected by ill health, as has been rumoured. They are very different men, though.
The two share a dry humour and a preference for wine –  red. Both hold to the principle that a body of young players coming through will "know the culture of the club and they want to defend that culture and wear that culture and transfer that culture" as Van Gaal put it, in a Fergusonesque moment this week. But where Ferguson succeeded through a more visceral type of management, Van Gaal is infinitely more intellectual – looking to change the course of the game through what he has planned before it, and almost entirely absent from the technical area.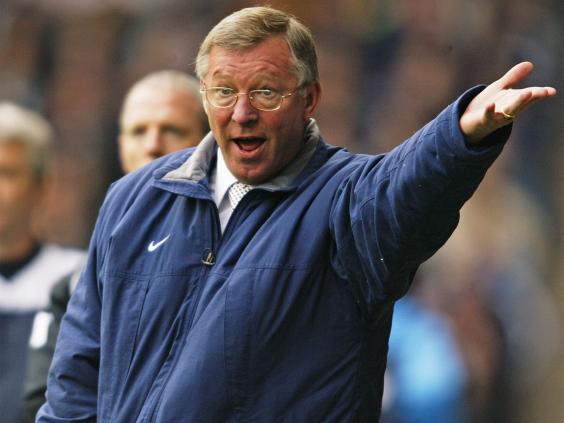 There has been polite diplomacy for the individual ten years his senior but nothing more. Van Gaal has generally referred to him as "Ferguson," only occasionally "Sir Alec" and is presently ripping up the training ground he bequeathed. Asked if there were plans to meet Ferguson out here, Van Gaal's sentence tailed off: "No, I'm here in America. And he is...."
He is not an autocrat
Small gestures tell a story. In Denver, Colorado, Van Gaal packed up the balls after training and carried them off the pitch, slung over his shoulder. Everyone serves everyone in the small football-focussed team, including ancillary staff, which he has pulled together, run on collectivist principles. Though he is initially doing much of the communicating, he is already beginning to invite dialogue; encouraging players to have their say on United's work and offer solutions.
He wants people to challenge him, though expects what he calls "arguments" - as in "the reasons why" – in response. One member of the backroom staff flinched at the prospect of having to question his decision on something, early in the US tour, but having done so, was surprised to hear him say: "Yes. Good argument. I accept this."
Van Gaal's biographer, Maarten Meijer, reflects that there is a contradiction at the heart of Van Gaal – the "ultra-individualist devoted to collective effort." But for him the collegiate approach means everything because the team is more important than the individuals within it. "I set more store by a player's character than by his on-field qualities, and particularly whether he is willing to give everything for the cause," he has said. "I don't need the eleven best. I need the best eleven."