Manchester United are a long ball team - the statistics prove it.
Louis van Gaal might have overseen a £150million shopping spree in the summer, but the club are at the top of the charts when it comes to long balls in the Premier League.
In fact, only newly-promoted Burnley - who spent around £8m in the summer - have attempted more long balls in the top flight this season.
Van Gaal's team, which boasts the silky creative skills of Wayne Rooney, Angel Di Maria, Juan Mata, Robin van Persie and Radamel Falcao have attempted a whopping 1,701 long balls in the Premier League this season, an average of 77 per game.
Manchester United: Players who were linked with a January move to Old Trafford
Manchester United: Players who were linked with a January move to Old Trafford
1/17 Gareth Bale

Manchester United would love him and some reports suggest he would be open to a return home - but Real Madrid have said they wouldn't sell the winger at any price, even the mammoth £150m that has been mentioned in recent reports.

GETTY IMAGES

2/17 Sergio Ramos

Real Madrid's Sergio Ramos would be perfect for United and is one of few truly world class centre-backs around. Another player Real will not want to lose, this move may wait until the summer.

GETTY IMAGES

3/17 Juan Cuadrado

The Fiorentina and Colombia winger was a target of United's in the summer but a move never transpired. He is lightning quick, brilliant on the ball and gets his fair share of goals. May cost more than £30m, however.

Getty Images

4/17 Ashley Cole

The former Chelsea left-back was linked with a move to United last summer, but instead went to Roma. There are suggestions he is unhappy in Italy and would be open to a return to the Premier League.

GETTY IMAGES

5/17 Ron Vlaar

Out of contract at the end of the season and impressing in his Aston Villa shirt, Ron Vlaar could be a quick and cheap fix at the back. That he's Dutch won't do his chances of an Old Trafford switch any harm either. Picked up a knee injury in early January that will likely end speculation.

Getty Images

6/17 Raphael Varane

The Real Madrid centre-back has been hugely impressive since breaking through at the Bernabeu. Would take a big bid to land the young France international, but that shouldn't be a problem.

Getty Images

7/17 Ezequiel Garay

Manchester United are keen to bolster their Argentinian contingent and the arrival of Garay would do just that. United reportedly sent scouts to watch the Zenit St Petersburg player.

Getty Images

8/17 Gerard Pique

He played for Manchester United before being allowed to return to his boyhood club Barcelona in 2008. But recently things have soured for the Spain international, with new Nou Camp manager Luis Enrique leaving him out a few times this season. Could he be heading back to Old Trafford again?

GETTY IMAGES

9/17 Nathaniel Clyne

A call up to the England squad boosts your profile, and in the case of Clyne, it's led to inevitable speculation that he could leave Southampton. The Saints will be desperate to hold onto the young right-back, but as they found last summer, if players want to go they usually get their way.

Reuters

10/17 Mats Hummels

Another Germany international interesting United is Hummels. The centre-back was made captain at Borussia Dortmund last summer to help ward off interest from other clubs, but with the German side struggling this term, they might not be able to keep the suitors at bay next time around. A £35m offer has been heavily reported and this deal is certainly one that is the more probable to see in the near-future.

Getty Images

11/17 Sami Khedira

Manchester United have been linked with Khedira, but then, who hasn't? The Germany international looks certain to be playing somewhere other than Real Madrid next term, and it could be Old Trafford.

Getty Images

12/17 Julian Draxler

The Schalke midfielder has been interesting Europe's top clubs for some time. So far, everyone has failed in their attempts to prise the youngster away from his boyhood club. With the money at Manchester United's disposal, they could persuade Schalke to relinquish.

Getty Images

13/17 Paulo Dybala

Manchester United have been linked with a move for Palermo striker Paulo Dybala. The 21-year-old has been banging in the goals in Serie A this term, leading to speculation he's in line for a big move. But the Palermo president has indicated he won't be allowed to leave for anything less that £31m

GETTY IMAGES

14/17 Yohan Cabaye

After leaving Newcastle for PSG, France international Cabaye has reportedly failed to settle in the French capital. That he has struggled to force his way into the starting line-up under manager Laurent Blanc hasn't helped. That could make him open to a return to the Premier League.

Getty Images

15/17 Marcos Reus

Another highly sought German player. With Borussia Dortmund struggling this term and no Champions League football next season a real possibility, it seems likely Reus could be sold in the summer. United will have to fight to be at the front of the queue.

GETTY IMAGES

16/17 Arjen Robben

The former Chelsea player has said numerous times he has no intention of leaving Bayern Munich. But then again, nothing footballers say can be taken as sacrosanct. His Dutch links and style of play make his a good fit at United.

GETTY IMAGES

17/17 Kevin Strootman

The Netherlands international was heavily linked with United in the summer but a serious injury ruled out the prospect of a move. The Roma midfielder has since returned to action and so the rumours have started up again. A fee of £30m has been mentioned.

GETTY IMAGES
Burnley top the charts with 1,861, or 80 per game, while Southampton (71) and West Ham (70) are the only other teams in the top 10 who attempt anywhere close to United's tally.
Unsurprisingly Arsenal attempt the least with 46 per game, in front of Manchester City (51), Liverpool (58) and Chelsea (59).
Thankfully for Van Gaal, United's expensive stars are also the most accurate with their long passes, completing an average of 43.2 per game, more than 50 per cent, and ahead of Southampton's 35.1. United have a total of 820 successful long passes, way ahead of the Saints' 66.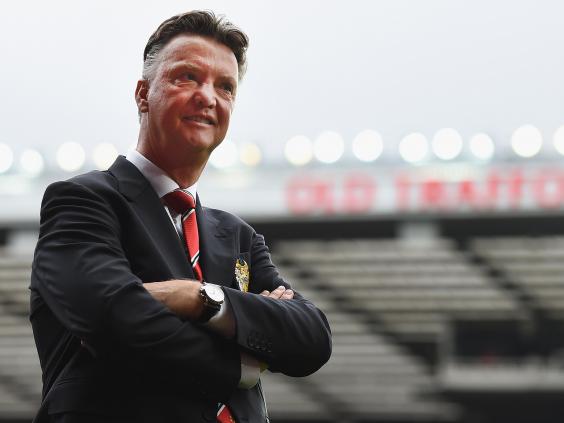 All is not lost for Van Gaal's men, however, with the long balls just a part of United's attacking arsenal. The Dutchman's side is second only to rivals City in terms of possession, averaging 58.1 per cent possession in matches so far this season, and they are fourth in the average number of successful short passes per game.
City dominate the ball in their matches with an average of 59.3 per cent per game to top the division. They can also claim to be the Premier League's tiki-taka kings with more than 480 successful short passes per game on average, 9,167 in total.
Arsenal and Chelsea each average more than 430 successful short passes per game, with United fourth in that table with 424.1, with a total of 8,057 in 19 matches.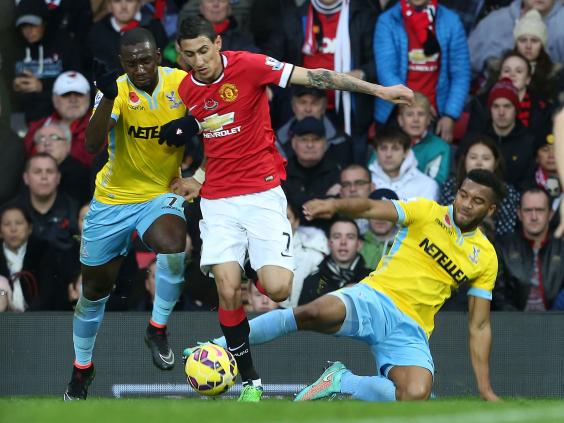 Crystal Palace are the real enemies of eye-pleasing football in the Premier League; the Eagles average just 37.4 per cent possession in matches and make only 184.2 successful short passes per game, a total of 3,500. Burnley are second worst but average more than 40 more than Palace per game.  
United are also getting good play from their wide men, averaging 4.6 accurate crosses per game, joint-fourth with Arsenal and Leicester City.
The team don't shoot enough, perhaps, though they are good at taking their chances. United have scored 33 goals this season, below Chelsea and Manchester City (both 41) but average just under 13 shots per game - City take almost 17, with 10.7 of those coming inside the penalty area.
Despite all this, Louis van Gaal probably won't mind how results come, whether through pretty football or long ball. His job was to get United back into the Champions League and with seven wins and two draws from his last nine, the club look set to achieve that.
Statistics via WhoScored and ESPN
Reuse content