Ahead of Sunday's Premier League fixture between Manchester United and Arsenal, former United defender Gary Neville claims the impact of Gunners' midfielder Aaron Ramsey this season is down to the stable atmosphere he has been allowed to develop in at Arsenal - and says if Manchester United are patient with Adnan Januazaj he can become "one of the best players in the world".
The Welshman has been in imperious form for the north Londoners this season, scoring 11 goals - the same amount as in his first five seasons with the club, and Neville has questioned whether he would have become the player he has if it was not as settled at Arsenal.
"The problem now in England is that managers last about 12 months, so the demand for immediate success means they can't think about young players and long term planning," Neville wrote in his fortnightly EA sports column.
"When you look Manchester United and Arsenal, players have developed over time and they've established themselves because the manager has had control and patience.
"The clubs support long term development of players. They are shining examples that stability and consistency can work - would Aaron Ramsey's career at Arsenal have lived through a managerial change? Maybe not."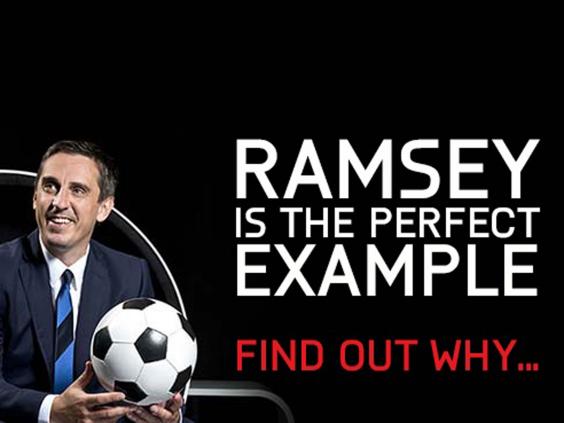 Neville revealed that United had looked into signing Ramsey before he joined Arsenal from Cardiff City in 2008, but comparing Ramsey to United's Belgian-born attacker Januzaj, whose career is in its infancy, the England coach says it is vital to stick with the young players through the good times and the bad.
"The interesting thing about Ramsey is that Manchester United knew he was a real talent and wanted to sign him but the meeting never happened, he signed for Arsenal the next day and the rest is history!  
"He's come back from injury and he's had the setbacks but Arsène Wenger has lived through that with him and kept faith in the player through injury and criticism. Arsenal are now reaping the rewards as he is becoming the top player that he always threatened to be.
"Players will go through cycles, disappointments, form loss and injuries but if you live through it with them, give them the space to develop and don't pressurise them too much, you'll eventually get the worth and value of them."
As for Januzaj, who has burst onto the Premier League scene this season, already becoming a key member of the United starting line-up, Neville claims that the 18-year-old left-winger could go on to become one of the best players in the world if, like Ramsey, he is given time to develop.
"I've played at United and you're very conscious of adding too much pressure to young players. However, I genuinely think this guy could be one of the best in the world. I think he's that talented."
Gary Neville was speaking in his fortnightly column for EA SPORTS FIFA 14 Ultimate Team. Read the full column CLICK HERE
Reuse content