Liverpool manager Brendan Rodgers can empathise with Manchester United counterpart David Moyes as he has first-hand experience of what it means to replace a club icon.
Moyes was handed the impossible task of succeeding Sir Alex Ferguson at Old Trafford but Rodgers faced a similar task when he took over from Kenny Dalglish in the summer of 2012.
After a shaky first six months Rodgers has come out the other side with a team in such a good shape they are in contention for the title having finished seventh last season.
Moyes, who almost every week is watched from the directors' box by his much-decorated predecessor, is experiencing what Rodgers did last year and the Liverpool boss is better placed than most to comprehend the task facing the Scot.
"I can only talk for myself but the pressures of coming into a big club and following someone like Kenny who still is a club legend here never intimidated me," he said.
"To manage at this level you have to have the self-confidence; you're not worried about who is sat behind you in the stand, who is up there in the clouds watching you.
"That doesn't happen when you are a manager at this level.
"I have empathy for the pressures which come with taking over such a huge club."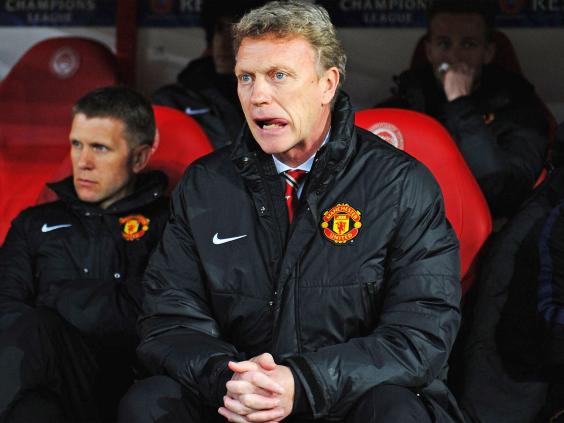 Rodgers continued: "It is incomparable the states of the two clubs because they were champions, there are serial winners in there, and when I came to this club they were eighth.
"The rebuilding and remodelling of the two clubs was totally different.
"David will be fine there and he will get it right. It has been a steep learning curve for him this year, he will have gone in there and seen things you only have a certain length of time to address.
"But I am sure he will have learned a lot this season and will kick on."
Liverpool v Manchester United: The greatest north-west derby encounters - in pictures
Liverpool v Manchester United: The greatest north-west derby encounters - in pictures
1/15 UNITED 2 LIVERPOOL 1 - Premier League, February 2012

Just when it seemed things between Manchester United and Liverpool couldn't get any more heated, Luis Suarez and Patrice Evra entered into a conversation at Anfield that would have huge consequences. The United defender accused the Liverpool striker of racism, and Suarez was consequently found guilty and given an eight-match ban by the FA. Liverpool and the player were furious with the decision, so when Suarez was allowed to return to action, it was somewhat unfortunate it just so happened the fixture was at Old Trafford. With speculation that Evra would refuse Suarez's hand in the pre-match handshakes, the Uruguayan shocked everyone by ignoring the Frenchman. It made for a bitter atmosphere in a match won by United 2-1 thanks to a brace from Wayne Rooney. As the players left the pitch, Evra made things worse by deliberately celebrating the victory in Suarez's face.

GETTY IMAGES

2/15 UNITED 1 LIVERPOOL 0 - FA Cup, May 1996

This was only the second time that Liverpool and Manchester United had met in the FA Cup final, and the expectation before the match was huge. Ultimately, it was a massive disappointment, but it did add another chapter to Eric Cantona's legend thanks to the Frenchman's late winner. And thanks to Liverpool's ridiculous pre-match white-suits, the tag of Spice Boys given to the likes of Jamie Redknapp and Steve McManaman felt genuinely deserved.

GETTY IMAGES

3/15 LIVERPOOL 3 UNITED 3 - Premier League, January 1994

If the entertainment value of Sunday's game comes even close to this six goal thriller, neutrals will be delighted. Anfield was in shock when after just 25 minutes United were in what seemed to be an unassailable lead at 3-0. Steve Bruce, Ryan Giggs and then a beautiful free-kick from left-back Dennis Irwin did the damage. But Liverpool responded in remarkable fashion. Nigel Clough, who did little during his time at Liverpool, scored two long range screamers before Neil Ruddock (pictured) completed a ludicrous comeback that made Anfield erupt. As amazing as the Liverpool's revival was, it wasn't enough to save manager Graeme Souness, who was sacked a month later.

GETTY IMAGES

4/15 UNITED 0 LIVERPOOL 1 - Premier League, December 2000

This was by no means the greatest encounter between the two sides but the significance of the win to Liverpool was huge. The Anfield side had gone ten games without a win over their bitter rivals, so when they left Old Trafford with three-points it allowed them to start believing once more that they could topple Fergie's men. Danny Murphy got the only goal of the game with a delicately curled free-kick two minutes before half-time. The victory was to set off a record run of five successive wins over United.

GETTY IMAGES

5/15 LIVERPOOL 2 UNITED 2 - FA Cup, April 1985

Goodison Park was the venue for this epic FA Cup semi-final. It was a match of late drama as Liverpool hit back twice to force the match into a replay. Mark Hughes had put United in front but with four minutes remaining Ronnie Whelan brought the tie level. His equaliser appeared to be of little significance when Frank Stapleton (pictured) put the Red Devils in charge once more but in the final seconds Paul Walsh grabbed a lifeline for Joe Fagan's Liverpool. United were to go on and win the replay 2-1.

GETTY IMAGES

6/15 LIVERPOOL 1 UNITED 2 - FA Cup, May 1977

The pair's first meeting in the FA Cup final came in 1977, and it was a spell of three goals in five second half minutes which decided the outcome of the match. Stuart Pearson opened the scoring for United before Jimmy Case brought things level. The match was decided by a lucky deflection when Lou Macari's shot hit team-mate Jimmy Greenhoff's chest and looped into the net. The victory for United denied Liverpool the treble of FA Cup, league title and European Cup. That feat was completed for the first time 22 years later... by Manchester United.

GETTY IMAGES

7/15 UNITED 2 LIVERPOOL - Premier League, September 2004

This fixture was Rafael Benitez's first taste of the bitter rivalry between the two sides and it was to be first blood to Alex Ferguson in what become an acidic relationship between the two managers. Mikael Silvestere was the unlikely hero, notching two headed goals against a dodgy looking Liverpool defence. Liverpool equalised after the first strike thanks to a John O'Shea own goal, but it wasn't enough to keep a United side, buoyed by the return of Rio Ferdinand after a drugs-test suspension, from taking the spoils.

GETTY IMAGES

8/15 UNITED 1 LIVERPOOL 4 - Premier League, March 2009

After a blistering start to the season, Liverpool looked like they might finally end their wait for league success. Yet by the time they came to Old Trafford, they had slipped off the pace and the game was considered make-or-break for any lingering hopes they might have. And although ultimately they didn't win the title, they certainly issued a warning to United. Cristiano Ronaldo put United ahead from the penalty spot but Liverpool responded first through Fernando Torres, who hounded Nemanja Vidic into an uncharacteristic mistake and then Steven Gerrard, who scored a penalty. Vidic's day got worse when he was sent off and then United's day collapsed when Fabio Aurellio scored from the resulting free-kick. Andrea Dossena completed a memorable win for Liverpool when he lobbed Edwin van der Sar in injury time.

GETTY IMAGES

9/15 UNITED 2 LIVERPOOL 1 - FA Cup, January 1999

Manchester United's treble winning season is usually associated with the Nou Camp and the remarkable late comeback against Bayern Munich in the Champions League final. Yet United could never have made history that year if it wasn't for this late turnaround on a cold Sunday afternoon in January. Liverpool had led the fourth round FA Cup tie for almost the entire match after a Michael Owen strike after just 155 seconds. But with just two minutes remaining, Dwight Yorke levelled and then who else but Ole Gunnar Solskjaer grabbed the winner. Liverpool's near 80 year wait for victory over United in the FA Cup would have to wait as the players left the pitch devastated.

GETTY IMAGES

10/15 LIVERPOOL 3 UNITED 3 - First Division, April, 1988

The tables were turned in 1988 with United trailing Liverpool and the title race entering its final phase. 11 points adrift, victory was vital for a United side still harbouring hopes of league success. Bryan Robson put the visitors ahead to give them hope but a devastating 10-minute spell either side of half-time had Liverpool in a 3-1 lead. Peter Beardsley (pictured), Gary Gillespie and Steve McMahon were the scorers for Kenny Dalglish's side. Although United refused to lay down, with Robson scoring his second and then Gordon Strachan setting up a tense finale with an equaliser 12 minutes from time which he celebrated by pretending to enjoy a cigar in front of irrate Liverpool fans.

GETTY IMAGES

11/15 UNITED 1 LIVERPOOL 0 - Premier League, January 2006

Not the most pulsating of matches but highly memorable for the antics of Gary Neville. Djibril Cisse had the best chance of a match that only sparked to life in dying seconds. Rio Ferdinand cropped up in the 90th minute to score a headed winner, but it was what followed that is remembered. Mr Manchester United, Gary Neville, opted to celebrate the goal, not with his team-mates, but by running the length of the pitch so he could wave his fists about and kiss the United badge in front of the travelling Liverpool supporters. His wild gestures got him in trouble with the FA but it was worth it, if only for the ingenuity of finding a way to increase the temperature in what is already the most heated fixture of the season.

GETTY IMAGES

12/15 LIVERPOOL 2 UNITED 1 - League Cup final, March 1983

This was the first final meeting between the two giants of English football in the League Cup and it was one that needed extra-time to determine the victors. Norman Whiteside put United ahead with a first half strike but Ron Atkinson's side resembled the walking wounded after they were hit by a number of injuries. Despite this they looked on course for victory before Alan Kennedy sent the game beyond 90 minutes. The Cup was won thanks to a sublime curler from Ronnie Whelan.

GETTY IMAGES

13/15 UNITED 3 LIVERPOOL 2 - Premier League, September 2010

The 2010/11 Premier League encounters between the pair were a tale of two hat-tricks. The first came at Old Trafford, where despite Steven Gerrard hauling Liverpool back into the match having trailed by two goals, the day belonged to Dimitar Berbatov who's 84th minute goal capped a sublime hat-trick. United's £30m-plus striker didn't do much in his time at Old Trafford, but he did do this, and as such, will always be remembered fondly by Reds fans.

GETTY IMAGES

14/15 LIVERPOOL 3 UNITED 1 - Premier League, March 2011

Just six months later it was Liverpool's turn for one of their players to leave with the match ball. The hero was Dirk Kuyt, who bagged one of the simplest hat-tricks in history, with all three shots having a combined distance from goal of about eight yards. Liverpool fans couldn't care less where the Dutchman had scored them from, all that mattered was he had scored three against United.

GETTY IMAGES

15/15 UNITED 2 LIVERPOOL 2 - Premier League, October 1995

The final classic encounter in our coutdown is all about two legends from the north-west sides: Eric Cantona and Robbie Fowler. This fixture marked the return of Cantona after his suspension for jumping Bruce Lee-style into the crowd at Selhurst Park. He didn't take long to remind people of what they had been missing when he set up Nicky Butt to score the opener. But Robbie 'God' Fowler looked like ruining the party when he scored two excellent goals past Peter Schmeichel and had Liverpool on course for victory. Yet Cantona wasn't to be upstaged. He drilled home a 71st minute equaliser from the penalty spot before celebrating in front of the Old Trafford crowd with a twirl around the goal stanchion.

GETTY IMAGES
Liverpool head to Old Trafford on Sunday with the roles reversed from last season as the Merseysiders are second in the table, seven points behind Chelsea with a match in hand, while their arch-rivals are effectively battling it out for a Europa League place.
While there has been much talk of a sea-change in the north-west in terms of United's dominance waning and Liverpool's influence growing, Rodgers is keen not to stoke the fires of that debate.
For him it is not about being better than United - especially when they are seventh in the league - but being the best.
"The benchmark for us is the best," he said.
"First of all we are always challenging the team at the top - not Manchester United, who are further down.
"Liverpool has its own great history both domestically and in European football so for us the benchmark has always been the best and we will always look to do that.
"I never said when I came in here we wanted to be fourth. Top four is where we want to be but Liverpool will always be judged on being the best, both here and in Europe not against Manchester United.
"We are only concentrating on ourselves. They (United) have some great players, they have probably one of the largest wage bills so they have top players there but I don't know the dressing room well enough to know where they are at.
"Our focus is only on Liverpool. The club decided to go a (certain) way 18 months ago and I was asked to carry on some of the brilliant work Kenny did in reshaping the club.
"We have just continued down a road which has seen us develop and improve.
"There is still a long way to go in terms of where we want to be but we are on the right road."
PA
Reuse content