Liverpool stand 24 hours away from the game that gives them potential payback for all those years of Sir Alex Ferguson making it "a deadly serious ambition… some people would say too serious", as he once put it, to grind them into the dust.
A win at Old Trafford – which the bookmakers rate at around 2-1 – would see Brendan Rodgers' second-placed side climb 14 points ahead of Manchester United in the Premier League, and effectively dump them out of next season's Champions League, needing to win this year's trophy to retain their place in the competition.
There will be satisfaction for Liverpool, having not made it back to the elite tournament since the desultory 2-1 defeat at home to Fiorentina in December 2009 knocked them out at that season's group stage. Yet even if United do find themselves in the "ugly kid brother" of the Champions League, as Steven Gerrard once described the Europa League, Liverpool will be confronted by the more difficult strategic spending decisions this summer – especially if they end up in fourth spot in the Premier League.
The team who make the August Champions League play-off face a game of poker – working with Champions League and Europa League revenue scenarios but knowing that they risk being dropped into the junior competition from which Chelsea earned only £10.7m by winning last season's version. "The toughest part of all is to plan around this play-off outcome, with that risk of not making it to the group stage," said Esteve Calzada, the former Barcelona chief marketing officer and football finance analyst.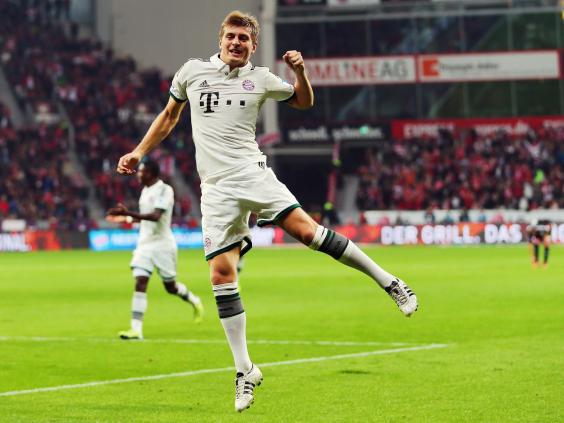 United will also wait and watch to see how boldly Liverpool respond to a return to the Champions League. They are planning a substantial summer overhaul of their own – a "retooling" in the new Old Trafford vernacular – but there is a view within some boardrooms that Fenway Sports Group, Liverpool's owners, may wait until the club are regular competitors in the elite competition before splashing out heavily.
Liverpool may have viewed their displacement of Arsenal from the Champions League as a better outcome than United dropping out – because the north London club are less inclined to spend heavily to win that place straight back.
United, who are ready to shell out £150m, have gleaned little evidence from their initial summer transfer market work that being consigned to the Europa League will force them to pay out more in wages to entice players. They believe players like Bayern Munich midfielder Toni Kroos and Porto's French centre-half Eliaquim Mangala  are more interested in the name of a club than participation in that competition.
"I honestly don't think this affects strong and consolidated global clubs such as Manchester United because players know that lack of participation is sporadic and an accident," Calzada said. "Wages and chances to play are still the key drivers on players' club choices and I don't think lack of participation in the Champions League in one specific year would result in significantly lower salaries at a club such as United. However, it does affect a club like Liverpool, given their repeated absence from the Champions League."
Clubs offset absence from the elite competition against substantially reduced player bonuses – a consequence of their absence. Perverse though it may sound, executives like Calzada point out that losing in the semi-finals can be great for the profit-and-loss account, in the short term.
"At Barcelona, winning it became worse financially than making it to the semi-finals or losing in the final, because the overall income is the same but you save all the player bonuses," he said. "Barcelona did very well from their two consecutive semi-final exits in 2012 and last year."
Calzada, who manages the personal image rights of John Terry and the majority of Manchester City players and is author of the football finance book Show Me The Money, said that a Europa League presence can create a "lack of momentum" in new sponsorship deals or renewals, but the only impact on existing United deals would be the loss of cashing-in bonuses – which United will accrue from sponsors by winning the Champions League.
"Executives will be able to explain the situation as an accident, given the strength of the brand," he said – bearing out the pitch that Wayne Rooney has heard during his recent contract negotiations. "It is easy for marketers to prove the absence as an accident when we talk about giant clubs, unlike the Rosenborgs or Basels," Calzada said.
It is not a case that United will be able to make if they remain on the fringes this time next year. That is why David Moyes' continuation at United beyond the summer is not guaranteed and why the club's board are looking for a clearer picture this weekend of what the future under him might look like.