Arsène Wenger argued that only a "quick and strong" response to Arsenal's latest defeat at Old Trafford will save their Premier League title ambitions. Five points adrift of leaders Leicester and three behind Tottenham with 11 matches left, the Arsenal manager said the club's situation was far from irretrievable.
However, an immediate comeback was required in Wednesday's fixture at home to Swansea and what is likely to be the most intense north London derby in years at White Hart Lane on Saturday.
"Nobody knows how this defeat will impact on the title race," said Wenger after the 3-2 loss. "We have dropped three important points and now we have to show we can fight on Wednesday night and not feel sorry for ourselves. The title is still possible but the answer will have to come quick and strong."
Given that United had a dozen players absent through injury, this should have been Arsenal's best chance of a first victory at Old Trafford since 2006. However, while admitting his defence struggled to cope with United's teenage striker Marcus Rashford, Wenger tartly commented that his opposite number Louis van Gaal was still able to "put a few million on the pitch".
"The player who was surprising for me, talent-wise was Rashford," Wenger said. "The timing and intelligence of his movement was great and he could be a very positive surprise for Manchester United.
Manchester United 3 Arsenal 2 player ratings
Manchester United 3 Arsenal 2 player ratings
1/22 Manchester United: De Gea 6 out of 10

For all of Arsenal's possession and potency De Gea had little to worry about for much of this match and could do nothing about the visitors' goals.

2/22 Varela 7 out of 10

An unwarranted yellow on eight minutes ought to have led to a difficult day for the youngster, but the full-back managed two assists as he was able to bomb forward throughout.

2016 The Arsenal Football Club Plc

3/22 Carrick 6 out of 10

It wasn't without nervy moments but Carrick got the job done in defence, with one tackle on Welbeck inside the area showing the composure United's youngsters needed to see.

2016 Manchester United FC

4/22 Blind 6 out of 10

The only regular in the back four he rose to the responsibility in style, sweeping up behind Carrick when Arsenal looked to burst in behind.

2016 The Arsenal Football Club Plc

5/22 Rojo 5 out of 10

Ensured the defensive calamities weren't just limited to Arsenal by leaving Welbeck unmarked to head in. Struggled to track the Arsenal forward throughout.

2016 Getty Images

6/22 Schneiderlin 6 out of 10

Hardly slowed the tide of Arsenal's attacks at times in the first half, but in the second United's destroyer did key work in winning the ball back.

2016 Getty Images

7/22 Lingard 7 out of 10

A superb display of industry and application, he was crucial in United's second in teeing up Varela's cross, performing sterling work out wide.

2016 Getty Images

8/22 Herrera 7 out of 10

His fortuitous goal was no less than deserved for a dynamic display that saw him make telling contributions at both ends of the pitch.

9/22 Mata 7 out of 10

Gave Ramsey and Coquelin plenty to worry about as he flitted across the frontline, using his fine passing range to conduct United's deadly counters.

2016 Getty Images

10/22 Depay 8 out of 10

A £25million performance at last. His duel with Bellerin was the highlight of the match and one where the Dutchman often came out on top.

Getty

11/22 Rashford 8 out of 10

This certainly was a romantic story but Arsenal could not have made it easier for the youngster if they'd gift-wrapped the ball. Still Rashford took his chances well and showed serious confidence.

2016 Manchester United FC

12/22 Arsenal: Cech 6 out of 10

Having saved a Depay free-kick smartly early on Cech could once more do nothing but watch as United were allowed to stream forward.

2016 Manchester United FC

13/22 Bellerin 6 out of 10

His advances forward were not slowed by the dangerous Depay and the full-back showed defensive solidity beyond his team-mates.

14/22 Gabriel 4 out of 10

A meek clearance teed up Rashford for the opener. Arsenal fans will find that infuriating familiar, Gabriel always seems to have at least one mistake in him per game.

2016 Manchester United FC

15/22 Koscielny 5 out of 10

Allowed Rashford an unmarked header inside the six yard box and typified a day where he was an utter liability at times.

2016 Getty Images

16/22 Coquelin 5 out of 10

Overwhelmed by the task of covering for five players ahead of him doing minimal defensive work, even the midfielder could not stem the tide of United's counters.

2016 Manchester United FC

17/22 Monreal 5 out of 10

Has kept the likes of Coman, De Bruyne and Mahrez quiet this season. So why were Lingard and Varela such a challenge? A far from typical display

2016 Getty Images

18/22 Ramsey 4 out of 10

After showing defensive resilience against Barcelona this was the worst of Ramsey, nowhere to be seen in attack or defence.

2016 Getty Images

19/22 Welbeck 7 out of 10

Does not deserve an iota of blame for the execrable peformances of his team-mates. Welbeck was full of energy, was looking for the ball and deserved at least one goal.

2016 The Arsenal Football Club Plc

20/22 Ozil 7 out of 10

One of the few who could say they performed to their ability throughout today's game, his sublime range of passing was present throughout, earning him assist number 18.

2016 The Arsenal Football Club Plc

21/22 Sanchez 4 out of 10

An abysmal display by anyone's standards. Every opportunity to get forward seemed to see Sanchez run down a blind alley.

2016 Getty Images

22/22 Walcott 3 out of 10

His first notable action came 30 minutes in when Herrera whipped the ball off Walcott in his own half as United nabbed the opener. His second was being caught offside.

2016 Manchester United FC
"We struggled to be dangerous because they defended very well. Every time we got into a flow, they stopped us with little free-kicks in the middle of the park. On set pieces I  expected us to do more. We were not dangerous enough."
Wenger said he did not want to comment on why Van Gaal should have thrown himself at the feet of the fourth official, Mike Dean, apparently to complain about Alexis Sanchez's propensity to dive. "You would say I am a bitter loser," he said, before correcting himself with a smile, "but, of course, I am."
For Van Gaal this was an extraordinary finish to a week in which, had results against Shrewsbury and FC Midtjylland gone differently, he might have been sacked as United manager.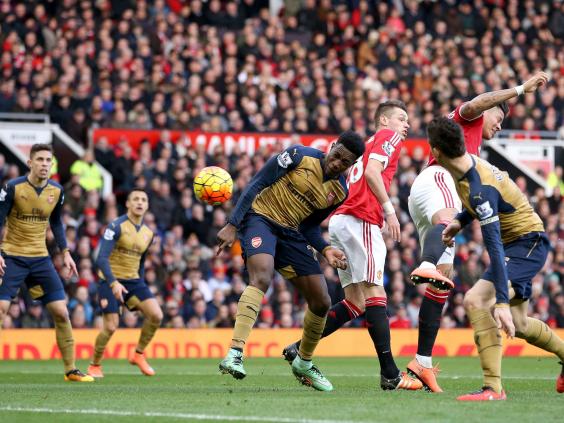 Those three games have produced 11 goals for United and three straight wins, of which this was the best and most surprising. Van Gaal was right to argue that, with its reliance on attacking play and youth, it was in United's finest traditions. He was, however, strangely reluctant to discuss his touchline theatrics.
"That was too emotional," he said. "That was not good for the referee, the linesman or the fourth official. I was emotional, which does not happen too much to me.
"Usually, I receive a lot of criticism because I am always sitting on my bench. I have to control my emotions because I am always telling the players to control theirs." 
When it was pointed out to him that the supporters had loved the sight of him diving on the touchline and started singing his name, Van Gaal grinned and said: "That is great but the fans are not always wise."
The Arsenal performance drew strong criticism from the Sky Sports pundit and former Liverpool midfielder Graeme Souness, who branded the north London side "insipid" and "pussyfooted".
"Arsène Wenger must be tearing his hair out," Souness said. "And there's a word I want to use, but I can't use it, which describes a lack of something that real players have and this Arsenal team lack it in abundance. Just don't have it, none.
"And I'll stand on my head if they prove me wrong and go and win this league, because that today was totally unacceptable. I thought today they would come here with an opportunity to put a marker on the wall and say, 'We're back in this race.' And they've come back here today and been so insipid, so weak and pussyfooted. 
"All they've done today is said to the opposition this team can be rolled over. If I was an Arsenal supporter I would be so angry right now," Souness declared.