As he clambered to his feet to leave the press conference room, Jose Mourinho came up with a spontaneous joke which amused him so much that he repeated it twice more before actually leaving the room. "So, finally I lost against Arsenal!" 
But Mourinho doesn't go in for humour when he feels the desolation of defeat. He wore the demeanour of a contended man because there was substantially enough in this performance to suggest that the horrors of September – when his players were overwhelmed by Manchester City for 45 minutes and embarrassed at Watford – are over and that there is some equilibrium. These are febrile and uncertain times at Old Trafford and if someone on Saturday morning had offered Mourinho a 1-1 draw in which Arsenal's only effort on target was their late equalising goal, then he would have certainly have taken it.
The defence was – and certainly is – the problem, even though Manchester United were depleted by injury. The central pairing was makeshift to its bootstraps, with Phil Jones, who has played three games all calendar year, and Marcos Rojo, of whom Mourinho memorably declared after the match: "No-one knows what he is."
But with Luke Shaw frozen out of this squad and Chris Smalling in a state of even chillier relations with the manager, judging by Friday's press conference, there will be more goals like the Arsenal equaliser. Alex Oxlade-Chamberlain's run down the right was unchecked by Marcus Rashford and Olivier Giroud's resulting header unchallenged by Jones. "We don't have very strong people in the air to cope with the cross," Mourinho admitted. He didn't bother pointing out that there'd been an infringement on Jones, who was half way to the ground after a nudge by Laurent Koscielny when Giroud leapt.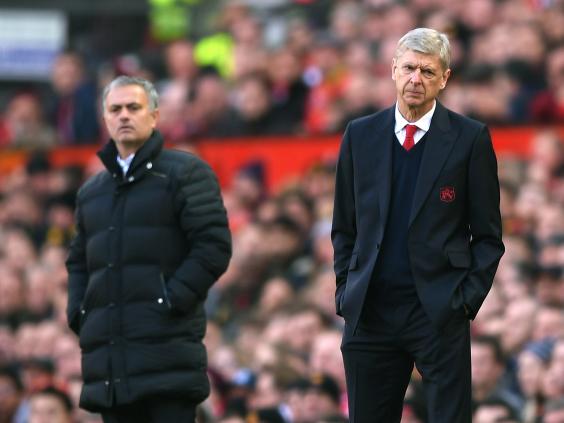 This feels like a component part of United which will need attention in the January transfer window and certainly next summer. United have lacked a commanding central defender since Nemanja Vidic left, when Sir Alex Ferguson took his leave. Goals will be leaked. Mouriunho's United trajectory is unlikely to be linear.
But though they have won only two in nine games in the Premier League, there are certainly consolations here. Overall, the afternoon  was an emphatic demonstration of Mancunian superiority, with a goal which summed up all that had been the best in the team: a thrust down the right flank which was United's main route of entry and a first-time, left-footed finish of supreme technical skill by Juan Mata, who'd been outstanding all afternoon.
Manchester United vs Arsenal player ratings
Manchester United vs Arsenal player ratings
1/22 David de Gea - 4 out of 10

With Arsenal scoring their only shot on target, it's not been the best day for the Spaniard. He had very little to do throughout.

2/22 Antonio Valencia - 8 out of 10

Performed exceptionally today, looking strong going forward and defensively.

3/22 Phil Jones - 5 out of 10

Did the simple stuff well at the back, but looked slow defensively at times.

4/22 Marcos Rojo - 6 out of 10

Defended well throughout proceedings, played safely and used possession well from the back.

5/22 Matteo Darmian - 5 out of 10

A mediocre performance from the Italian. He was lunging into challenges, despite already being armed with a yellow card.

6/22 Michael Carrick - 5 out of 10

The skipper played a very standard performance today. He played his role well and stuck to his position.

7/22 Ander Herrera - 7 out of 10

His work rate was faultless and he influenced play in the middle of the park – good overall performance.

8/22 Paul Pogba - 6 out of 10

He appeared to patrol the middle of the park in the first half, but in the second half he seemed to go off the boil. He did not make many chances and lacked any attacking prowess.

9/22 Juan Mata - 8 out of 10

An exceptional performance from the Spaniard today. His goal was an example of his immense technical ability and he created chances throughout.

10/22 Anthony Martial - 6 out of 10

A somewhat quiet performance from him today, but he showed glimpses of brilliance in the first half with a number of strikes that tested Cech.

11/22 Marcus Rashford - 6 out of 10

Despite being caught out for the late Arsenal goal, his performance throughout was positive. He attacked confidently and his crossing was inviting problems for the Arsenal defence.

12/22 Petr Cech - 6 out of 10

He made a number of important saves in the first half, but was out of position when Mata broke the deadlock.

13/22 Carl Jenkinson - 4 out of 10

It was a somewhat uncomfortable performance from him today, as he looked slow and unable to keep up with the pace of the United strike force.

14/22 Laurent Koscielny - 6 out of 10

He did well in the air today, but the United attack got the better of him at times as he was caught out of position.

Phil Noble

15/22 Shkodran Mustafi - 5 out of 10

It was an incredibly mediocre performance by the German. He did well in possession, but that wasn't enough at times.

16/22 Nacho Monreal - 5 out of 10

A questionable penalty call in the first half was the main incident for the Spainard. He failed to show his defensive ability against the quality of United going forward.

David Klein

17/22 Francis Coquelin - 6 out of 10

Made a number of important tackles, but it wasn't enough to stop his opponents running the midfield battle.

18/22 Mohamed Elneny - 4 out of 10

The Egyptian made a few unneeded and mistimed challenges and failed to show any sign of threat when going forward.

19/22 Aaron Ramsey - 5 out of 10

He had very little of the ball throughout, and when he did he failed to do much with it.

20/22 Mesut Ozil - 5 out of 10

Taking into account his huge talent, it was a rather dim performance. He failed to create chances and feed Sanchez which resulted in Arsenal having no spark going forward.

21/22 Theo Walcott - 4 out of 10

A very quiet performance from the winger today. He saw very little of the ball and was regularly caught playing too narrow which left Arsenal with no width to their attacks.

22/22 Alexis Sanchez - 6 out of 10

He looked dangerous when in possession, but a lack of service did not allow him to make a real impact on the game.
Mata's emergence as a player of attacking and creative menace in Mourinho's United is one of the many unexpected aspects of these past three months, and testament to the maturity of the Spaniard, who had reason to fear the arrival of a manager who sold him to Old Trafford in the first place. He took a monumental ovation when leaving five minutes from time and a warm embrace from Mourinho.
The strength Paul Pogba displayed in setting the match-winning move in train, supplying a ball which Ander Herrara cut back for Mata, carried a significance too. Pogba did not propel  the United engine but did enough in moments to suggest that he is developing into what United paid £89m for. Antonio Valencia was the surprise component, though, and at the hub of much that United offered in the first half.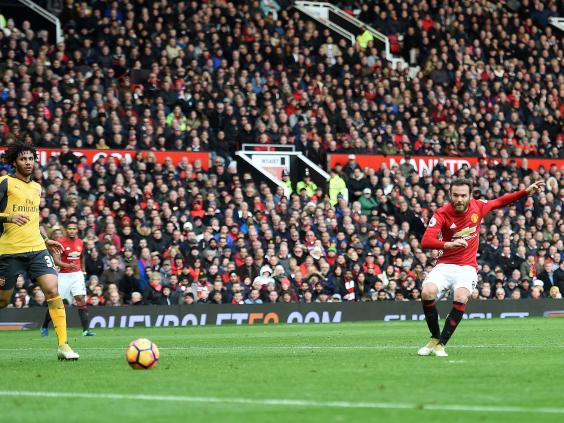 Few of the Arsenal performances will live in the memory. Alexis Sanchez's was the best from them, spinning off Valencia beautifully on one first half occasion, advancing towards goal and drawing a foul, but Mesut Ozil added little to a promising early attacking thrust and Theo Walcott exerted barely any influence whatsoever. "Maybe it's a mental block here because for a while it didn't go well for us," Wenger said later, which was highly unconvincing as assessments of aspiring champions go.
He looked extremely relieved as he made his own appearance in the press room, happily declaring it would be "pretentious" to claim that the equaliser – created and scored by substitutes was planned. United were actually architects of their own fate, by lacking ruthlessness. Rojo's headed miss from a Daley Blind cross in the game's closing stages was fairly criminal. It required two excellent saves from Petr Cech to divert a Mata shot and arced Anthony Martial effort wide of the same right upright.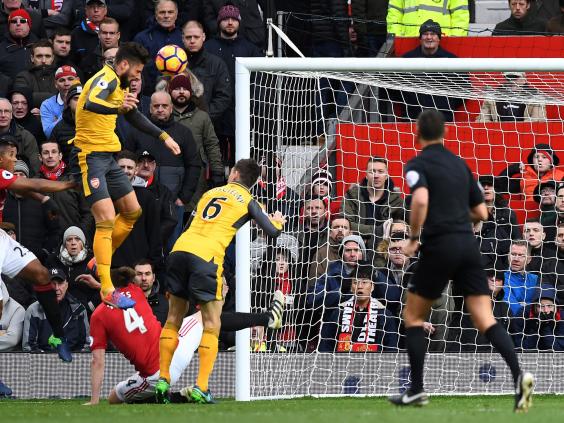 It was Valencia, in a surprise first start since breaking an arm against Manchester City in the EFL Cup last month, who created the game's moment of controversy, rolling around the outside of Nacho Monreal in the 35th minuteand going down as the Spaniard reached across him. There were grounds for a penalty - Monreal had his arm on Valencia – but the player just went to earth too easily and Andre Marriner's decision not to penalise was fair.
Mourinho's reflections on all of this included a long list of why other teams have it easier than United, including the time "Maurice" Pochettino has had to assemble a Spurs side. (After Mourinho's talk of "Gary" Southgate on Friday, this is becoming a comedy sideshow.) When you're on the defensive, a convincing performance against Arsenal is triumph, whatever the final score.
Manchester United (4-2-3-1): De Gea; Valencia, Rojo, Jones,  Darmian (Blind 64) ; Carrick, Herrera;  Mata (Schneiderlin 85), Pogba, Martial (Rooney 53); Rashford.
Substitutes: Romero, Memphis, Rooney, Blind, Young. 
Arsenal (4-2-3-1): Cech; Jenkinson (Oxlade-Chamberlain 84), Mustafi, Koscielny, Monreal; Coquelin (Xhaka 80), Ramsey; Walcott, Ozil, Mustafi; Sanchez.
Substitutes: Ospina, Gibbs, Paulista, Giroud, Iwobi.
Referee: A. Marriner