Unprompted after the game, Louis van Gaal started talking about Chelsea as if the spectre of Jose Mourinho had been playing on his mind all week like a bad dream and the time had come for him simply to get something off his chest.
The point he was making was that the new Premier League champions, unlike his team, were capable of killing off opponents. "The difference between Chelsea and Manchester United is that they can finish a game," he said. "They can kill a game." No-one else had mentioned Chelsea but you could tell the United manager's mind was already racing forward to next season when he will be expected to reel in Mourinho's team and there will be less sympathy if he fails.
The response to the lap of appreciation at Old Trafford was gratefully received by Van Gaal who declared it "unbelievable" that the supporters would offer such thanks for a team that will, almost inevitably, finish fourth. His point was that it would not happen anywhere else he had managed, but that is to overlook the fact that this was a club that finished seventh last season and there is sheer relief it has not happened again.
Van Gaal's team are in the Champions League places, with a play-off looming on 18-19 August, and if any reminder was required that the summer will need more than just a fine-tune then this was it. Arsenal were timid, half-committed and complacent in the first half, and there was a time when United would simply have swept them away, but they let the visitors back into it after the hour and paid the price.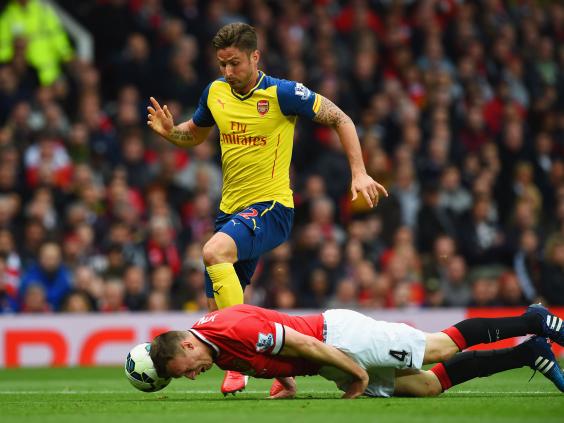 The equaliser was an unfortunate own goal from the substitute Tyler Blackett, a deflection from Theo Walcott's shot, and Arsenal might even have won it in the closing stages with United back-pedalling and the away side reinvigorated by their substitutes. In the meantime, neither United's strikers, nor their defence, were capable of settling the issue.
The uncertainty with which Van Gaal later proclaimed upon David De Gea's future suggested that this is a player who is slipping out of United's grasp. When the conversation turns to the persuasive influences of a Spanish girlfriend, and De Gea's parents who, Van Gaal says, travel from Spain every two weeks, then you have to wonder whether we have reached the endgame for United's fine young goalkeeper.
He came off injured before Walcott's shot deflected off Blackett and beat his replacement Victor Valdes, and perhaps that is the last Old Trafford sees of De Gea. Certainly, it felt like farewell rather than just goodbye to Radamel Falcao who departed on the hour with an apologetic wave. Another performance in which everything he did only seemed to strengthen the case that United do not to make that loan move permanent.
Manchester United 1 Arsenal 1 player ratings
Manchester United 1 Arsenal 1 player ratings
1/24 David De Gea

Didn't have a single shot (either on or off target) to contend with in the first half as Manchester United kept Arsenal at arm's length. Alarmingly for the Old Trafford faithful, his departure felt like it could be his last. 7

GETTY IMAGES

2/24 Antonio Valencia

Galloped down the flank with intent and was prepared to track back when required. 7

GETTY IMAGES

3/24 Chris Smalling

A surprise choice to captain the Red Devils, in Wayne Rooney's absence, the England defender delivered a composed and authoritative display. 7

GETTY IMAGES

4/24 Phil Jones

His head-first 'slide tackle' is likely to be lighting up Twitter news feeds this evening but it was an instance which underlined his determination to succeed at Manchester United. 7

GETTY IMAGES

5/24 Marcos Rojo

Was on hand to denyAaron Ramsey in the second half on one of the rare occasions where Arsenal managed to forge a way through the United backline. 7

GETTY IMAGES

6/24 Daley Blind

An assured and impressive display from one of the more reliable figures at Louis Van Gaal's disposal. 7

GETTY IMAGES

7/24 Juan Mata

The Spaniard likes to pull the strings and, with Marouane Fellaini and Ander Herrera by his side, he was given licence to do just that. 7

GETTY IMAGES

8/24 Ander Herrera

Another excellent and exuberant performance from the little man in midfield. If he wasn't 'dancing' through his Arsenal peers, he was spraying the ball across the pitch to his United colleagues. 8

GETTY IMAGES

9/24 Marouane Fellaini

A quieter outing than usual for the former Everton man. Gave United his typically menacing aerial threat but nothing much else. 6

GETTY IMAGES

10/24 Ashley Young

Never stopped running after lost causes and creating opportunities out of nowhere. If Ashley Young does not receive an England call-up, football pundits across the land should eat their hats. 9

GETTY IMAGES

11/24 Radamel Falcao

He tried, of course he did, but it just isn't going for the Colombian at Old Trafford. Leaving the pitch, to make way for Robin van Persie, he even appeared to wave to the United supporters. 6

GETTY IMAGES

12/24 Off the Bench: Víctor Valdes

Made his quite awaited debut during second half where he replaced an injured David De Gea. Had no responsibility for the equaliser but only played for 20 minutes. 4

GETTY IMAGES

13/24 David Ospina

Like David De Gea at the other end, the Arsenal goalkeeper had precious little to do. He could have read today's copy of the Independent on Sunday on occasions. 7

GETTY IMAGES

14/24 Hector Bellerin

Faster than Theo Walcott, you sometimes wish the former Barcelona man would run at opponents more often. Nonetheless this was an impressive outing. 7

GETTY IMAGES

15/24 Per Mertesacker

Luckily for the German defender, Manchester United don't have too many pacey attackers at their disposal at the moment. His aerial talents continue to play their part. 7

GETTY IMAGES

16/24 Laurent Koscielny

Had to be alert with Ashley Young stalking the flanks with intent but stood firm when crosses were fired his way. 7

GETTY IMAGES

17/24 Nacho Monreal

Often liable to be caught in possession, Nacho Monreal was clearly keen to keep the ball and distribute well this afternoon. As far as that ambition goes, he did well. 7

GETTY IMAGES

18/24 Francis Coquelin

The Frenchman's superb breakthrough season continues. This was a hardly glittering display from the ex-Charlton loanee but he played his part in a valuable away point. 7

GETTY IMAGES

19/24 Santi Cazorla

With his wasp-like attitude to chasing lost causes, the Arsenal playmaker was a menace without doing anything too menacing. His presence is enough to alarm defenders and, on another day, he could have won it for Arsene Wenger. 7

GETTY IMAGES

20/24 Aaron Ramsey

One of Arsenal's best players. The Welshman always knew where his teammates were and has the quality to find them with an unrivalled precision. 8

GETTY IMAGES

21/24 Mesut Ozil

Another quiet outing from Mesut Ozil but, considering his brilliant form of late, we'll forgive him for one off-day. The German toiled with Marouane Fellaini in the centre of the park but often came off second best. 6

GETTY IMAGES

22/24 Alexis Sanchez

If Arsenal were to have a foray into the United half, it would usually have something to do with their Chilean superstar. Alexis Sanchez is the sort of player Arsene Wenger can build a team around. 7

GETTY IMAGES

23/24 Olivier Giroud

It's been an odd season for the Gunners' forward but his head has never dropped and that is most definitely to his testament. 6

GETTY IMAGES

24/24 Best of the Bench: Theo Walcott

Benefited from a very generous slice of luck to drag Arsenal level but nonetheless had to be in the right place at the right time to score his goal. 7

GETTY IMAGES
It was a strange afternoon, one of those quiet end-of-season days at Old Trafford with nothing to play for and no cup to parade other than the Under-21s' Premier League trophy. Van Gaal's speech afterwards to the fans fell flat. His team had victory in the bag with Ander Herrera's goal after 30 minutes and then a familiar vulnerability seized his team after the hour.
As for Arsenal, they were abject in the first half, without an attempt on United's goal – the first time they have not managed that in a league game since November 2004. There were times when they looked resigned to being put out of their misery, but United did not have it in them and eventually the quality in this Arsenal side roused itself.
It was a day when the United players slipped comfortably into the roles they have occupied all season. Falcao looked a good second behind his team-mates in thought and movement. Juan Mata and Herrera were sharp and creative. Captain for the day, Chris Smalling would just as soon pick out a team-mate as put the ball straight into touch.
Yet it was a Phil Jones signature moment that topped it all, when the Englishman propelled himself on his knees before launching himself headfirst along the turf to head away a grounded ball from Olivier Giroud's feet. It was an extraordinary sequence of events, like watching a man searching frantically for his lost contact lens on a moving conveyor belt.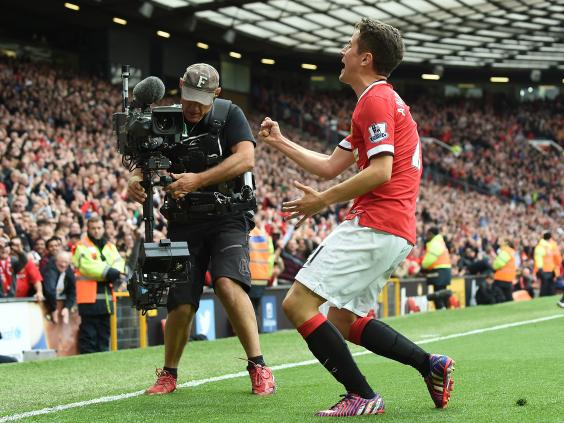 United controlled the first half while Arsenal regressed into the kind of Old Trafford performance of years past when they have found themselves overwhelmed. Had Falcao been on the same wavelength as Mata and Herrera, his team could have been out of sight by half-time.
It was only the second start for the Colombian since the FA Cup tie at Preston North End on 16 February and for the first half at least it was getting to the point where Old Trafford was having to suppress its groans of disappointment. Falcao seemed flat on his feet when Mata poked a ball through to him on nine minutes, and it was the same again just before half-time when Herrera's pass gave him a fleeting bit of space in the area.
Nevertheless, United battered away and on 30 minutes the breakthrough came down the left where Ashley Young had given Hector Bellerin a difficult first half. Jones' ball out to Marouane Fellaini had started the move and Young's cross to the back post dropped nicely for Herrera to pick his spot past David Ospina.
As for Arsenal, they were overpowered in midfield and United took no chances when Alexis Sanchez was on the ball. Young in particular came over to make a very good challenge on the Arsenal man as he made his way into United territory on 13 minutes.
Eventually, Wenger's team came back into the game after the hour and exploited the crossfield ball in behind Rojo. Aaron Ramsey even got the ball past De Gea at one point before the Argentinian managed to clear it away. Walcott and Jack Wilshere, another substitute, gave them fresh impetus and United fell back.
Then, with eight minutes left, Walcott's heavily deflected shot off substitute Blackett beat Valdes, on for the injured De Gea. United had drawn a game they had dominated for almost an hour, and Van Gaal was given to wonder again how next season his team can be less like this, and more like Chelsea.
Manchester United (4-1-4-1): De Gea (Valdes, 73); Valencia, Smalling, Jones, Rojo (Blackett, 72); Blind; Mata, Herrera, Fellaini, Young; Falcao (Van Persie, 60).
Substitutes not used: Di Maria, Januzaj, McNair, Wilson.
Arsenal (4-2-3-1): Ospina; Bellerin (Walcott, 72), Mertesacker, Koscielny, Monreal; Coquelin, Cazorla (Wilshere, 72); Ramsey, Ozil, Sanchez (Flamini, 90); Giroud.
Substitutes not used: Szczesny (gk), Gibbs, Gabriel, Rosicky.
Referee: M Dean
Booked: Manchester United Herrera
Man of the match: Mata
Rating: 6
Reuse content